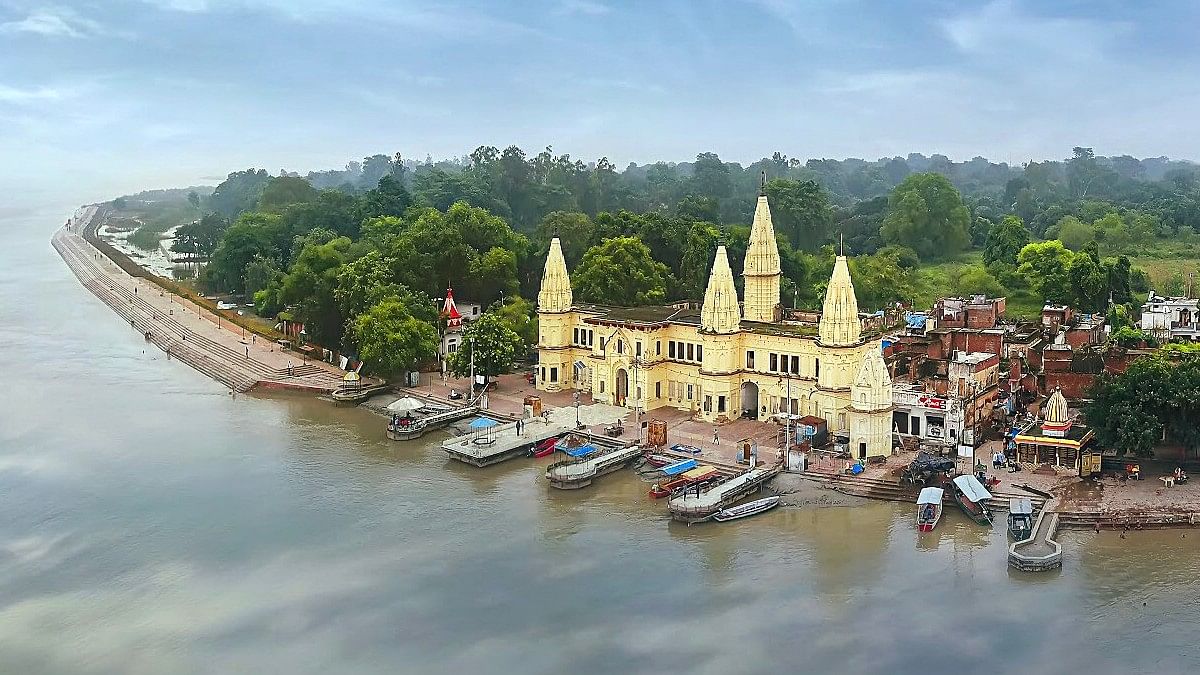 Lucknow: The mayor of Ayodhya, along with two BJP leaders, has featured in a purported list of "illegal colonisers" reportedly prepared by the Ayodhya Development Authority (ADA). The list, a copy of which is with ThePrint, mentions 40 such places in the district where individuals allegedly indulged in "illegal colonisation", according to the ADA.
Names on the list include that of sitting MLA from Ayodhya, Ved Prakash Gupta, former Milkipur MLA Gorakhnath Baba and Ayodhya mayor Rishikesh Upadhyay. 
Speaking to media persons Sunday, Vishal Singh, vice-chairman of the ADA, however, said that the "leaked list" in question is a "preliminary" one prepared on 6 August.
"The list has been prepared just yesterday (Saturday). The junior engineer concerned with enforcement has been directed to visit the area, investigate and action will be taken. Whose name has been put in the list , can be ascertained after investigation. On Saturday too, the media persons had spoken to me and I had informed them that a list will be prepared and action will be taken after investigation," Singh said.
He also said that spoiling the image of any political personality is not the objective of the ADA, adding, "Investigation will be done and the list will come before everyone."
Asked specifically by a reporter if the list circulating on social media was "fake", Singh replied: "Whether it is fake or not, can only be revealed after probe and the probe is an internal matter of the ADA as of now."
ThePrint reached Ved Prakash Gupta by phone, but had not received a comment by the time of publishing this report. Calls and texts to Ayodhya mayor Rishikesh Upadhyay and Gorakhnath Baba, too, went unanswered. This report will be updated as and when a response is received.
Launching a scathing attack on the ruling Bharatiya Janata Party (BJP), Samajwadi Party (SP) chief Akhilesh Yadav shared a newspaper clipping of the issue on Twitter and wrote: "We have said this earlier and repeating again that the corrupt within the BJP should at least spare Ayodhya."
The purported list issued by the ADA mentions 40 different areas in Ayodhya where illegal colonies have allegedly mushroomed.
The purported list, titled 'place of illegal plotting in Ayodhya and name of coloniser', has two columns, namely "name of illegal coloniser" and "place".
The names of MLA Ved Prakash Gupta, mayor Rishikesh Upadhyay and ex-MLA Gorakhnath Baba find mention in the "name of illegal coloniser" column. Corresponding mentions in the "places" column say: "Jaipuria school", "Parikrama Marg to Tarapur Rajauri and Chak Gaura Patti Manjha till Jamthara dam area" and "beyond the BJP office in Sahadatganj" next to the names of Ved Prakash Gupta, Gorakhnath Baba and the Rishikesh Upadhyay respectively.
Ayodhya Development Authority had in July this year deployed five bulldozers to demolish the illegal colonies that had sprung along the floodplain of Saryu river between Chak Gaura and Patti Manjha Jamthara.
Earlier, speaking to media persons Saturday, the ADA vice-chairman had said that the authority had identified 40 places where "illegal colonies" had come up in Ayodhya district.
"At present, 40 illegal colonies have been identified. We are demolishing them one by one. The names of those who have indulged in sale and purchase have been identified. We are getting them checked and strictest action will be taken against those engaged in property dealing here," he was quoted as saying by media persons.
Singh, who is also municipal commissioner of Ayodhya, had appealed to the public not to attempt the construction of buildings in such illegal colonies and to apply for approval of their building maps online.
ThePrint reached Singh via call but his number was switched off. This report will be updated as and when a response is received.
The ADA vice-chairman had also urged the District Magistrate to identify individuals who approached the local administration to get such illegal properties registered.
"We have requested the DM that if registries are repeatedly happening with an intention of illegal plotting, then the mutation of such property should not be done and it should be ensured that such properties are not registered," Vishal Singh was quoted as saying.
ThePrint reached the office of Ayodhya DM Nitish Kumar but was told by a member from his team that "the matter pertained to the ADA and response should be sought from them".
---
Also Read: Sick cows, angry workers—five years on, Yogi's ambitious 'cow safari' push remains a dream
---
Only 5% illegal colonies on list: Ex-SP MLA 
Reacting to the purported list, former MLA from Ayodhya, Tejnarayan 'Pawan' Pandey of the Samajwadi Party, called for a fair probe into the matter.
Pandey, in a letter to the Ayodhya divisional commissioner, has demanded that all revenue records relevant to the allegations be confiscated and record rooms of Ayodhya municipal corporation housing the documents be sealed.
The letter, a copy of which is with ThePrint, reads: "The reports about the illegal plotting across Ayodhya are shameful. Illegal colonies are mushrooming across Ayodhya and Faizabad. Several corrupt officials of the ADA, nazul and the revenue department are part of this labyrinth."
But Pandey claims that the illegal colonies that found mention on the ADA's purported list account for only 5 per cent of the total illegal colonies that have mushroomed in the mahanagar area of Ayodhya-Faizabad, on nazul land (non-agricultural government land within limits of Ayodhya municipal corporation) and in around 40 villages bordering Ayodhya.
"This has been going on for the past five years, thanks to the nexus between the BJP and the corrupt officials of Ayodhya. The list contains only 5 per cent account of the total illegal colonies mushrooming in Ayodhya-Faizabad. If the CM is really honest and does not sanction this, a fair probe should be conducted into the unauthorised sale-purchase and illegal colonization in the land of Shri Ram," he told ThePrint.
(This report has been updated to reflect the most recent statement by the Ayodhya Development Authority)
(Edited by Amrtansh Arora)
---
Also Read: What became of loudspeakers taken off temples & mosques by Yogi govt? Read on
---