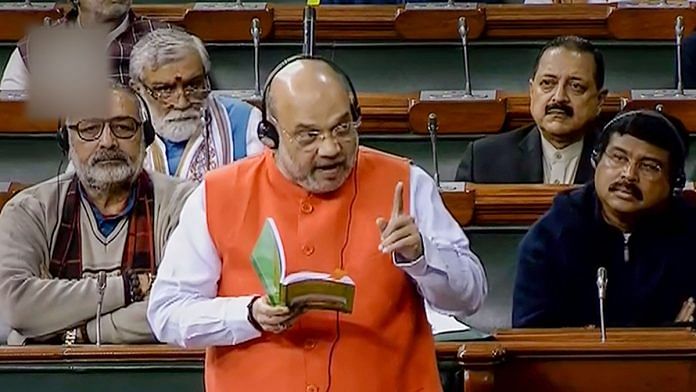 Text Size:
Front page
After the contentious Citizenship Amendment Bill, 2019 (CAB), passed the Lok Sabha test, newspapers Wednesday focus on the bill in the Rajya Sabha, Shiv Sena's changing stance and the widespread protests in the Northeast.
News is sparse on the ongoing Jharkhand assembly polls. Personal Data Protection Bill, 2019, and Supreme Court's impending appointment of high court judges find mention in some newspapers.
CAB: In "CAB in RS today: Govt sure of numbers despite Sena U-turn, dissent in JD(U)", The Indian Express sums up the Centre's main concerns for the bill's Rajya Sabha test. The Times of India echoes this in "Sena seeks answers before backing govt in RS, but NDA confident of numbers", writing how Sena chief Uddhav Thackeray says his party needs "clarity on demands like denial of voting rights for 25 years to those gaining citizenship". Hindustan Times is slightly more circumspect in its headline — "Sena makes U-turn on CAB but govt may have numbers".
With images of protesters blocking roads with burning tyres, TOI reports on the unrest in the Northeast in "Violence rages in Assam over CAB, net suspended in Tripura". The Hindu uses a similar image for "Violence mars protests against Citizenship Bill", reporting on the "11-hour shutdown" against the passage of the CAB in the Northeast.
"Govt hits back as 2 US panels slam bill, NRC, calls for curbs", reports TOI, while Express says "Undermines basic democratic tenet, says influence bipartisan US panel". Express writes that according to the US House Foreign Affairs Committee, "religious pluralism" is central to the foundation of both India and the US, and hence a "religious test for citizenship" undermines that tenet.
SC judges: In "SC flags delay in appointment of judges", Hindu reports how "two hundred and thirteen names recommended for appointment to various high courts and pending with the government/Supreme Court Collegium". TOI focuses on the SC's urgency — "SC: Centre must clear HC judge names in 6 months".
Data bill: Express and HT have similar headlines for reports on the Personal Data Protection Bill, 2019, that will be deliberated upon in the Parliament Wednesday — "Govt agencies to get wide powers to call for personal data in privacy bill" (Express), "Bill may give govt a wider berth on data surveillance" (HT).
TOI frames it differently — "Agencies can snoop on personal data for national security: Bill", adding activists feel the bill could "severely hit privacy".
Others: "BHU Muslim prof quits, to teach Sankrit in another department", reports HT with a straight headline. Express frames the development differently in "Hounded out, Sanskrit professor changes BHU post, students celebrate".
Only HT ("We will form the next govt in Jharkhand, says JMM's Soren") briefly reports on the Jharkhand polls, writing that according to JMM president Hemant Soren "people in Jharkhand are determined to vote for change".
Opinion
TOI: CAB passed the Lok Sabha with a 'comfortable margin', says TOI, however, the real test awaits in the Supreme Court where it will be challenged on the grounds of Articles 14 and 15, writes TOI. Home Minister Amit Shah said the bill meets the 'reasonable classification' threshold of exception, but it is to be seen whether judiciary passes it.
Shah's argument that the article wasn't necessary if the Congress had not accepted the partition on the basis of religion, may not hold weight as India was not created on the basis of religion, it states.
Hindu: People willed "instant reward and not punishment" for Karnataka lawmakers who defected from the Congress and the Janata Dal (Secular) to the BJP and sought a fresh mandate in recent by-elections, writes Hindu. The BJP, which had fallen short of a majority in the 2018 elections throwing up a hung legislature, now has 117 MLAs and a comfortable majority in the assembly.
Chief Minister B.S. Yediyurappa turned the resentment in the Congress camp to his advantage. Sixteen of those MLAs, who resigned, were promptly admitted to the BJP and 13 were fielded as its candidates. But the BJP was quick to own up its victory, it writes.
The BJP's majority today has been won through a "devious route". The problem is that there is now a Karnataka model of achieving a majority by engineering an adequate number of by-elections through highly questionable means, it says. The party must reflect on the cost to democracy this might entail, and focus more on governance in the state to reassure its commitment to democratic behavior.
Prime Time
Prime time was abuzz with the citizenship bill. On NDTV India, Ravish Kumar asked if the bill was a test of patience for Indian Muslims. Aaj Tak's Rohit Sardana wondered, "Shranarthiyon ka samman ya Hindu-Musalman" (Respect for Refugees or Hindu-Muslim?). On NDTV 24×7, Sreenivasan Jain questioned the link between CAB and the National Register of Citizens (NRC).
Zee News anchors Sachin Arora and Aman Chopra departed from the usual studio debate and visited Pakistani immigrants in New Delhi to find out what they thought of the bill. Seemingly in support of the bill, the anchors took the liberty to point at children on the streets to say, "This kid will get two meals a day, some clothes and education if this bill is implemented."
The show was less a fact-finding mission and more a spectacle: The children were asked to chant 'Gayatri Mantra' by the anchors.
Political analyst Nishant Verma, who accompanied the anchors, observed, "Even though they are Hindus and living here for years, there was no law in place which was stopping them from getting an Indian citizenship".
ABP News: Anchor Rubika Liyaquat, impressed by Amit Shah's ability to convince the Parliament of the CAB's merits single-handedly, declared, "Shah ka shandaar goal".
She also debated Pakistan Prime Minister Imran Khan's reaction where he described the bill as a "design of expansionism". BJP's Shahnawaz Hussain said, "Who is Imran Khan to speak about our internal matter. He should first care about Shias and Ahmadiyyas in his own country."
India Today: Rajdeep Sardesai asked whether CAB was a bid to polarise India and debated the historical facts of partition.
Sardesai told Congress MP Shashi Tharoor that Amit Shah had accused him of fear-mongering for his remark, "CAB is a victory of Jinnah over Gandhi and will turn India into a Hindutva Pakistan."
Tharoor responded gamely: "The problem is that we don't need to create fear. Fear is there in the eyes and minds of many, and not just Muslims. Hindus too."
Sardesai then said that Shah claimed the BJP was trying to correct the wrongs of Congress as it was the latter that divided the country (partition) on religious grounds. To which, Tharoor retorted, "I don't think he was paying attention in history class."
BJP's Gaurav Bhatia stood by the party, "The Congress promoted illegal immigrants coming into our country as they would later become their vote bank. What is happening today is in the interest of the country."
CNN–News18: On #RightStand, Anand Narasimhan asked whether "the CAB push was fixing a historic wrong?''
Author and RSS supporter Ratan Sharda said, "Someone said Hindus will benefit. I'm sorry but this bill is not brought to benefit any Hindu or Muslim of India, they are living very happily. It is for people who are being persecuted, who are real human beings."
Ravi Shrivastava, political analyst, interrupted Sharda, "This is being done to create a vote bank for the BJP, it will not help the nation at all".
To which, Sharda retorted, "Mr Ravi, do you have any business apart from heckling? Please don't heckle next."
Subscribe to our channels on YouTube & Telegram
Why news media is in crisis & How you can fix it
India needs free, fair, non-hyphenated and questioning journalism even more as it faces multiple crises.
But the news media is in a crisis of its own. There have been brutal layoffs and pay-cuts. The best of journalism is shrinking, yielding to crude prime-time spectacle.
ThePrint has the finest young reporters, columnists and editors working for it. Sustaining journalism of this quality needs smart and thinking people like you to pay for it. Whether you live in India or overseas, you can do it here.