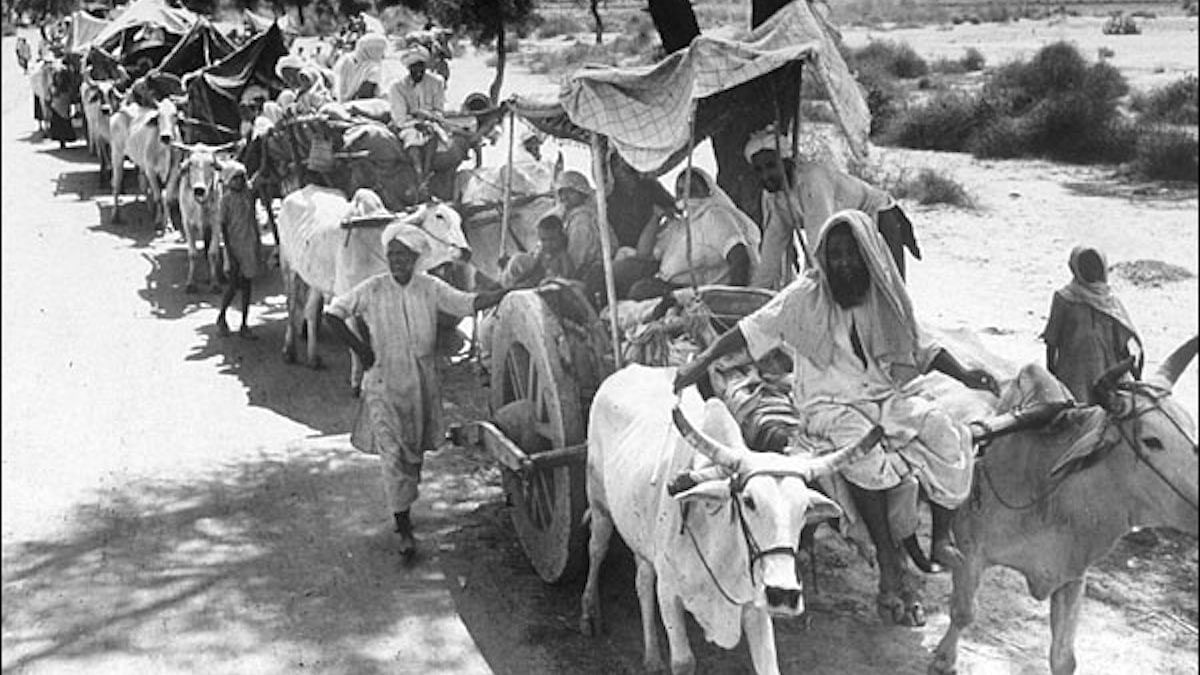 Not all inheritances from Partition are traumatic,' Harsh Vardhan Sahni asserts at one point in our two-hour conversation. At first, I'm taken aback, not only by the words but also the incredible lightness of his voice that's difficult to obtain while speaking about Partition. But the longer I reflect on the statement, the more I understand how for so many families, in hindsight, the rupture of division and migration was eclipsed by the future they were able to eventually secure in independent nations. Of course, no story of Partition is devoid of loss, but through our conversation Harsh maintains that rather than the dispersion of trauma, it is the celebration of being able to rebuild life that has been passed down the generations of his family.
'I will begin from the oldest ancestors I know about,' he tells me, referring to the family tree he has compiled. Harsh was born in 1986, and during our interview he takes me through the three generations that precede him. 'My paternal great-grandfather, Shri Hari Ram, also known as Shahji, hailed from the village of Ghariyala,' he now pronounces the word in Punjabi, 'or maybe it is Karyala, in present-day Pakistan. He was a rich man, a moneylender, a zamindar. My grandfather, Charandas Sahni, was the youngest son from his first marriage; the two had a rift over the ethics of the moneylending business and my grandfather decided to start afresh and have nothing to do with his father's enormous wealth.
'He married my grandmother, Vidyawati, who was from Sialkot. Her father, Desraj Abrol, had constructed a fabulous kothi with mirrors and glass called Sheesh Mahal, which I've been longing to locate for the last several years to see if it still stands. After renouncing his father's work and wealth, my grandfather joined his sister's husband in supplying sports goods from Sialkot to various places, including Delhi. It was on one of these visits, just before Partition, that with a borrowed pen he gave the exam at the polytechnic in Kashmere Gate and secured a job as a clerk there. This later became the Delhi College of Engineering. He was also provided government housing in Timarpur – my father actually still remembers the address of the house, 118 C, but now it's all demolished.' Harsh smiles sadly.
---
Also Read: Partition, my grandmother's pain drove me to collect utensils as memory: Vikas Khanna
---
'This family tree…' I gesture to his notes.
'Yes, as I was making it, I found myself wishing I'd asked more questions while my elders were still alive,' he says and begins to tell me about its compilation. As the details of names, dates of birth, cities and migration routes tumble out, this document connects the members of the Sahni-Abrol family from a once-undivided to divided India.
'So, when Partition was announced, your grandparents were already in India?' I ask.
'My grandfather was in Delhi, but my grandmother was still in Ghariyala, across the border. They had three children before Partition, and she crossed over with them and the rest of the family. From what I've heard, she carried a sandookadi full of gold ornaments, but I don't know where it is any longer. The family didn't keep the gold as my grandfather didn't want anything to do with his father's wealth; he gave it away in his siblings' and nieces' weddings. But no one knows where the sandookadi is either; we didn't hold on to anything out of nostalgia, to be honest…'
'I've actually been thinking about how when it comes to Partition, we fall into nostalgia almost naturally, like it's a pre-established, expected state of being,' I muse, slowly working through my thoughts. 'But experiences from that time are so complex that even longing can be viewed more critically.'
Harsh nods. 'Yes, definitely. The things I heard about were less about the wealth or the zamindari or even the longing for a life left behind, and more to do with starting afresh. I've heard that my grandfather was a very morally upright person, influenced by the Arya Samaj, and it reflected in the fact that out of ethical differences, he refused to be a part of the family wealth. In the early years in India, they were by no means financially well off, but they all took pride in being able to rebuild from the ground up. My grandfather already had a footing in India before 1947, and when the Lal Bahadur Shastri National Academy of Administration was set up in Mussoorie in 1959, he moved there and worked as an accounts officer until his retirement.'
---
Also Read: In the lead up to Partition, Gandhi's own prayer meetings were becoming polarised
---
'Is that the context in which you first understood Partition? As a new life, a fresh start?' I ask.
'Well, that and other things. My family still lives in Mussoorie, so I shuffle between here and Delhi for work. But I went to school in Mussoorie, where most of my classmates were Garhwali, and they would always speak about their ancestral villages. It was just a thing – everyone had a village, a native place. But I didn't have one and I would just say that I was from Mussoorie, because it was all I knew. Then in 2010, when I was at Oxford, someone asked me my nationality, and I asked him whether it was that hard to guess. He said that I could either be Indian or Pakistani, but he didn't want to offend. I suppose…' he says and his voice trails off. 'I suppose it took me by surprise that someone thought I would be offended at being identified as Pakistani.'
'And why is that?' I ask.
'Because I certainly took pride in where we came from, and what we came from – my cultural roots are in Pakistani Punjab. Part of my family's life was spent in what is now Pakistan and part of it in India, which means that part of my history is there and part of it here…'
He pauses for a few seconds to think and then says, 'I'll give you another example. When I am introduced to someone, if they ask where I'm from, I'll say Delhi because I live there, but then they'll ask, where are you really from, and I'll begin to explain that my family lives in Mussoorie, and then they'll make observations or speculations about my being Pahadi or Garhwali, and so on, and none of them are representative of who I am. So, I simply began saying Pakistan. Because the question "Where are you really from?" is so complicated, and if you want an accurate answer, it will lead to present-day Pakistan. My family is originally from West Punjab, which is in Pakistan, and that is my identity, my historical truth.'
'And one that you are proud of,' I add with a smile.
He laughs. 'I am definitely proud of it. I want people to engage with my whole identity. And as a third generation, I do, of course, want to see where my family comes from. But more than an inheritance of tragedy, there is a recognition of hope and resilience when it comes to Partition and rebuilding life from scratch in India.'
---
Also Read: Mountbatten planned to partition India into many countries. Then VP Menon stepped in
---
'But there is no sense of loss? Or trauma?' I ask, even though I think I already know the answer.
'Well, my father's family may have had misgivings about giving up their wealth, but in my generation, we are fine. I also understand that as a community Punjabi Khatris prospered enormously post Partition. So, I don't necessarily feel deprived of anything. I know that terrible things happened at the time of Partition, but also that we were not affected by the worst of it. And the truth is, though I am a bearer of this complicated heritage, it is not dramatic, just as not all inheritances are traumatic. Mine is a celebration,' Harsh says with finality.
This excerpt from 'In the Language of Remembering: The Inheritance of Partition' by Aanchal Malhotra has been published with permission from HarperCollins Publishers India.