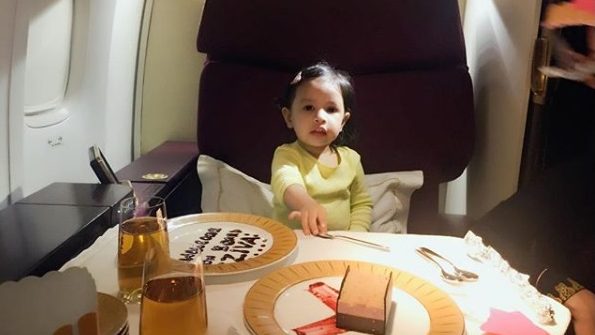 Text Size:
Celebrity babies like Taimur Ali Khan Pataudi are not merely professionals in posing before photographers but are also celebrated as fashion accessories. But now there's a new kid in town Taimur, and her name is Ziva Dhoni. If Taimur Ali Khan is known for his beauty, Ziva Dhoni is known for her actions.
Four-year-old Ziva Dhoni is her cricketer-father Mahendra Singh Dhoni's biggest cheerleader. Whether she is teaching Dwayne Bravo how to wear his CSK cap, giving Suresh Raina a kiss, or aping her famous dad while on her iPad, Ziva Dhoni has made legions of fans. Like Taimur Ali Khan, she seems to be Daddy's baby, walking up the steps to the dressing room hand in hand with him, or answering his multilingual greetings in the appropriate language, or even learning to swim with him. The pictures and short videos are lovingly posted on her Instagram handle by her mother (@ziva_singh_dhoni), or are available on YouTube.
There was a time Indians loved to consume photographs of the Gandhi dynasty children. Rahul, Priyanka and Varun — capturing their moods, their occasional outing from behind the security cover. They were the well heeled privileged children with the Kennedyesque mystique. But all that royalty voyeurism has now shifted towards Bollywood celeb children. 
Now, baby celebrities might be in news for something as rudimentary as their name — or just looks. Since the day he was born over two years ago, Taimur Ali Khan Pataudi's life has been chronicled with much love and care by photographers who lurk daily outside the Mumbai home of Saif Ali Khan and wife Kareena Kapoor Khan.
The shutterbugs capture his play dates, parties with other celebrity babies like Inaaya Naumi (daughter of Soha Ali Khan and Kunal Kemmu), Yash and Roohi (children of Karan Johar), and Laksshya (son of Tusshar Kapoor) as well as his attendance at weddings. Everything is marked and commented upon on several Instagram handles carrying some version of his name, whether it is his Mickey Mouse outfit or his recent haircut. Usually carried on his father's shoulders, or by his smartly attired nanny (who has her own Instagram account, @taimur_ki_nanny), Taimur Ali Khan looks every inch the bearer of special DNA, connecting Bollywood's finest to cricket's best. Especially when he's riding a horse.
---
Also read: Kareena Kapoor and Mira Rajput are changing the way India looks at nannies
---
But baby celebrities don't remain under the paparazzi's lens forever and as they grow up, the cameras turn to a prettier, smarter, cuter celebrity baby waiting in the line. So, for instance, Taimur Ali Khan and Ziva Dhoni may soon be upstaged by Shahid and Mira Kapoor's children, Misha and Zain. It's a place Shah Rukh Khan's youngest son, AbRam, has already been in. The five-year-old's pictures with his dad, mom, and siblings routinely elicit cooing sounds that are usually reserved for cat videos. Whether it is posing in Balenciagas with dad and older brother Aryan, or wearing a T-shirt that says Mama is My Queen or nestling on a day bed with his famous father, AbRam Khan is a photo-magnet, though clearly not in Taimur's league.
Those who were friends with Shah Rukh Khan in his early days in the film industry remember him carrying Aryan around with him in much the same way, taking him to parties, to premieres and to friends' get-togethers. Babies do grow up, and sometimes become the recipient of much hate as well, as Shah Rukh Khan's daughter Suhana found learnt when she appeared on the cover of fashion bible Vogue on her 18th birthday. 
The West has already made a big business out of babies, with celebrities such as the once-upon-a-time power couple Angelina Jolie and Brad Pitt charging $14 million for exclusive pictures of their twins. The Kardashians-Jenners whose personal lives are the basis of their professional careers, ensure their children are constantly in the public eye by carrying them around like Birkin bags. Photographs of royal children in England routinely make global headlines, which is just as well for them given the number of children Will-Kate and Harry-Meaghan have had or are having. The maternity fashion, the baby clothes, the Gwyneth Paltrow level of special food — all of it keeps tabloid journalists and the paparazzi in business.
---
Also read: 'If Rahul Gandhi can be everywhere, why can't Suhana Khan be on Vogue cover?'
---
What does that mean for the celebrity industry in India given that filmmakers find it easier to hire faces with familiar surnames? As in the case of Janhvi Kapoor and Sara Ali Khan, it gives them a minimum guaranteed audience as it were, because of the high level of social media awareness of these starlings. There is always a film producer around waiting to cast the next Bachchan, the next Sridevi, the next Shah Rukh, and there is always the fond hope that the junior will recreate the senior's magic. It's what infuriates outsiders such as Kangana Ranaut, who have worked hard to find a place for themselves in Bollywood, overcoming insults and assaults, and it ensures the stranglehold of a few families on the stories that Bollywood tells us about ourselves. How quickly it will change will depend on our capacity to absorb franchises such as Student of the Year 5.0. 
The author is a senior journalist. Views are personal.
Get the PrintEssential to make sense of the day's key developments