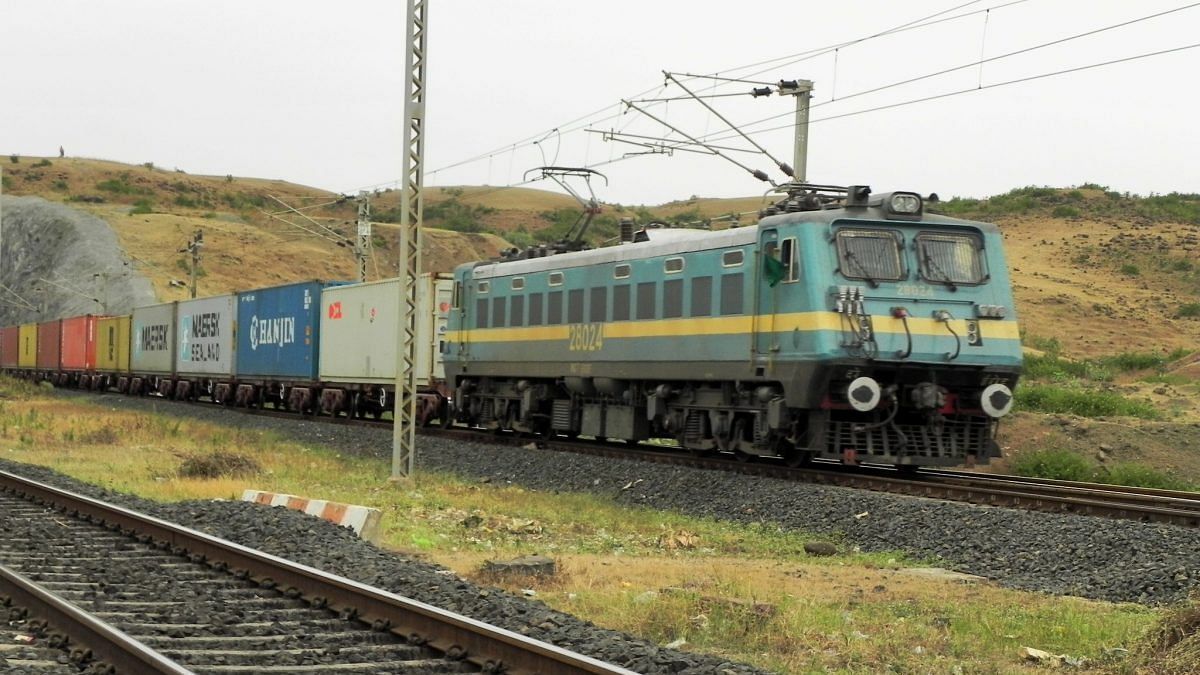 The Union Budget 2022 talks about the integration of smaller goods in the Indian Railways freight basket through seamless connectivity at cargo terminals. Over four decades, the railways has made impressive gains in freight volumes, emphasising the movement of bulk commodities across long distances, while the share of non-bulk traffic is merely a portion. The National Rail Plan 2020 has indicated different scenarios of traffic share that the railways could be handling by 2051, estimating a significant increase in the share of balance (other goods) and Export-Import container traffic, while a decline in the share of other bulk commodities, especially coal.
In the 1960s, as the demand for freight traffic grew, railways first shifted their fleet to eight-wheeled wagons to carry more volume, and secondly, encouraged train load movement over piecemeal movement. This eventually favoured transportation of bulk commodities and facilitated a shift of non-bulk commodities to the road sector. The latter was able to provide 10–12-tonne trucks — ideal for 'smalls' traffic, along with dynamic rates, guaranteed service, and safety as compared to the rigid policy structure of railways.
---
Also Read: Maharashtra to Tripura — Kisan Rail is helping Indian farmers deliver, even in a pandemic
---
Freight forwarder scheme and its decline
Realising the shift from non-bulk commodities to the road, the Indian Railways came up with the concept of freight forwarders and introduced a scheme in 1969 to encourage non-bulk commodity movement by rail. Thereafter, the freight forwarder scheme (FFS) underwent frequent alterations, which made the scheme rather unstable and disloyal to its users. While the scheme had an impact initially, it wasn't significant enough to increase 'smalls' share. Therefore, though the aggregators have been a part of railways for a long time, their contribution is confined to limited routes and commodities.
FFS was revised in 2021 with the objective of increasing aggregation of goods at private freight terminals and goods sheds to expand the commodity basket of railways. However, major traditional bulk commodities of railways have been removed from this scheme, leaving low volumes of non-bulk traffic. Further, wagons are supplied as per the availability without any prior guarantee, causing a lot of uncertainty. These changes have made the scheme restrictive and non-attractive to customers.
The Indian Railways has permitted the Container Corporation of India to introduce domestic container services to attract non-bulk goods, including private operators. Though it is one of nine bulk commodities as reported by railways and accounts for 1.02 per cent of the overall freight traffic, domestic container operators have reported limited success. The overall cost incurred by a customer while transporting their goods in a domestic container is also high, along with terminal detentions and other operational constraints.
Second, parcels carried largely through passenger trains and vans account for only 0.23 per cent of railways freight traffic. It faces similar infrastructural constraints such as lack of separate loading/unloading space at railway stations, poor holding area/warehousing conditions, choked road access points for entry of trucks, and network capacity congestion. Parcels are handled at passenger platforms leading to obstructions in the free movement of commuters.
Additionally, there are serious gaps in the last-mile movement of parcels. The railways' inability to address these issues and meet the expectations of the customers has hampered the traffic growth of these commodities.
---
Also Read: Fast trains, slow privatisation: How Modi govt should roll back state ownership of railways
---
Lack of prioritisation and implementation
Though Indian Railways wants to focus on increasing the commodity basket by transporting fast-moving consumer goods, they lack actual prioritisation and implementation. When compared to the road sector, tariff rates offered by the railways are reasonably lower. However, the handling and first- and last-mile costs of transporting freight via rail are significantly higher. Furthermore, transit time in railways is high due to multiple stoppages as compared to door-to-door connectivity of the road sector. The railways' inability to assure its customers about transit time, wagon supply, and complicated rules and procedures has led users to choose roads despite higher tariff rates.
The need for warehousing is often expressed by freight forwarders but is given limited attention. Hence, private entities have to incur additional costs for building up warehouses or quality access roads at the freight forwarding terminals. Palletisation and mechanisation to increase efficiency at warehouses and loading/unloading points are yet to enter policy framework.
The Indian Railways, therefore, needs to focus on customers' on-ground challenges and requirements. One of the key approaches that can enhance the effectiveness of their non-bulk policies is through the formation of a separate institutional unit that would look into the operations of freight forwarders, domestic containers, and parcels traffic – railways' piecemeal traffic under one unit.
The role of each entity should be defined — the primary role of railways should be limited to haulage, infrastructure provision, supervising operations while supporting freight forwarders or logistics companies in bringing traffic. The terminal operators should focus on activities related to warehousing, loading/unloading, and stacking. Ultimately, the Indian Railways needs to bring synergy in their operations by following a flexible policy framework, while moving away from the traditional rigid structure.
Palak Passi is a Research Associate at the Transport & Urban Governance Division of TERI. Views are personal.
(Edited by Srinjoy Dey)