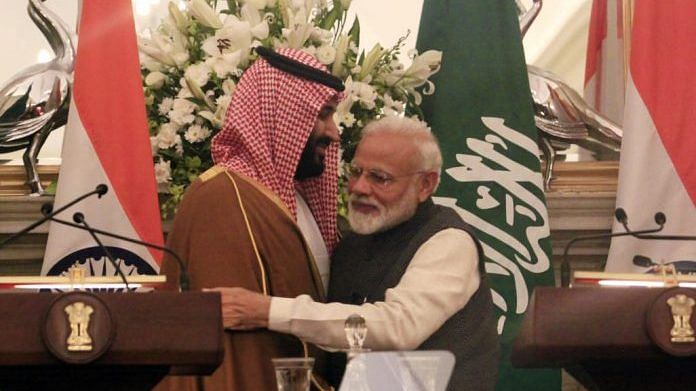 Text Size:
It came as a surprise but it is not surprising. When the United Arab Emirates and Israel announced that they would establish normal relations with each other, in a US-brokered agreement last week, they publicly accepted what has been obvious for several years now — that the national interests of the Emirates along with those of Saudi Arabia and many other Arab states were converging with those of Israel.
The triangular contest in the Middle East — with Iran, Turkey and Saudi Arabia vying for regional dominance — is a modern replay of older rivalries between the Persians, Ottomans and Arabs. With Israel perceiving an existential threat from Iran and being wary of once-friendly but increasingly threatening Turkey, realist logic would expect Tel Aviv to gravitate towards the Arab nations. The thorny Palestinian question long prevented an alliance between Israel and the Arab powers. Set that aside and Israel and the Arab nations become co-travellers on the road to prevent Iranian and Turkish hegemony over the Middle East.
---
Also read: UAE is the 'Sparta' of Middle-East. It needed Israel on its side to punch above weight
---
How things change for Israel
Under the agreement, the United Arab Emirates (UAE) will establish diplomatic relations with Israel in return for the latter's suspension of the plans to annex and change the status of some Palestinian territories. As journalist Anshel Pfeffer points out in the Haaretz, this is a diplomatic coup for the Israeli prime minister because "Benjamin Netanyahu never had a real plan for annexing parts of the West Bank. There was no timetable, no map, no draft resolution to be brought to the government or the Knesset…It is an achievement for Netanyahu that his predecessors, who were prepared to make major concessions to the Palestinians, only dreamed of – and he paid nothing for it beyond what he called the 'temporary suspension' of the annexation he was never going to carry out anyway."
The corollary, of course, is that Israel's capacity for unilateral actions in the future will be circumscribed by its diplomatic relations with the Arab world, for it will have things to lose. Indeed, it is possible to argue that Palestinian interests might be better served when more Arab countries have embassies in the Israeli capital.
---
Also read: Why UAE chose to normalise diplomatic relations with Israel
---
Saudi hand is clear
While the UAE's decision is significant in itself, the inevitable question that follows is whether Saudi Arabia will do likewise. There are strong indications that Riyadh today is more inclined to normalise relations with Israel than it ever was. Indeed, the UAE-Israel agreement would not have been possible without Saudi Arabia's tacit approval. Yet, there is a generational divide in the House of Saud — prominently between King Salman and Crown Prince Mohammed bin Salman — on the Palestinian issue, with the older generation taking a far more conservative approach to recognising Israel.
The Saudi leadership also has to contend with the fact that were the Kingdom to recognise the Jewish state, its status as the leader of the Sunni Islamic world will face a strong challenge from a Turkey-Malaysia caucus. This could, in turn, weaken the Saudi dynasty's domestic legitimacy, exposing it to political challengers. So, Riyadh is treading carefully but clearly in the direction of Israel.
---
Also read: Iran, not Israel, becomes the unifying enemy for the Middle East
---
The changing Middle East
UAE's step signals a realignment in the Middle East that will have wider ripples. For one, it sharpens the triangular polarisation of the region, with countries either siding with the Arabs, Iran or Turkey, or suffering their intervention. Just like in Europe before 1914, the risk of a bigger regional war has sharpened. Unlike that period, there are external powers involved that might not see a Middle Eastern war in their interests. So, the security of the region is still enmeshed with its relationship with the United States, Russia, and China.
The Arabs (and Israel) enjoy good relations with all three external powers; and China is the only external power that has strong ties with all the regional powers. Through its arms exports, investments and purchasing power, Beijing has ensured that it is seen as an essential partner by all three sides, and the fourth if you include Israel. China can thus play all sides of the Middle Eastern equation, just as the Saudis are well-placed to leverage all sides of the global power equation.
---
Also read: Modi's bid to sway China's Xi with personal outreach was a big error. India's paying for it
---
Opportunities for India
Interestingly, Pakistan is moving away from the Saudi camp on the back of its relationship with its new patron, China. It is also toying with the idea of joining Turkey and Malaysia in a bid to wrest the leadership of the so-called Islamic world away from Saudi Arabia. As C. Raja Mohan writes, "Islamabad is probably betting that America is on its way out of the Middle East, and that its all-weather strategic partnership with a rising China would give Pakistan new leverage in the changing Middle East. In the interim, the threat to align with Turkey and Iran serves as an instrument to put pressure on the Saudis and Emiratis."
For India, the normalisation of ties between Israel and the Gulf Arabs is a good thing — for it opens up greater opportunities for our engagement with the region. It is important, though, that New Delhi does not get drawn to any one side of the Middle Eastern triangle. Iran is important for India, and must be engaged regardless of its isolation by the United States. Despite the realignments, India is well-placed with respect to the Arab states, Israel and Iran. It is with respect to Turkey that Indian foreign policy needs to find new approaches. Because he has nothing to lose, Recep Tayyip Erdogan is increasingly taking anti-India positions to bolster his own standing. Why not give him something to lose?
The author is the director of the Takshashila Institution, an independent centre for research and education in public policy. Views are personal.
Subscribe to our channels on YouTube & Telegram
Why news media is in crisis & How you can fix it
India needs free, fair, non-hyphenated and questioning journalism even more as it faces multiple crises.
But the news media is in a crisis of its own. There have been brutal layoffs and pay-cuts. The best of journalism is shrinking, yielding to crude prime-time spectacle.
ThePrint has the finest young reporters, columnists and editors working for it. Sustaining journalism of this quality needs smart and thinking people like you to pay for it. Whether you live in India or overseas, you can do it here.