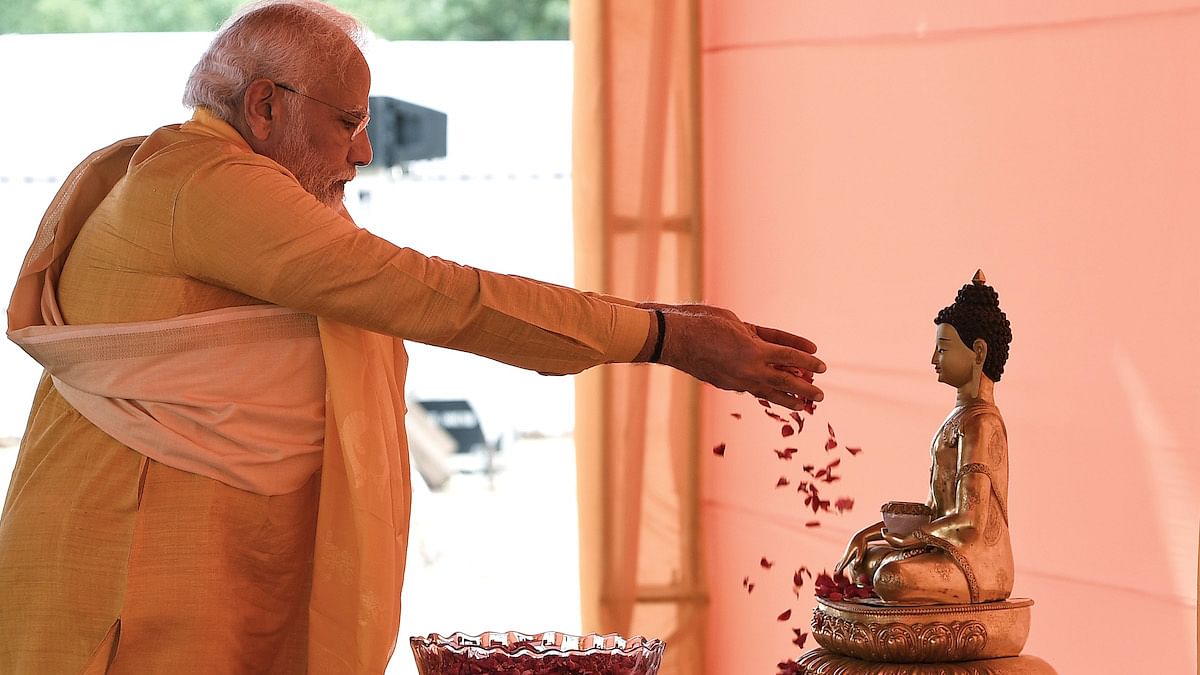 Trust Prime Minister Narendra Modi not to leave anything to chance. Wearing a haldi-coloured kurta Monday, he undertook his fifth visit to Nepal since he became PM to inaugurate the India International Centre for Buddhist Culture and Heritage in Lumbini, the birthplace of Gautama Buddha. Naturally, the short visit of a few hours took place on Buddha Purnima. By the evening, the PM was back in India, having dinner with Uttar Pradesh chief minister Yogi Adityanath and his council of ministers in Lucknow.
There's a reason why Modi chose the haldi coloured kurta to travel to Lumbini – after all, he could have stuck to his usual whites. The story goes that when Sakyamuni Siddharth left the palace to rediscover the meaning of life, he was clad in a simple white garment. Over the months, the rain, sun and cold leached the white cloth and turned it into pale yellow, or the colour of ageing wheat.
PM Modi, who understands the power of symbolism like few other leaders, travelled to Sakyamuni's home in the colours of an ordinary monk.
But of course, there is much more to this visit to Lumbini in the heart of the Terai, than a PM temporarily turning into a Buddhist disciple on Buddha Purnima.
---
Also read: India-Nepal cooperation on rising trajectory in religious tourism
---
Buddha and boundaries
Some of it is about the great games that big powers play in order to extend their sphere of influence. The US, China, Canada, France, Germany and Thailand have over the years built their own centres of Buddhist culture and heritage in Lumbini – there's nothing unusual about that, even though India has been looking askance at the Chinese monastery built there about a decade ago.
Back in India too, in key sites linked to Buddha's journey on earth — like Bodh Gaya, where he attained enlightenment, and in Kushinagar, where he achieved mahaparinirvana (or, where he passed away) — several south-east Buddhist nations have built pilgrimage centres. These are huge tourist magnets and Modi has recognised how they can be leveraged to enhance India's soft power in Southeast Asia; his visit to Kushinagar some months ago to inaugurate the airport is an example.
In Lumbini, where Modi was received by Nepal Prime Minister Sher Bahadur Deuba, the PM said all the right things. "The Buddha is above geopolitical boundaries, he is for everyone. Even our Lord Ram is incomplete without Nepal," Modi said.
The last is, of course, a reference to nearby Janakpur, the birthplace of Sita, who became the wife of Ram. What is less known is that Sita's subsequent travails in Ayodhya are a continuing source of great sadness in the Terai, especially among the devout; comments like "nothing good comes when you give away your daughters to foreign countries" are sometimes made when India-Nepal relations are in a particularly bad space.
Be that as it may. Modi's reference to the Sakyamuni being above geopolitics is a direct message to China, which not just built a Buddhist monastery in the core area of the Lumbini Development Project a decade ago, but whose offer to spend $3 billion to build the city as a "world peace city", still stands.
Significantly, a Chinese NGO, the Asia Pacific Exchange and Foundation, in which Nepali Communist leader Pushpa Kamal Dahal 'Prachanda' is vice-chairman, is spearheading the peace city offer.
For years, India played down or downright ignored the offer. For years, it wondered how to handle the Chinese onslaught on Terai, cheek by jowl with several Indian states such as Uttar Pradesh and Bihar, separated by an open border.
All along the Chinese had begun to rumour-whisper that Lumbini, as the birthplace of the Buddha, was far more important than Bodh Gaya, because the Buddha was already enlightened when he was born. Bodh Gaya, as the seat of the enlightenment, therefore, was "no big deal."
---
Also read: India should've been centre of South Asian studies, but lacks enough experts on region
---
Never too late
Modi's visit to Lumbini, the first by an Indian PM, is also a signal that he is not afraid to walk into the dragon's den. On Monday, Nepali PM Deuba inaugurated the brand new Gautama Buddha International Airport in nearby Bhairahawa, only Nepal's second after Kathmandu, built by China's Northwest Civil Aviation Airport Construction Group, over the last 10 years at a cost of NPR 40 billion.
The airport is only 6 km north of the India-Nepal border. But PM Modi's chopper took off from Kushinagar, circumvented the Chinese-built airport, and landed at one of the four specially constructed helipads in Lumbini, a World Heritage site. The SPG was in attendance throughout the tour.
Certainly, the PM was signalling that India is not entirely pleased with the fact that the Chinese have reached the Terai, within shouting distance of its borderlands. Modi is acutely aware of the fact that it has been two years since Chinese troops crossed the Line of Actual Control in Ladakh; they have been held in place by more than 50,000 Indian soldiers on the icy heights.
The PM's trip to Nepal signals something interesting, too. In the wake of India reaching out to Sri Lanka and helping it out in its hour of economic and political crisis, New Delhi is now demonstrating its ambition in its neighbourhood in the north – that it will not allow China to expand its sphere of influence in a region it calls its own.
Modi's trip to Lumbini acknowledges that India has lost time in this reassertion. The Chinese airport in Bhairahawa has been built – that cannot be reversed. But if New Delhi can reclaim and underline the soft power linkages across the Terai – often known as the "roti-beti ka rishta" – also through the steps of the Buddha, and showcase its determination to create joint prosperity for both nations, it would be teaching the Chinese a thing or two in its own game.
PM Modi has made the first move in Lumbini. The chessboard is open to play.
Jyoti Malhotra is a senior consulting editor at ThePrint. She tweets @jomalhotra. Views are personal.
(Edited by Neera Majumdar)