The selected cartoons appeared first in other publications, either in print or online, or on social media, and are credited appropriately.
In today's featured cartoon, Manjul shows that 'hate' was the real winner of Sunday's India-Pakistan T20 World Cup match. He is referring to the social media attacks on Indian pacer Mohammed Shami, as well as Pakistani minister Sheikh Rasheed's declaration that the country's first win over India in an ODI or T20 World Cup was a "victory of Islam".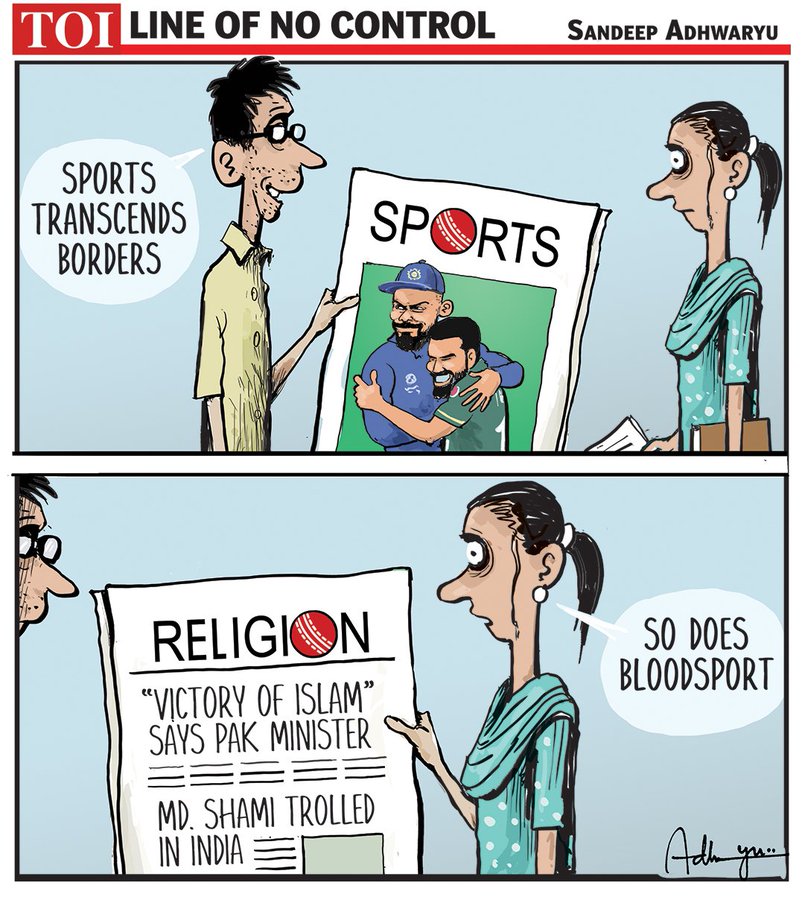 Sandeep Adhwaryu also comments on the aftermath of the India-Pakistan match, calling Sheikh Rasheed's comments and the trolling of Shami a 'bloodsport', as opposed to Virat Kohli embracing his Pakistani opponents in a show of sportsmanship.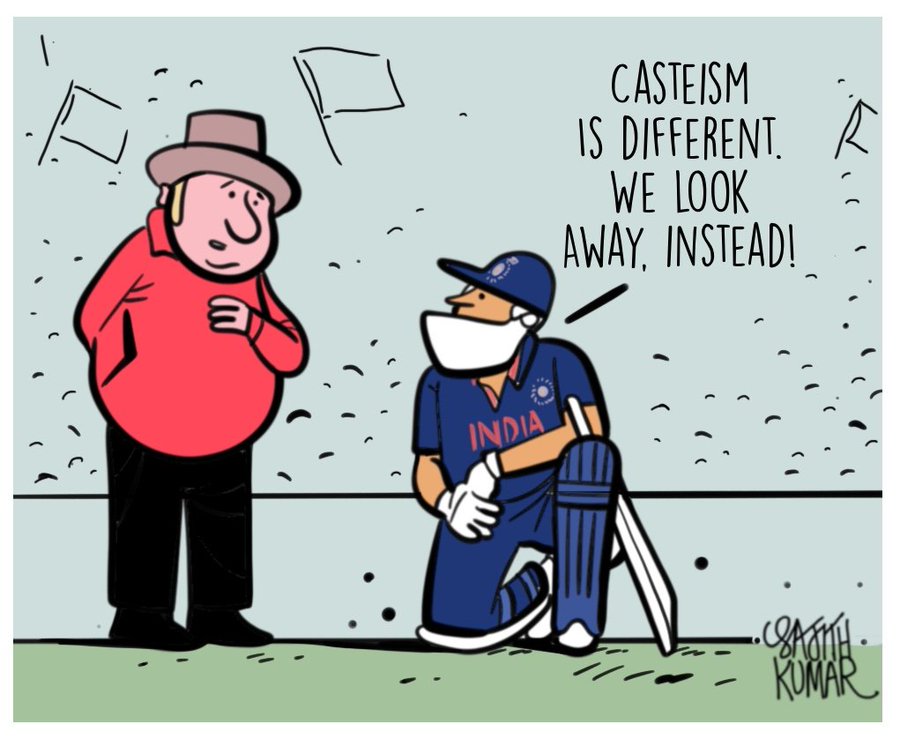 Sajith Kumar takes a dig at Team India for 'taking a knee' before the match against Pakistan to show solidarity with the global Black Lives Matter movement, while remaining silent on other subjects like casteism back home.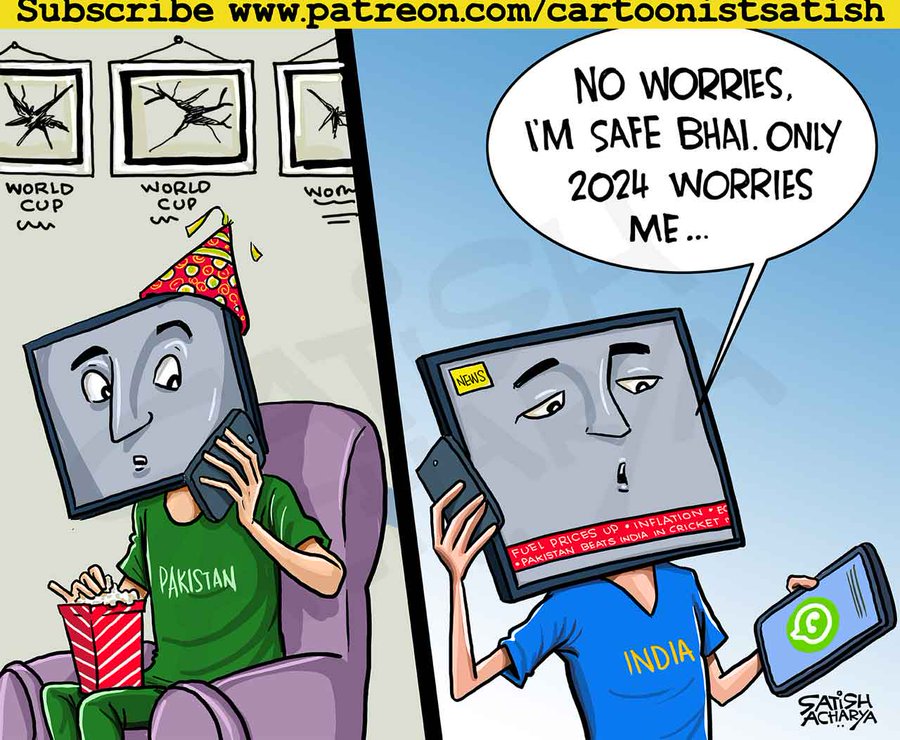 Satish Acharya refers to old news stories about Pakistani people breaking their TV sets after defeats to India. He draws a fictional conversation where an Indian-owned TV is telling its Pakistani 'bro' that while it is safe after India's defeat in Dubai, the disinformation being spread through WhatsApp makes it fear about the 2024 general elections.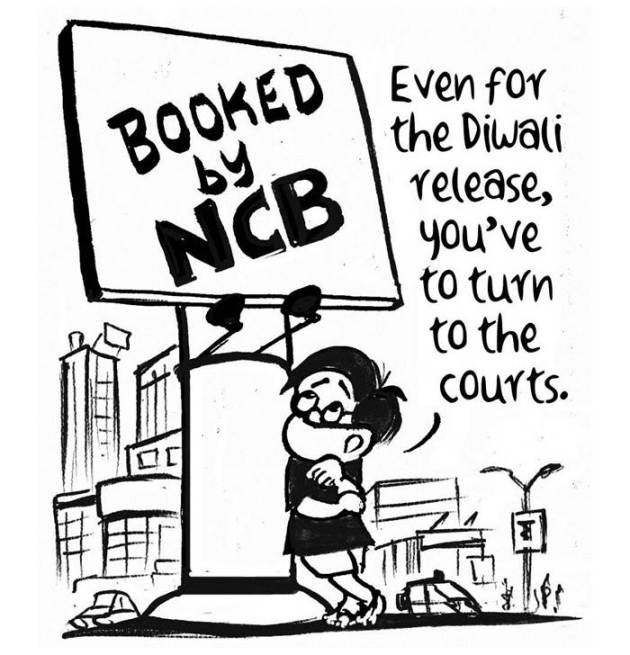 E.P. Unny refers to the fact that a lot of Shah Rukh Khan-starrer movies would release on Diwali, and draws a parallel to his son Aryan still being behind bars just over a week before the festival of lights this year.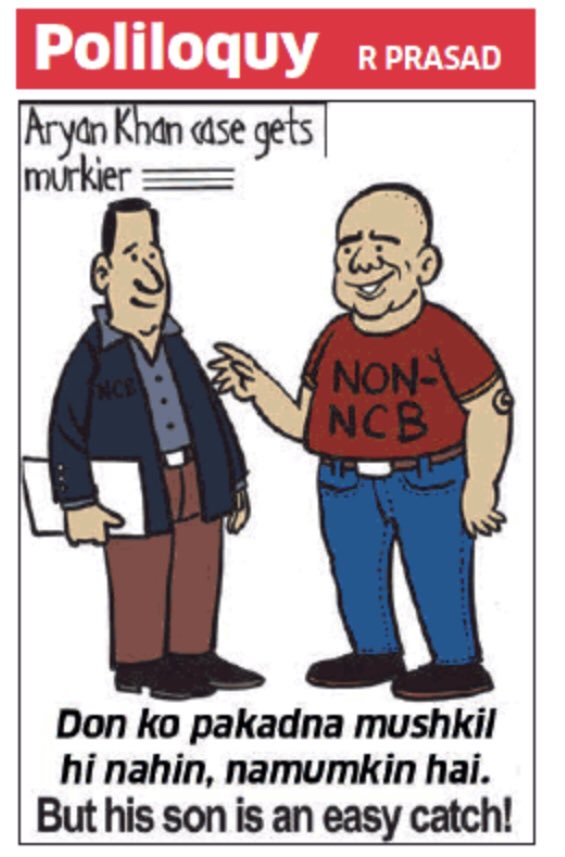 R. Prasad also comments on the Aryan Khan investigation, as he depicts a fictional conversation between an NCB official and a non-NCB individual (alluding to the 'private investigator' in a viral picture with Aryan). The reference is to the dialogue initially featured in the Amitabh Bachchan-starrer Don, which was remade with SRK in the lead in 2006.