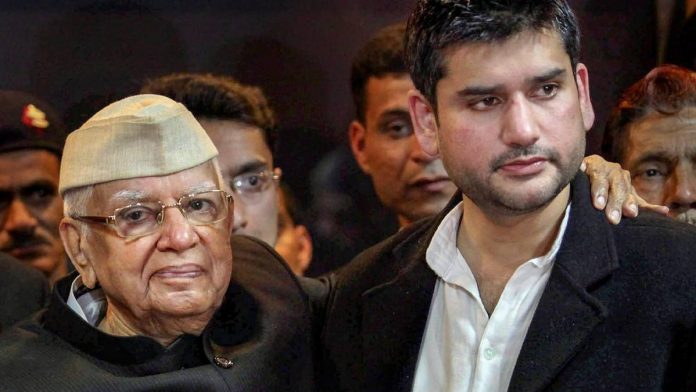 Text Size:
New Delhi: Rohit Shekhar Tiwari, the son of former Uttar Pradesh chief minister and Congress veteran N.D. Tiwari, who died Wednesday, was probably smothered in his sleep, initial post-mortem examination has revealed.
The Delhi police's Crime Branch Friday registered a case of murder after the post-mortem examination revealed 'unnatural death'. Initially, the cause of death was suspected to be cardiac arrest.
'Rohit slept till 4 pm, no one woke him up'
According to the police, Rohit (40) had gone to Uttarakhand to cast his vote for the first phase of the Lok Sabha elections and returned to his Defence Colony residence in New Delhi on 16 April. That night, Rohit did not eat much, took his medicines, which police suspect to be sleeping pills, consumed some liquid and then went to sleep.
Police said Rohit did not wake up the next morning (17 April). There were around 10 people in the house, including Tiwari's wife, Apurva, his mother Ujjwala, brother Siddhartha, his wife and other staff members, but no one tried to wake him up, police said.
At around 4 pm on 17 April, Rohit's wife noticed blood oozing out of his nose and it is then that she raised an alarm. Rohit was then rushed to Delhi's Max hospital, where he was declared brought dead, police said.
"It is bizarre that no one tried to wake him up till late afternoon. It is only after his wife noticed blood coming out of his nose that they rushed him to the hospital," a police officer said.
"No external injuries were visible on the body. So, we suspected it to be a case of cardiac arrest. It is only after the doctors, who conducted the post-mortem, opined that it is a case of unnatural death, that we registered a (murder) case," the officer added.
In 2014, the Delhi High Court had declared Tiwari to be Rohit's biological father. Rohit had fought a six-year battle in court to prove that he was Tiwari's son.
Family being questioned
The police are now questioning Rohit's family members, domestic helps and his personal staff, who were present at home when the incident took place. A forensic team has also reached Rohit's house for investigation.
According to the police, Tiwari took a medicine, which was not prescribed to him.
"He took a pill, supposedly a sleeping pill, which was not a prescribed medicine, and also some liquid. We are still waiting for the (final) post-mortem report, which will help us ascertain the exact time and cause of death," a police officer said.
"The doctors have opined that he could have been smothered in his sleep, which puts all his family and staff members under suspicion," he added.
---
Also read: N.D. Tiwari was the only politician to rule two states, but his personal life eclipsed that
---
Get the PrintEssential to make sense of the day's key developments