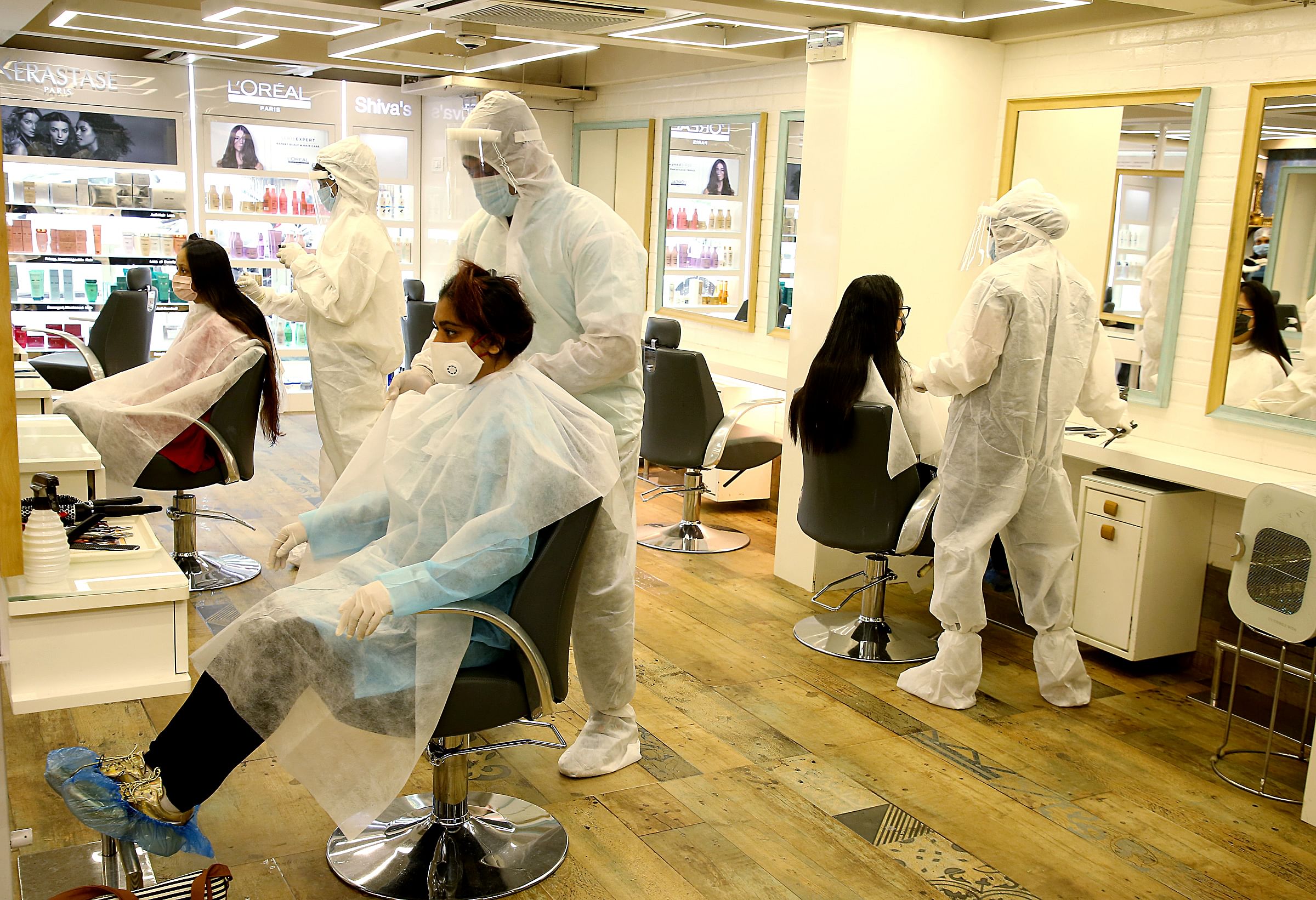 Mumbai: Waxing ladies with visors, moisturising socks instead of a foot soak in warm, bubbly water for a pedicure and immunity-boosting ayurvedic kaadha in disposable cups instead of tea or coffee brought out in a porcelain teacup — this is how the salon experience has changed to be in tune with the new normal in the era of social distancing.
Salons and beauty parlours in Mumbai opened Sunday after being shut for nearly three months. The Maharashtra government permitted these establishments to reopen as part of its lockdown relaxations to gradually restart economic activity even as the state's tally of Covid-19 cases is escalating. As of Sunday, Maharashtra has so far recorded 1,64,626 Covid cases, of which more than 70,600 are active.
The grooming and beauty establishments are, however, required to follow strict hygiene and physical distancing guidelines, offer limited services that do not include any skin therapies and run a limited appointment system, with no walk-in customers.
"We have taken as many precautions as possible while trying to keep the experience for the clients as close to normal as possible. We inform all our clients when they book appointments that they are required to have the Aarogya Setu app and fill a self-declaration form to say that they are healthy and haven't been in contact with any Covid-positive patient. We also check their pin codes to ensure that they don't fall in containment zones or areas with too many cases," said Oomer Goawala, manager at a Jean-Claude Biguine (JCB) branch in Chembur.
---
Also read: Saunf bowls at restaurants, prasad at temples: Indian traditions in a post-Covid world
---
PPE kits for staff and clients, fewer appointments
As per state government guidelines, all staff members are required to wear protective gear such as aprons, masks and gloves.
While earlier, the stylists would be decked in shiny hair, perfect nails and trendy clothes to be walking advertisements for their salons, at most large establishments, they are now covered in full PPE gear. At several places, clients, too, are being given PPE kits to wear. Alternate chairs are kept vacant to maintain social distancing, and parlours are keeping wider gaps between two appointments.
"Generally on a Sunday, we would have 50-60 guests. Today, we had just 20. With social distancing norms, we cannot have too many appointments per day, so as such, within the limited capacity we were almost running full today," said the manager of an upscale salon chain at Bandra's tony Pali Hill area. He added, the air-conditioning is being maintained at 24 degrees Celsius, according to the government's recommendations.
Doors, door knobs, chairs and non-disposable equipment such as hairdryers and hairbrushes are sanitised immediately after anyone touches them.
"Anything that we can dispose of, we do. This includes towels, bed sheets, make-up brushes — we are using those made of a disposable material. We also sterilise our equipment in front of the client to make them feel at ease. And at the end of the service, we once again sterilise the equipment in front of the client. We are coming in two hours before the salon opens to patrons to ensure all equipment is properly sanitised," said Pooja Murgesh Devender, assistant manager at a Lakme Salon in south Mumbai's Churchgate area.
She added that while earlier, every client was offered tea, coffee or juice, the salon is now offering its clients a turmeric-based health drink in disposable glasses.
---
Also read: Handlooms silent, no Bohag Bihu sale: Assam textile hub Sualkuchi fights to survive Covid
---
Threading with a neck device, dry manis and pedis
The nature of certain salon services, too, has changed. While eyebrow-threading was earlier done with the service provider holding one end of a string in their mouth, now, the thread is tied to a device around the neck.
Salons like JCB are offering only dry manicures and pedicures, which means no bubbly tub of lukewarm water to soak one's hands and feet. Instead, hydrating socks and gloves are given to the client.
Clients still have an array of nail polish colours to choose from, but at many salons, the application is possible only if the client is willing to buy the entire bottle and take it home. Earlier, nail bars would use the same bottle for multiple applications to different people.
Goawala from JCB Chembur said, "For waxing, we use a new spatula for every application even for the same client." The chain has also hiked its prices with the new safety protocols and disposable equipment.
---
Also read: Buffalo meat shortage changes taste of Tunday's famous galouti kebabs, sales down by 80%
---
Smaller parlours taking things slow
Many of the smaller beauty parlours are operating on a very limited scale for now. Shraddha Redkar, proprietor of Glamour, a parlour in Matunga West, said, "I decided not to call any of my staff. I am working myself and taking just one or two clients every day. I started with one client today." She added the parlour is giving clients disposable face masks and gloves, and has equipped the space with sanitisers, an oximeter and a temperature scanner.
At Eula, a parlour in Sion, the staff was still in the process of cleaning the premises on Sunday. "A couple of clients walked in to check if we are offering services, but we turned them back today. We will start tomorrow, but have decided to take only haircut and hair colour appointments," said Brenda, the parlour's manager.
---
Also read: Street food vendors are back after Covid safety training, now hoping for business to return
---