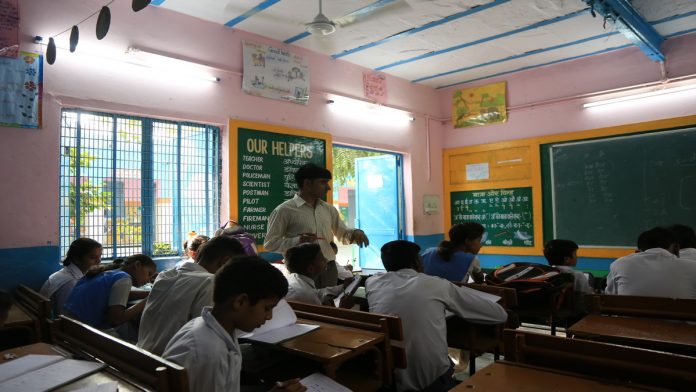 Text Size:
HRD ministry is making B.Ed curriculum a four-year programme and revising syllabus to help teachers acquire new skills.
New Delhi: The Ministry of Human Resource Development is revamping the B.Ed curriculum to help teachers acquire new skills.
The aim is to ensure that future school teachers are equipped to deal with modern-day issues like the Blue Whale Challenge and other forms of cyber bullying students face, among others.
The revamp includes making the B.Ed a four-year programme with a revised curriculum from the current two-year. The B.Ed programme is mandatory in India for secondary and higher secondary teachers.
The Blue Whale Challenge is a social network phenomenon consisting of a series of tasks assigned to players by administrators over a 50-day period.
Initially harmless, the game starts introducing elements of self-harm and finally requires the player to commit suicide. As of October 2017, India saw at least 28 cases linked to the challenge. Attempts have been made to block the challenge in the country recently, but the phenomenon alerted policymakers to the new challenges.
---
Also read: India has 10 lakh teaching vacancies. India has 4 lakh excess teachers. Go figure
---
"Times in which we are living have completely changed and cyber bullying is a big threat faced by students these days. Things like the latest Blue Whale Challenge pose a real threat to the life of a student and teachers have no idea how to deal with it," said a senior HRD ministry official who did not wish to be named.
The official said the government is now going to change that situation.
"A teacher has to re-interpret the world for the child, so she needs to have skills to tackle all kinds of issues that may arrive, including dealing with the police and other external agencies in case the child is in trouble. We will be prescribing the best textbooks and attach counselors from all sectors to prepare teachers," the official added.
Integrated syllabus
The new curriculum will focus on teaching through information and communications technology (ICT)-based initiatives and make the best of technologies like smart boards. The four-year integrated syllabus will also have story-writing and essay-writing in the curriculum.
At present, topics taught to a B.Ed student include pedagogy courses — which deals with understanding how to teach a particular subject, understanding how to assess students and learning how to deal with students in a classroom.
The revised curriculum is likely to be introduced in 2019.
---
Also read: Over 9 lakh teaching posts in elementary schools lying vacant, HRD minister tells Lok Sabha
---
The move has been welcomed by the teaching community.
"Private schools in India these days have special counselors for teenage students who regularly give them sessions on dealing with cyber bullying and other forms of bullying but the move of including these topics in teachers curriculum is likely to change the way our future teachers are. It is definitely a positive move," said Pratibha Sharma, a private school teacher in New Delhi.
"Teachers should be equipped to deal with situations beyond classrooms as well. If they are taught how to do this before they start teaching, it's a good move," added another teacher who spoke on the condition of anonymity.
Read Global Pulse for a sampler of the big international stories, and why they matter.