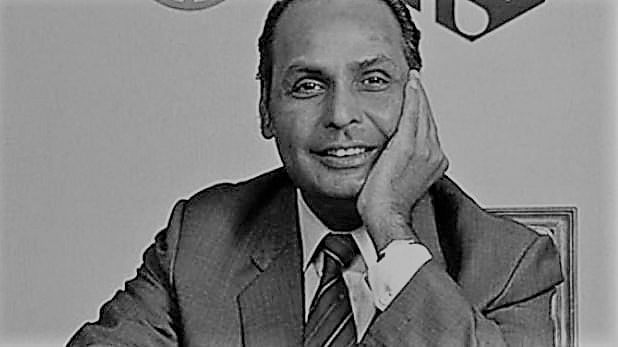 In just 3 decades, Dhirubhai Ambani rose from a clerk to India's top industrialist, and it was all down to his vision, risk-taking ability and people skills.
New Delhi: There is no Indian conglomerate that can come within touching distance of Reliance today in terms of net worth, even though brothers Mukesh and Anil Ambani have split the business into their own diversified groups. And for that wealth, they have to thank the vision and risk-taking ability of their father, the late Dhirubhai Ambani.
Rising from a clerk in a British company in Aden, to the 'prince of polyester', to the uncrowned king of India Inc. and a Padma Vibhushan awardee, the senior Ambani lived a fascinating life, which was even adapted into the Bollywood blockbuster Guru by legendary director Mani Ratnam.
On his 86th birth anniversary, ThePrint looks back at the story of how Ambani surpassed every established name in the business community in a matter of three decades.
Learning the ropes
Dhirajlal Hirachand Ambani was born on 28 December 1932 in Junagarh, modern-day Gujarat, to school teachers Jamnaben (known to be a thrifty homemaker) and Hirachand Govardhandas Ambani. A fierce independence activist in school, he was inspired by Sardar Vallabhbhai Patel.
Ambani wanted to go to college, but owing to his father's ill-health, he was compelled to get a job in Aden, a former British colony on the Arabian peninsula, now the temporary capital of Yemen. He worked as a clerk at A. Besse & Co, and learnt the ropes of business.
He came back to India in 1954 after five years in Aden, as a promoter for A. Besse & Co.'s shell refinery. Having married Kokilaben, he then decided to try his hand at trading. Although Ambani was tempted to set up shop in London, he finally decided to establish a business in what was then Bombay.
With the little money he had, Ambani decided to venture into spice trading, and soon, the orders began flowing in from Yemen. He then expanded the trade to include other commodities, including manure-mixed topsoil for a sheikh's lawn.
"We made big money from that order, real big money," Ámbani was quoted as saying.
---
Also read: Raj Kapoor, the 'greatest showman' of Indian cinema
---
Reliance Industries
After Partition, the textile industry in India had come to a standstill, as the major cotton producing regions were in Pakistan while the cotton mills were in Bombay.
While Ambani was exporting spices to Yemen, he gained an export replenishment licence, which he then used to import polyester yarn into India due to the dearth of fabric in India. At first, he sold the imported polyester yarn in Bombay markets at premiums ranging up to 300 per cent. He then realised that there was more profit in selling value-added nylon textiles.
Ambani decided to set up a fabrics business with his second cousin, Champaklal Damani, who lived in Turkey and imported the polyester yarn to Yemen. This is how Reliance was born in 1966. However, they soon parted ways due to ideological differences.
Reliance started producing nylon fabrics under the 'Vimal' name, which soon became one of the highest-selling fabric brands in the country. Reliance also received the award of excellence from the World Bank.
By 1977, when Reliance went public, it had more than 58,000 investors. Ambani expanded the business by stepping into telecommunications, information technology, energy, power, retail, textiles, infrastructure services, capital markets and logistics.
Controversies
But it wasn't just his knack for business that brought Ambani — he had charm and people skills too. It was said that Ambani always knew whom to contact to get the deed done, and had even explained his business ideas to then-PM Indira Gandhi at a party once. He was also known to "curry favours" from influential politicians.
Ambani's rise to success was as controversial as it was fascinating. He received his fair share of criticism for building an empire based on favours from the higher-ups in government.
There was also a polyester turf war between Ambani and Nusli Wadia, the head of Bombay Dyeing Company in the 1980s. In an interview with Firstpost, Wadia stated that Ambani's "manipulation of policies" was the reason for his company's defeat.
Sometimes, the voices that have tried to accuse Ambani of extracting political favours have been hushed in India. An example of this was the biography titled The Polyester Prince by author Hamish McDonald, which did not show the Ambanis in a favourable light. It was banned in 1998 under Section 297A of the Indian Penal Code, calling it a threat to civil order.
---
Also read: Remembering 'Dadamoni' Ashok Kumar: A perfectionist actor, homoeopath & 'wacky' gentleman
---
Last years
Ambani suffered a stroke in 1986, after which he began handing over the day-to-day control of Reliance to sons Mukesh and Anil.
He had another major stroke in 2002, which led to his demise on 24 June. The Atal Bihari Vajpayee-led NDA government released a postage stamp in his honour on what would have been his 70th birthday, 28 December 2002.
In 2016, the Narendra Modi-led NDA government conferred the Padma Vibhushan on him posthumously.
However, as time goes on, Ambani's legacy continues to carry on in the way Reliance Industries continues to grow. Even the glitz of granddaughter Isha Ambani's recent wedding owes itself to the empire that the school teachers' son from Junagarh created.