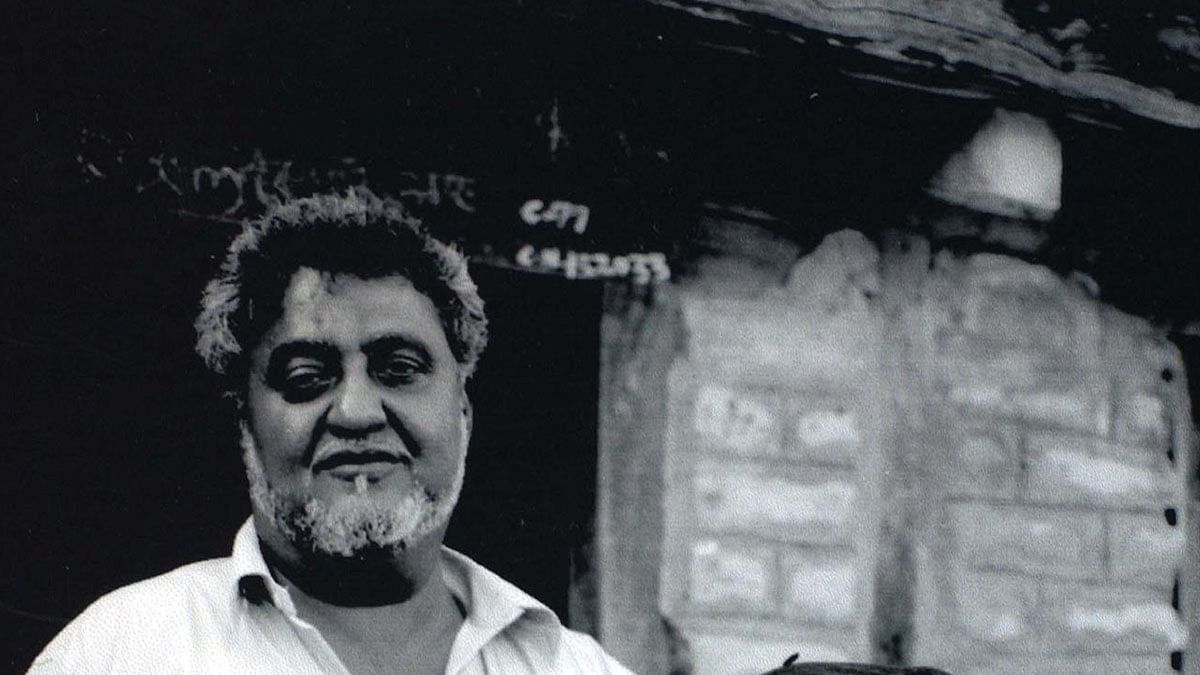 New Delhi: "Both my individual and my collective life have been through such tremendous upheavals that if my personal life did not have poetry to fall back on I would not have reached thus far. I would have become a top gangster, the owner of a brothel, or a smuggler," said renowned Marathi poet and Dalit activist Namdeo Dhasal about his life and poetry.
Born in a Mahar family that are considered 'untouchable', in Pune, Dhasal's poetry waged a war against all kinds of exploitation.
Author Sudhir Arora, in an article titled 'Voicing Dalits: The Poetry of Namdeo Dhasal', wrote that through his poetry Dhasal had launched "from the very start — single-handedly — a guerrilla war against the effete middle-class and sanitized world of his literary readers".
According to poet Dilip Chitre, Dhasal's poetry embraced all people discarded by society as useless.
Chitre, who is also the author of the biography Namdeo Dhasal: Poet of the Underworld, noted that his poetry talks about pimps, criminals, prostitutes, street urchins, gangsters, mujra dancers, labourers etc.
Famous Marathi playwright and critic Vijay Tendulkar even compared him with Tukaram, the famous bhakti saint-poet of Maharashtra.
On the poet's 7th death anniversary, ThePrint looks at the life and works of Namdeo Dhasal who revolutionised Marathi Dalit literature.
---
Also read: Why parallel cinema stalwart Govind Nihalani is 'barely remembered' as he turns 80
---
Early life 
About his early life, Dhasal wrote: "I was born/On footpath/ when the Sun was leaked/ and being dimmed/into the bosom of night".
He was born on 15 February 1949 in a village in Pune. His father Laxman Dhasal moved to the city of Mumbai, to earn a living for the family and started working as a porter in a Muslim butcher's beef shop in central Mumbai.
He lived in an area called Dhor Chawl and Dhasal's youth was spent amid drug peddlers, smugglers, sex workers — and their life experiences feature prominently across his poetry.
He once described his life in these words: "I boozed. I visited brothels. I went to mujra dancing women's establishments and to houses of ordinary prostitutes. The whole ambience and the ethos of it was the revelation of a tremendous form of life. It was life! Then I threw all rulebooks out. No longer the rules of prosody for me. My poetry was as free as I was. I wrote what I felt like writing and how I felt like writing."
Dhasal never went to college, but read voraciously while earning his living as a taxi driver.
---
Also read: Rasoolan Bai — one of the foremost performers of 'thumri' who died in penury
---
Evolution of his poetry and Dalit Panthers
Dhasal wrote nine anthologies of poems and several prose writings, including one novel.
However, his most celebrated work is Golpitha — his first poetry collection published in 1971, for which he received Soviet Land Nehru Award.
It took the Marathi literary world by storm for the harsh language used in it. Chitre described it as the 'bibhatsa rasa' (disgust). It talked about the plight of pimps, prostitutes, criminals and others on the margins of society.
A year later, in 1972, Dhasal formed the 'Dalit Panthers', a social organisation inspired by the American Black Panther movement, along with poet-activists J.V. Pawar, Raja Dhale, Arjun Dangle among others.
The Dalit Panthers was a result of Dhasal's disillusionment with mainstream political parties and the rise of atrocities against Dalits in the 1960s. The organisation played a crucial role in Dalit politics throughout the 1970s.
The first wave of Dalit Panther protests in 1972 and 1973 brought Marathi Dalit poetry and fiction, in translation, to the middle- and upper-class audiences all over the country. And prominent among them was Dhasal's poems.
His poetry revolved around the realities of Dalit life and the daily struggles faced by the community. Most of them are also marked by violent language to translate the violence that Dalits routinely faced.
In one of his poems from Golpitha, 'Man, You Should Explode', the element of destruction is clearly visible:
"Kill oneself too, let disease thrive, make all trees leafless
Take care that no bird ever sings, man, one should plan
to die
groaning and screaming in pain
Let all this grow into a tumour to fill the universe,
balloon up
And burst at a nameless time to shrink."
But the same poem, however, was marked with hopeful tones later:
"After this all those who survive should stop robbing
anyone or making others their slaves
After this they should stop calling one another names
white or black, brahmin, kshatriya, vaishya or shudra."
Satish Kalsekar, Dhasal's close friend and fellow poet, pointed out how his poetry evolved, "Namdeo's poetry in the early period seems more aggressive whereas in the later period, it becomes more wise and appears more mature."
Dhasal was awarded the Padma Shri in 1999 for his achievements in Marathi literature. He was conferred with the Maharashtra State Award for literature four times — in 1973, 1974, 1982 and 1983.
The Sahitya Akademi also presented him with the Golden Lifetime Achievement Award in 2004.
After a long debilitating battle with colon cancer, Dhasal died in Mumbai at the age of 64 on 15 January 2014.
---
Also read: Kalki — rebel Tamil literary giant who quit school to join Non-Cooperation Movement
---