Chicago/London: Chicago wheat settled at the highest price on record as Russia's intensifying war in Ukraine cuts off supplies from one of the world's leading breadbaskets.
Benchmark futures climbed by the exchange limit of 85 cents, or 7%, to close at $12.94 a bushel. That builds on a massive surge of 41% last week, the biggest gain in data spanning six decades. The Paris contract for wheat breached an all-time high after jumping as much as 14%.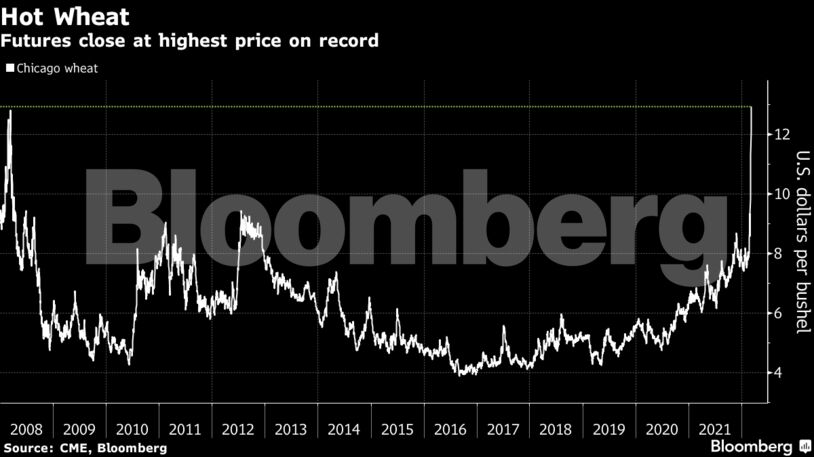 Wheat is a crucial food staple and surging prices will pile pressure on government budgets and add to global hunger. Futures are near an all-time intraday high and have reached levels last seen in 2008 during the global food-price crisis, surpassing highs that helped contribute to the Arab Spring a decade ago.
The gains stand in contrast to the cash market, where some buyers are balking at the lofty prices as traders try to get a handle on the war's impact.
"So much remains unknown," Jacqueline Holland, an analyst at Farm Futures, said by email. "Will the Black Sea market be accessible to the outside world not just in the next three or four months, but for the next eighteen months?"
Meanwhile, U.S. wheat farmers are worried about drought and China is facing historically bad farming conditions.
"Talk that the wheat crop is China is not good is new, and supportive for prices," Naomi Blohm, senior market adviser at Total Farm Marketing in West Bend, Wisconsin, said in a note.
Ukraine and Russia together account for more than a quarter of global trade of wheat, used in bread and noodles to livestock feed. The conflict has closed major ports in Ukraine, and severed logistics and transport links. Trade with Russia has also been stifled by the complexity of navigating sanctions and soaring insurance and freight costs.
Commodities from energy to metals and agriculture have surged since Russia's invasion, fueling inflationary pressure worldwide and posing new challenges for monetary policy. The enormous gains for wheat pushed CME Group Inc. to increase its trading limits for the crop.
Food costs
Food costs have already risen to an all-time peak, according to the United Nations, and are set to go even higher, deepening woes of importers.
Unsubsidized bread prices are creeping higher in Egypt, the world's top wheat importer. The government has been considering lifting the costs of subsidized loaves that millions of citizens consume.
The invasion will also deter Ukrainian spring planting of crops like corn and sunflower that would typically begin soon and may hamper winter-grain yields, extending the supply shock on the global market.
Along with soaring benchmark wheat, most-active futures tied to hard red winter wheat settled at $12.515 a bushel, the highest in almost 14 years. In Minneapolis, spring wheat used for bagels and pizza dough rose as much as 5.2% to the priciest level since 2008. Corn and soybeans in Chicago settled lower while soybean oil rose.
Traders will be watching crop reports due this week from both the U.S. and Brazil for comment about the impact of Russia's attack on Ukraine on crops.
U.S. Department of Agriculture's Chief Economist Seth Meyer told Bloomberg on Monday that the agency would consider "all relevant factors impacting agricultural markets" in its updated estimates due Wednesday. -Bloomberg
---
Also read: How to make sense of market forecasts in wartime
---