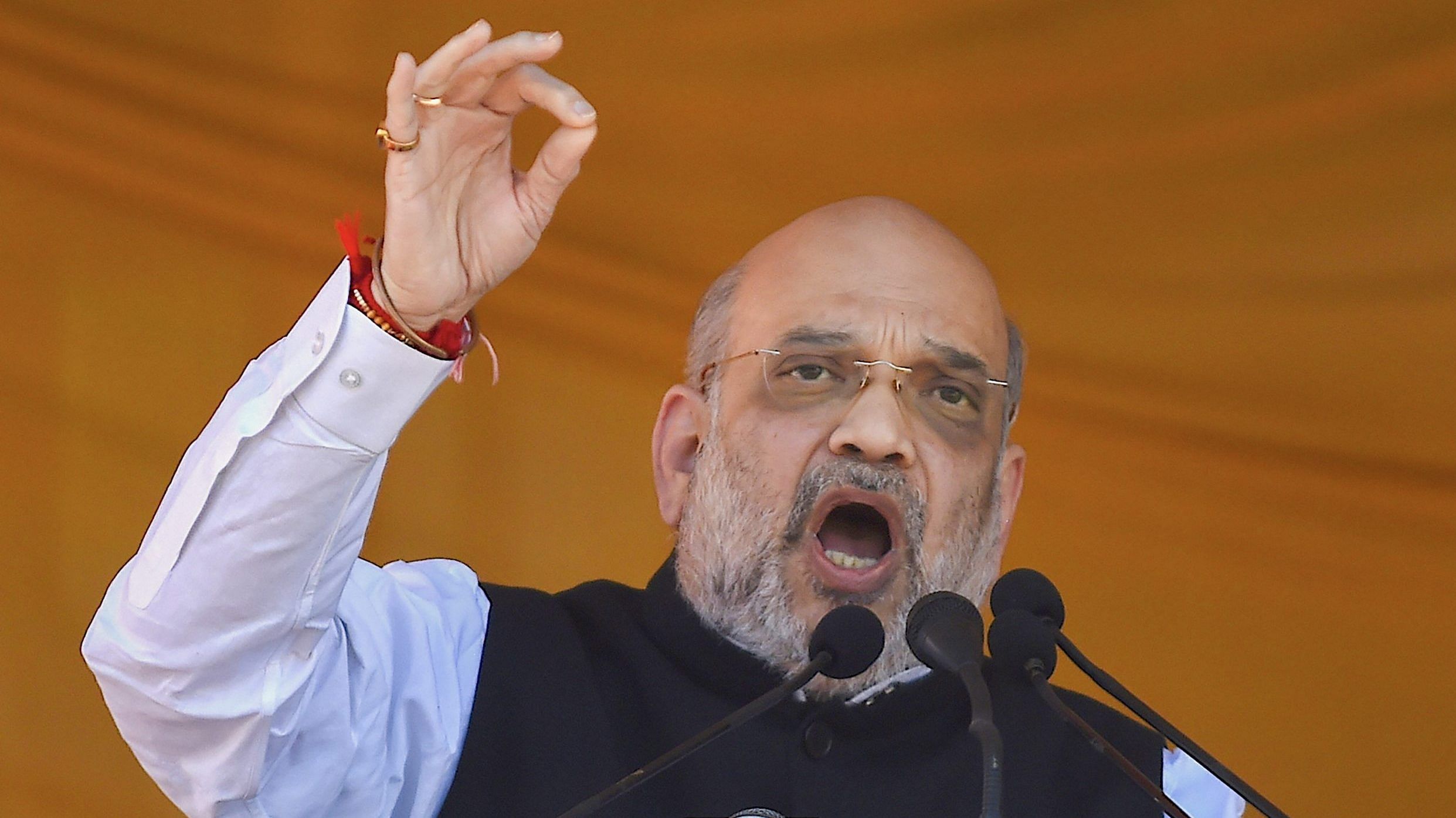 Baramulla: Home Minister Amit Shah Wednesday said he will not have a dialogue with Pakistan but instead wanted to speak to the people of Kashmir "to know what they want".
Shah, who is on a three-day visit to Jammu and Kashmir, said that he is often "advised" to have a dialogue with the neighbouring country – an idea he outrightly rejects.
"I don't wish to talk to Pakistan and I will not. Instead, we want to speak to the youth of Kashmir, our Gujjar, Bakkarwal and Pahadi brothers. We want to speak to the people of Kashmir to know what they want and not to Pakistan," he said, while addressing a crowd at Kashmir's Baramulla.
During his speech, Shah also took a dig at PDP chief Mehbooba Mufti and NCP leader Farooq Abdullah calling them the "Gupkar model", which gave stones and machine guns to the hands of the youth. The Gupkar committee is an alliance of political parties fighting for the restoration of J&K's special status which was scrapped on 5 August 2019.
"For 75 years three families — Muftis, Abdullahs and Gandhis ruled here and what did they give? Only Rs 15,000-crore investments in 70 years, while Modi brought Rs 56,000-crore investments in just three years, converting Kashmir from a terrorist hotspot to a tourist hotspot," Shah said. "While Muftis, Abdullahs gave stones and guns to youngsters, Modi gave them laptops, phones, employment," he added.
While giving his address, Shah briefly paused midway after he heard the call for Azaan, and asked, "if something is happening inside the Masjid?" When he was told it was time for namaz, he halted his speech and resumed after a few seconds.
The home minister also attacked the 'Gupkar model' alleging it "is getting Pakistani terrorists inside Kashmir who then carry out Pulwama-like attacks."
Shah contrasted it with the "Modi model" which, he said, was all about "vikas and shanti (development and peace)".
"Modi model gives you AIIMS, NEET, IIMs, IITs, while Gupkar model gives you unrest," he said.
Shah also said that 
announcement for assembly elections in J&K will be made after the final voter list and other preparations are completed.
"The moment EC finishes the pending work, election will be held and your chosen representatives will come to power," he said.
Health, Swachh Bharat, water supply — projects in Baramulla
During the rally, Shah announced a range of projects covering hospitals and schools to roads.
According to a list shared by the Ministry of Home Affairs, Shah is to announce projects including the Swachh Bharat Mission, National Rural Livelihood Mission and activation of drug de-addiction centres and others during his visit to J&K
Another important project includes a plan to lay the foundation stone for the construction of hydraulic gates at the entry and exit point of Hokersar Wetland of flood spill channel, for which Rs. 28.45 crore was announced.
"Modi government is getting a hospital made for Rs 2,000 crore. The total budget for Baramulla alone has been increased from Rs 132 Crore (given by previous governments) to Rs 1,515 crore. The District Development Council has been sanctioned Rs 110 crore, medical colleges and expressways are coming up and all this has happened due to the government's efforts," he said.
Shah also virtually laid the foundation stone of the Women Battalion in Sopore. Moreover, 15 water supply schemes under Jal Jeevan Mission, worth Rs. 107.45 crore, and Urban Development Projects, amounting to Rs. 18.53 crore, in Kashmir Division alone were announced.
Other infrastructure projects included the making of 74 roads, covering a length of 434.37 km and worth Rs. 442.58 crore, seven bridges costing Rs. 23.40 crore and a building worth Rs. 4.97 crore. Foundation stones for 94 roads, measuring 580.92 km and amounting to Rs. 511.66 crore, were also laid down.
In the power sector, twenty projects worth Rs 200.14 crore were ready for inauguration.
---
Also read: Reservations for Kashmir's Paharis meant to help them but it could start new fires instead
---