Lucknow: Last month, Muhammad Arif, a resident of Amethi's Mandkha village, shot to fame when videos of him with his bird friend — a sarus crane — went viral.
The visuals showed Arif riding a motorcycle and the sarus crane, a member of a vulnerable species, flying a little ways behind him. 
When the story behind their friendship came out — Arif said he had found the bird injured in his field a year ago and nursed it back to health, and the crane had subsequently refused to leave him — hearts melted further.
Cut to the present, the friendship finds itself saddled with a series of twists and turns. 
On Tuesday, UP forest officials arrived at Arif's house and took the bird away, citing its vulnerable status as the reason. Arif, they said, was in violation of the Wildlife Act.
Then, the following day, a local media report alleged that the sarus crane had disappeared from the Samaspur sanctuary, where it was taken by the forest department. Accompanying these allegations were visuals from Bisaiya village showing residents feeding a sarus crane.
Meanwhile, as the forest department continues to deny the allegations of disappearance, Arif remains hopeful. His "Bachha" — the name he gave the bird — will return to him, he says.
---
Also read: Delhi brothers' efforts to save 26,000 birds reach Oscars. But they're struggling for funds
---
A friendship broken?
The sarus crane is the world's tallest flying bird, according to the World Wildlife Fund, with an estimated global population between 25,000 and 37,000. In India, their number is estimated to be between 15,000 and 20,000, with the highest population being found in Uttar Pradesh.
According to Arif, "Bachha" had a fractured leg when he found the bird in his field. After he nursed the bird back to health and once it was able to fly, Arif claimed, he set it free. Surprisingly, however, the bird never left and continued to live with him and his family for a year, he said.
"I thought it would go back to its friends, to where it came from. But this did not happen," Arif had said in an interview after videos of him and the bird went viral.
The attention garnered by the videos proved to be the undoing of their relationship, however.
Arif said the forest department officials who came Tuesday to take the bird away told him they were acting under orders "from the top" and that he "should not be seen (near the sanctuary or the bird) for about 20 days".
He alleged he was also made to sign a paper, the contents of which he was "unsure of".
Arif said he gave chase as the bird was being taken away by forest department officials, but claimed he was "removed from the spot" by them.
The UP Forest Department, however, claims Arif was in the wrong for keeping the bird.
Speaking to ThePrint, district forest officer (DFO) D.N. Singh said Arif was committing a crime under the Wildlife (Protection) Act "by keeping the sarus crane", listed under Schedule 4 as a vulnerable species. 
"He would feed the sarus and exhibit it. There are videos showing that he was exhibiting the sarus," Singh added.
More drama ensued the next day with the reports of the bird's alleged disappearance from the Samaspur sanctuary. Former Uttar Pradesh Chief Minister and Samajwadi Party chief Akhilesh Yadav, who had earlier visited Arif and alleged that his removal to the sanctuary was politically motivated tweeted the report. 
"The much-talked-about crane which was forcefully taken to Raebareli's Samaspur from Amethi by the forest department has gone missing. Such serious negligence towards the state bird of UP is a serious thing. BJP government should immediately search for the crane otherwise bird lovers across the world will agitate," he said.
उप्र वन-विभाग द्वारा अमेठी से ज़बरदस्ती ले जाकर रायबरेली के समसपुर पक्षी विहार में छोड़ा गया 'बहुचर्चित सारस' अब लापता है। उप्र के राज्य-पक्षी के प्रति ऐसी सरकारी लापरवाही एक गंभीर विषय है।

भाजपा सरकार तत्काल सारस खोजे, नहीं तो पूरी दुनिया के पक्षी-प्रेमी आंदोलन करेंगे।… pic.twitter.com/MPaIlaKLgj

— Akhilesh Yadav (@yadavakhilesh) March 23, 2023
Around 10 am Thursday, the former UP CM tweeted another video, of the crane purportedly being fed by a bird lover in Bisaiya village in Raebareli district.
उप्र के पक्षी-प्रेमी 'बी सैया' नामक गाँव को बहुत धन्यवाद जिसने सारस को बचाया, खिलाया पिलाया और वो काम कर दिखाया, जिसमें उप्र की सरकार नाकाम रही।

सच तो ये है कि प्रेम से बड़ी सत्ता और कोई हो ही नहीं सकती… भाजपाई अगर समय रहते ये समझ लें तो शायद उनके अंदर की नफ़रत कुछ कम हो जाए। pic.twitter.com/7JZ5bywe8x

— Akhilesh Yadav (@yadavakhilesh) March 23, 2023
In a video in possession with ThePrint, a sarus crane can be seen with villagers, who can be heard saying that sanctuary officials were unable to keep it.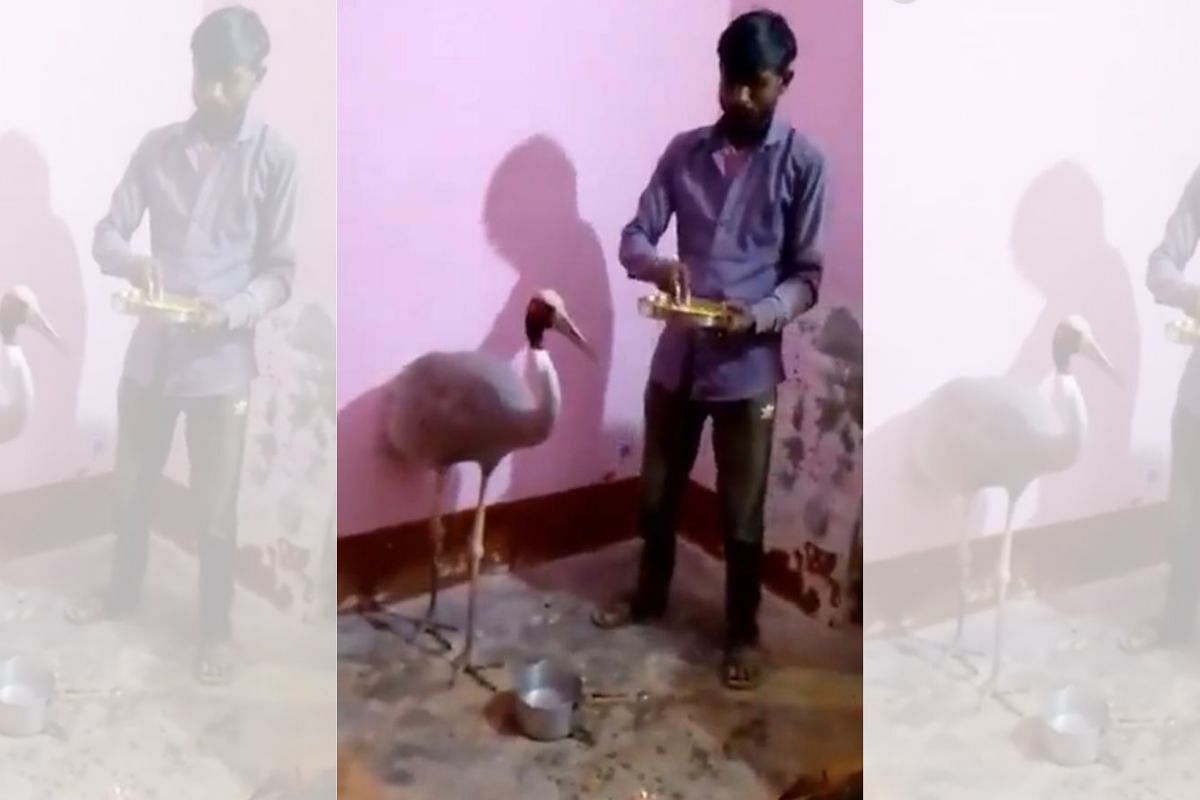 Media reports, however, quoted divisional forest officer (DFO) Rupesh Srivastava as saying that the sarus was seen in the sanctuary Thursday morning and had not gone missing.
Forest department officials had earlier also dismissed Yadav's allegations on the bird's removal as "needless politicising".
'It will come back to me'
Talking about his bond with the bird, Arif had told the media Wednesday that he had helped it "for the sake of humanity and didn't know that its videos will get viral and the entire world will get to know me". 
"I didn't even think that he would start living with me," he added.
But DFO Singh said "becoming friends with a bird didn't mean that one could abduct it". 
"Earlier, too, the forest department had warned Arif two-three times against exhibiting the bird. It was being feared that he might sell the bird. A staff member was put on duty to keep an eye on the crane," he added. 
"We had applied for permission to transport the bird to the sanctuary on 14 March and received it on 20 March."
Speaking to ThePrint after the crane was taken away, Arif had said he believed the bird may still come back to him if it was not caged. "He stayed with me for about a year. He was about three years old," he said.
Arif added: "I never kept him caged. He was always free. During the time he spent with me, he would go to his family and come back to me whenever he wanted."
His appeal to the state government has been that "the bird should be set free and it would come back to me".
(Edited by Nida Fatima Siddiqui)
---
Also read:Birds of a feather: An Amethi man rescued a sarus crane a year back; the two are now wingmen
---