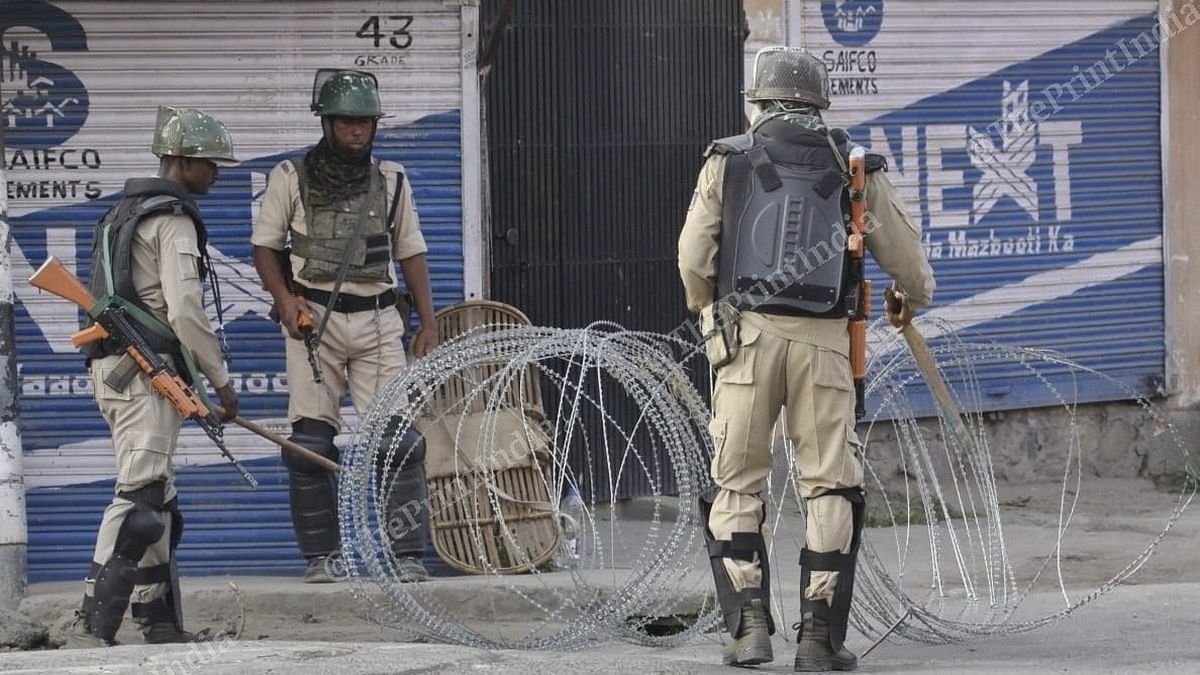 Srinagar: A total of 118 militants have been killed in Jammu and Kashmir in the first six months of this year, Inspector General of Police (IGP), Kashmir division, Vijay Kumar said Wednesday.
The officer said the number of active militants in the Valley now stands between 160 and 170.
The IGP also said there has been a 48 per cent dip in recruitment of local militants from January to June-end as compared to the numbers recorded during the same period last year. 
Kumar said while 67 Kashmiri youths joined militant outfits this year, 24 of them have been killed and 12 arrested.
According to the police officer, of the 118 militants killed in Kashmir division, 107 were locals, while 11 were from Pakistan.
"A majority of the militants who have been killed this year belonged to the Hizbul Mujahideen (HM) followed by Lashkar-e-Taiba (LeT) and Jaish-e-Mohammad (JeM)," Kumar said during a press conference in Srinagar.
According to the IPS officer, 57 militants belonged to the HM, 24 to LeT and 22 to JeM. 
Seven slain militants belonged to smaller militant outfits such as Ansar-ul-Gazwat-ul Hind (AGH) and Islamic State Jammu Kashmir. A militant belonging to the Al Badr outfit is also among those killed.
"We have killed some of the top commanders of militant outfits, which include Hizbul Mujahideen's Riyaz Naiko, Lashkar's Haider, Qari Yasir from Jaish and Burhan Koka from AGH. Besides them, we also killed Fauji Bhai, who was an expert in building IEDs and Junaid Seahrai, who was a son of a senior Hurriyat leader. He was instrumental in recruiting youth," Kumar said.
---
Also read: Pakistan using Covid window for cross-border militancy in Kashmir, weaponising social media
---
List of militants who are prime targets
The IGP read out a list of militants, both from Kashmir and Pakistan, who he said are prime targets of security forces in Kashmir.
"The Pakistani militants include Jaish's Lambu, who is also known as Adnan Bhai, then there is Walid bhai and Ghazi Rashid, also from Jaish. Ghazi Rashid is believed to be an ex-Pakistani army man. LeT's Usman Bhai, Ishfaq and Yousuf Kandroo, who is from Budgam, are also our targets," Kumar said, adding that the police have prepared a list of 12 men whom they would be targeting in the next few weeks.
"This includes Dr Saifullah, who took over command of Hizbul Mujahideen after the killing of Riyaz Naikoo, and Farooq Nali, Ashraf Molve and Zuhaib Wani, who have been involved in a number of cop killings," Kumar added.
The IGP further said the police have recovered 121 weapons from encounter sites, which include 62 AK 47s, nine SLRs and 44 pistols. 
"About 55 per cent weapons recovered are big weapons and only 44 out of 121 recovered were pistols," Kumar said.
The IGP added police busted 66 modules and recovered another 21 AK 47s. Besides, 22  hideouts were busted too.
"… soon will be busting more hideouts. We have arrested 309 overground workers. In total, 15 civilians were killed, but none of them were killed by a police bullet," said Kumar.
Crackdown on narcotics trade
The IGP added the the police have been keeping a check on people using social media to instigate violence and had filed 21 FIRs in this regard. Police have arrested three individuals on the basis of their social media activities, he said.
Kumar also said the J&K Police has cracked down on narcotics trade and found out a network, which extends from the Valley to other parts of the country. He said the police are also investigating narco-terrorism.
In the last six months, police have filed 304 cases and arrested 496 individuals. 
"We recovered 22.56 kg of heroin in one raid, whose market worth is Rs 200 crore. 200 kg of charas, 10,000 bottles of syrup, 22,000 tablets are among other recoveries police have made so far," said the IGP.
---
Also read: Why Kashmir's new militant outfit, 'Lashkar offshoot', signals possible escalation of violence
---