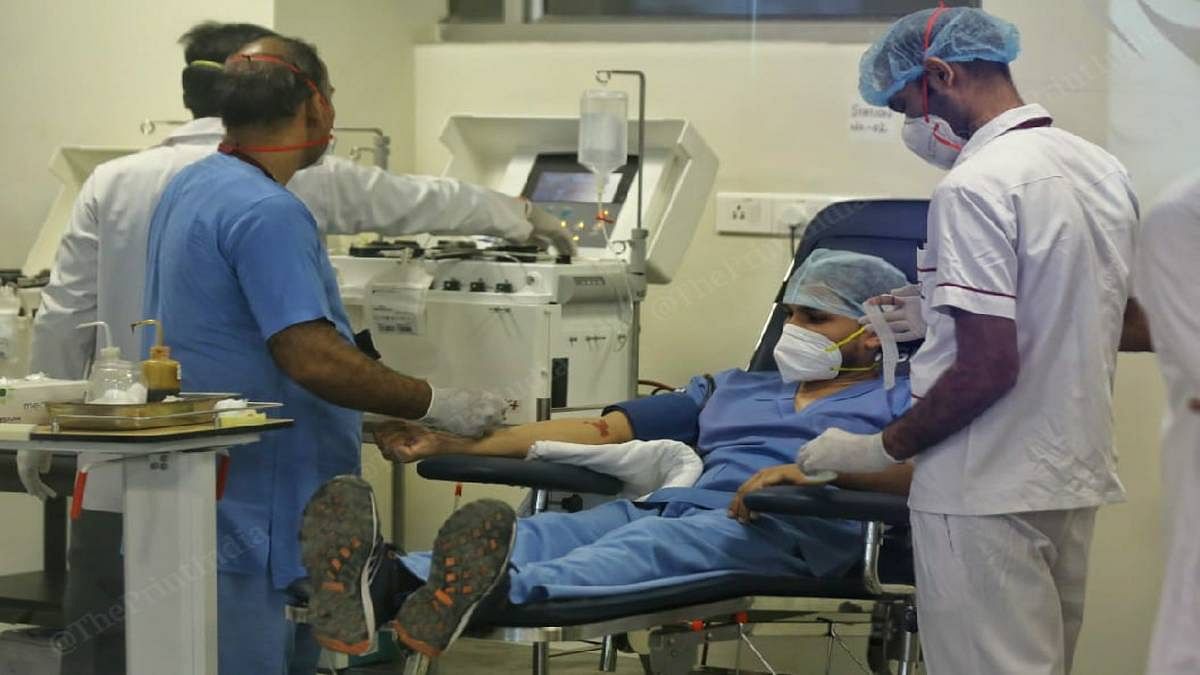 New Delhi: In an open letter addressed to the Principal Scientific Advisor to the Government of India, Dr VijayRaghavan, the Indian Council of Medical Research (ICMR) and the All India Institute of Medical Sciences (AIIMS), a group of 18 clinicians and public health professionals have expressed concern over the "irrational and non-scientific" use of plasma in Covid treatment.
Plasma is a component of the human blood that carries antibodies, and it is believed that plasma therapy can be effective in Covid treatment if it is used after checking for neutralising antibodies. Plasma can be donated a month after recovering from Covid, and in gaps of 15 days.
Urging the government to review its guidelines on plasma therapy, the signatories cited the three most noted studies against the use of plasma — the ICMR-PLACID Trial, the Recovery Trial conducted by the University of Oxford and Argentina's PlasmAr Trial — all of which found no benefits of the use of plasma in Covid treatment.
As of as 22 April 2021, the health ministry's AIIMS-ICMR National Covid Task Force guidelines allow the "off label" use of plasma therapy at the stage of early moderate disease, that is, within seven days of the onset of symptoms and if there is availability of a high titre donor plasma.
The signatories said the use of the term 'off label' indicates that the authorities themselves are not convinced of the efficacy of plasma therapy for Covid patients. The term is used to imply the use of a drug or treatment for a disease or medical condition that it is not approved, such as when a chemotherapy is approved to treat one type of cancer, but healthcare providers use it to treat a different type of cancer.
The letter has been signed by noted public health professionals including immunologist Dr Gagandeep Kang of the Christian Medical College, Vellore, virologist Dr Shahid Jameel, director, Trivedi School of Biosciences at Ashoka University, Dr Vivekanand Jha and Dr Soumyadeep Bhaumik of the George Institute for Global Health, and Soumitra Pathare, director, Centre for Mental Health, Law and Policy, Indian Law Society.
Other signatories include healthcare professionals Yogesh Jain, Priti Meena, Prathap Tharyan, Prashanth N. Srinivas, Oommen John, Kamna Kakkar, Jyoti Tyagi, Gautam Menon, C.S. Pramesh, Ashrita Saran, Aparna Ananthakrishnan, Anant Bhan and Amar Jesani.
---
Also read:Panic in AMU as 18 professors die of Covid in 20 days, V-C wants campus samples probed
---
Not convinced, yet allowed
Alleging that the ICMR guidelines are not based on current research evidence, the experts in their letter stated that "current research evidence unanimously indicates that there is no benefit offered by convalescent plasma for treatment of COVID-19. However, it continues to be prescribed rampantly in hospitals across India".
The letter also said that the problematic scenario arises "because of guidelines issued by ICMR/AIIMS which currently recommends plasma therapy as 'off label' use," the letter stated. "This is rather unusual as off-label use by its very definition implies unapproved use," it added.
Speaking to ThePrint, one of the signatories said that the "off label" tag on the guidelines shows that the government authorities themselves aren't convinced about the therapy.
"The off label tag proves that regulators themselves aren't fully convinced. The authorities know that it doesn't work. Off label itself means not approved, yet it exists as an oxymoron," said Vivekananda Jha.
---
Also read: Delhi firm 'hoarding oxygen concentrators' made profit of Rs 42,000/machine, police say
---
Push for change
The signatories have urged the government to review the guidelines urgently.
"We request you to urgently review the guidelines and remove this unnecessary therapy which has no benefit but is only causing harassment of patients, their families and even
COVID-19 survivors who are being pressured to donate plasma," the letter added.
The need for a change in guidelines was also stressed by the experts when they spoke to ThePrint.
"The government should say very clearly that the current research unanimously suggests that there is no scientific evidence that supports plasma therapy and they should clearly recommend against its use, instead of creating confusion with tags such as 'off label' use," Dr Yogesh Jain told ThePrint.
Agreeing Dr Anant Bhan said, "We are looking for a clear clarification and a clear enunciation from the government against the use of plasma, as evidence globally, including from India, indicates that there is hardly any role of plasma therapy in protecting from severe disease."
(Edited by Poulomi Banerjee)
---
Also read: Funerals jump 166% but less than half listed as Covid deaths shows Delhi's real toll is higher
---