Text Size:
While we have been celebrating surgical strikes, ThePrint brings you details about India's most forgotten war. We take you to Nathu La in Sikkim, where, 51 years ago, India fought a bloody war with China and got more than even with its neighbour. It was also the last time we exchanged fire with China.
***

ThePrint revisits the 1967 face-off between India and China that turned bloody and killed hundreds on both sides.
New Delhi: Good fences don't necessarily make good neighbours. At times, as India realised in 1967 when it got the better of China after suffering the humiliation of 1962, they can make it worse.
On 15 August last year – as troops remained locked in a terse standoff at Doklam in Sikkim – an Indian soldier filmed an extraordinary video depicting Indian and Chinese soldiers jostling and pelting stones at each other at the Line of Actual Control, the border that passes through the Pangong Tso lake in Ladakh.
The video (which ThePrint published on 19 August) was viewed very widely. Yet few viewers could have known that it was replaying, with variations, an incident from 50 years ago. It remains relevant as China continues to occupy the Northern Doklam plateau, with a strong body of Indian troops keeping a close watch on any moves of aggression.
We are deeply grateful to our readers & viewers for their time, trust and subscriptions.
Quality journalism is expensive and needs readers to pay for it. Your support will define our work and ThePrint's future.
These fisticuffs were by no means unprecedented. In the 1960s, soldiers from both sides hurled stones at each other along many points at the disputed boundary of Aksai Chin–not far from Pangong Tso – where Indian territory abuts the eastern frontier of China's Xinjiang province.
Even more significantly, in 1967, a face-off with Chinese troops lasted for over two months at the other end of the Himalayas, on the Doklam plateau — the very territory that has so vexed Indo-Chinese relations over the last year. China now maintains a strong presence near the plateau, with a brigade-strength force barely a two hours' drive away and a considerable number of troops stationed very close.
The exchange of September 1967 was the last time that soldiers roughhousing escalated into a bloody firefight along this border. That brief, intense conflict caused the deaths of 300 Chinese and over 200 Indian soldiers. As the eyeball-to-eyeball stand-off of our own time cools and hardens into resentful inaction, the story of this old battle may shed light on how shrill political messaging can have disastrous consequences on the ground.
The 1960s were a bad time, perhaps the worst ever, in India-China relations. The brief, brutal war of 1962 was a debacle in which India lost 14,500 square miles of territory; its details and stories are still in the process of being declassified. In 1965, as India fought a war with its western neighbour, Pakistan, China once again made a show of aggression by pressing troops on contentious areas along the LAC, including along Pangong Tso.
In 1967, after another fractious, tense summer, Indian and Chinese troops suddenly found themselves toe-to-toe in the eastern Himalayas. They quarrelled over the question of a fence at Nathu La, the strategic pass in Sikkim that demarcates one of the most tensely contested borders in Asia. The Indians wanted to construct an iron fence to put an end to what they saw as Chinese incursions. To the Chinese, this seemed like arrogant aggression, coming from an army they had beaten soundly just five years earlier.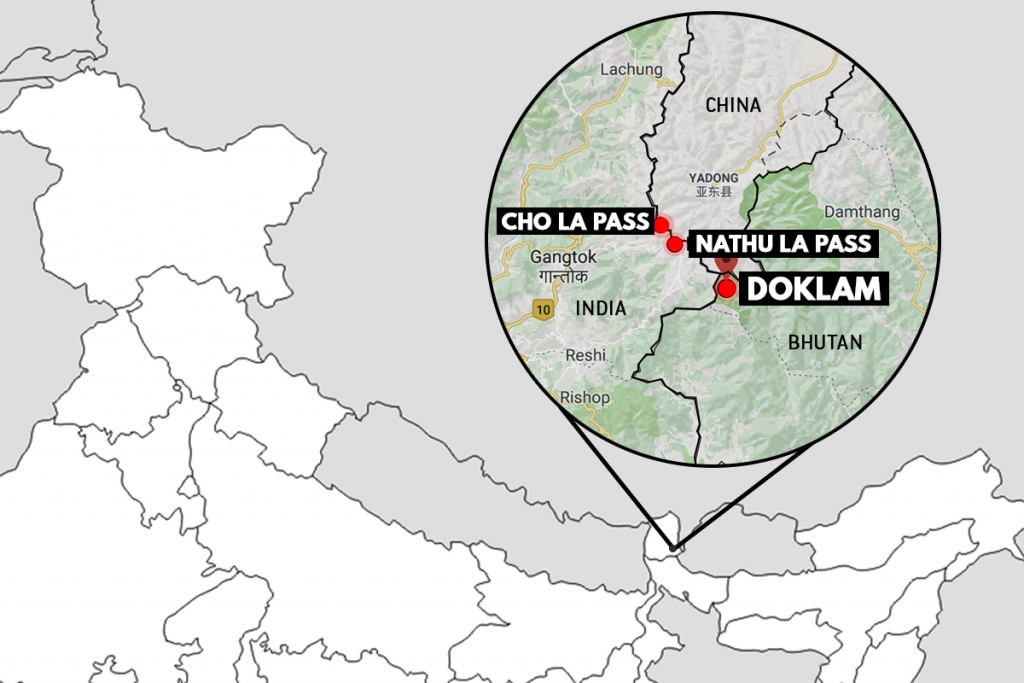 Troops came to blows. Major General V.K. Singh, who created a record of events by examining official unit records and meeting officers who served at Nathu La, found that this stand-off included "hand to hand fighting between the troops" when the Chinese came to the fence. "Realising that they were unequal to the Jats, the Chinese withdrew and began pelting stones," he wrote of the affair.
It was typical of the doubt and tension dominating that decade. Using historical documents in the public domain, declassified papers, material from the National Archives, and interviews with some of the people involved, ThePrint presents, for the first time, a detailed story of the lead-up to the clash at Nathu La, 50 years ago, and why India's good fence created bad neighbourliness in the first place.
I.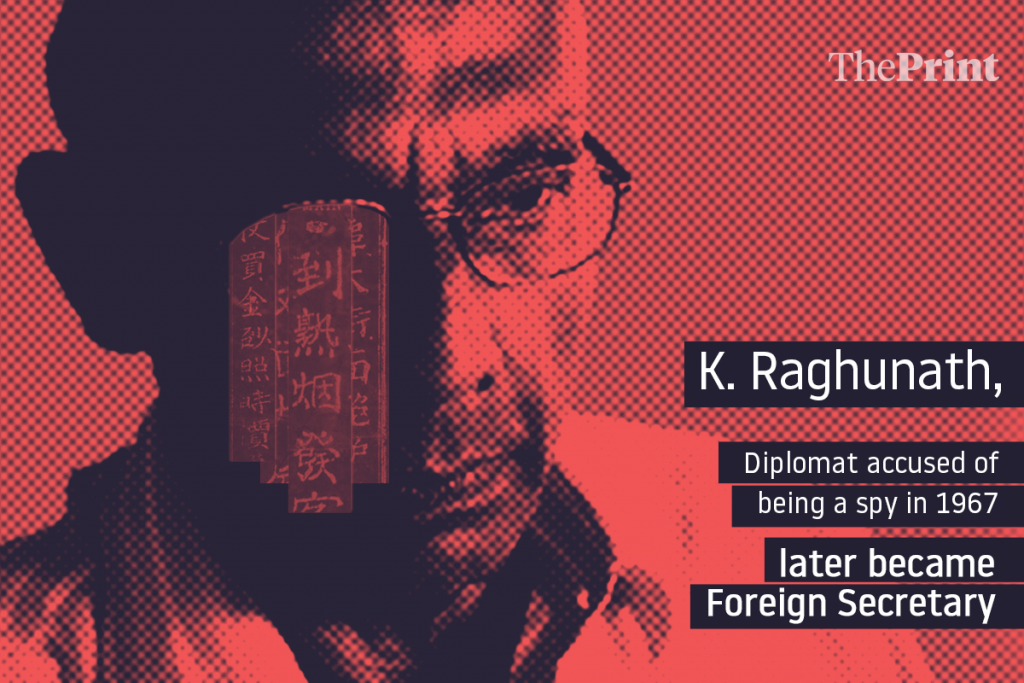 It begins 2,888 km to the east of Nathu La, in Peking. At its centre is an unlikely person – a career diplomat named K. Raghunath, former Foreign Secretary and architect of the famous "Gujral doctrine" that guided India's foreign policy in the 1990s.
In 1965, Raghunath was posted in the Chinese capital to head the ISI — an acronym that, in this case, stood for the Information Services of India, the government's public information unit. Two years into his stint serving as a young Second Secretary at the Indian embassy, Raghunath became embroiled in a bizarre spying scandal.
By all official accounts, the ISI's toughest job was coping with Chinese restrictions. Every conceivable interaction ran into some kind of ban or the other, frustrating the unit's intentions. The best Raghunath could manage was putting up posters conveying the Indian government's messages on the walls of the embassy.
Then, in early June 1967, Raghunath and another Indian diplomat, P. Vijai, were caught taking photographs on what appeared to be their tourist jaunt to a temple of the Sleeping Buddha near Peking. The Ministry of Foreign Affairs in Peking alleged that the photographs were taken to create a topographical map of a "prohibited area". Raghunath was accused of collecting "political and military" information, sneaking into Chinese government institutions, and impersonating embassy members of "friendly countries like Pakistan and Nepal".
He was put on public trial as all of China went into an uproar. A film, "Severely Punish the Indian Spy Raghunath," was made and screened to the Chinese public to showcase his alleged crimes and further indict him.
India responded with indignation. The government in Delhi strongly refuted all accusations and denying any charges of espionage. Protesting Raghunath's mistreatment by the Chinese, it expedited his return to India, where he was given a hero's welcome at a packed airport arrival lounge in the capital.
The Raghunath incident brought years of distrust between the two national security establishments, simmering since 1962, to the surface. The ill-feeling was exacerbated, on India's side, by growing evidence of Sino-Pak collaboration. (See documents here and here)
A series of notes passed back and forth between the Ministry of External Affairs, New Delhi, its embassy in China and the Chinese Foreign Ministry reveal a palpable nervousness over the emergence of a dangerous new strategic reality.
In these official exchanges, India protested a series of conflicts breaking out on the Himalayan borders. Towards the end of the India-Pakistan conflict, on 19 September 1965, Chinese troops had crossed the Line of Actual Control into Ladakh, kidnapped and killed three Indian armed personnel in the vicinity of Tsaskur.
As India and Pakistan went to battle on India's western front, the Chinese had also taken action in the eastern Himalayas, making a strong attempt to occupy the strategic Nathu La pass in Sikkim. Lieutenant-General Sagat Singh, who commanded the 17th Mountain Division in Sikkim at the time, noted in his biography that the attempt was successfully rebuffed.
Tensions grew in the following months, as the impact of the fallout was felt in deeper territory. Embassy records from 1966 reveal a flurry of official dispatches, following each other in quick succession from the Indian embassy in Peking, suggesting that Indians residing in China were "ill-treated". (In 1966, a paltry 24 Indian passport holders lived in China – against the 15,000-plus now.)
A secret annual consular report that was sent from Peking revealed that a gurudwara in Tianjin (then Tientsin) had been desecrated, and a Parsi temple in Shanghai occupied by the Red Army.
A secret CIA assessment identified this unattended build-up of political tension between the two nations as a real source of the eventual border clash. (See documents here and here)
For their part, the standard Chinese response to any diplomatic protests remained that India was the "aggressor" in all instances of conflict.
In 1966, the Chinese establishment had even accused India of playing "shabby tricks", and suggested that New Delhi compensate Peking for losses and damage incurred during skirmishes on the China-Sikkim border, all entirely initiated by India.
Global Times was yet to cast its spell over the internet, but the Chinese side made effective use of radio broadcasts to propagate anti-Indian sentiments among its listeners. (See documents here and here)
By the time Raghunath was accused as a spy, the atmosphere had well and truly soured. So when Indian forces along the border in the eastern Himalayas started to erect a fence at the Nathu La pass, mere months after the young diplomat's expulsion from China, they found themselves in the midst of a military clash that would not occur again until 50 years after.
II.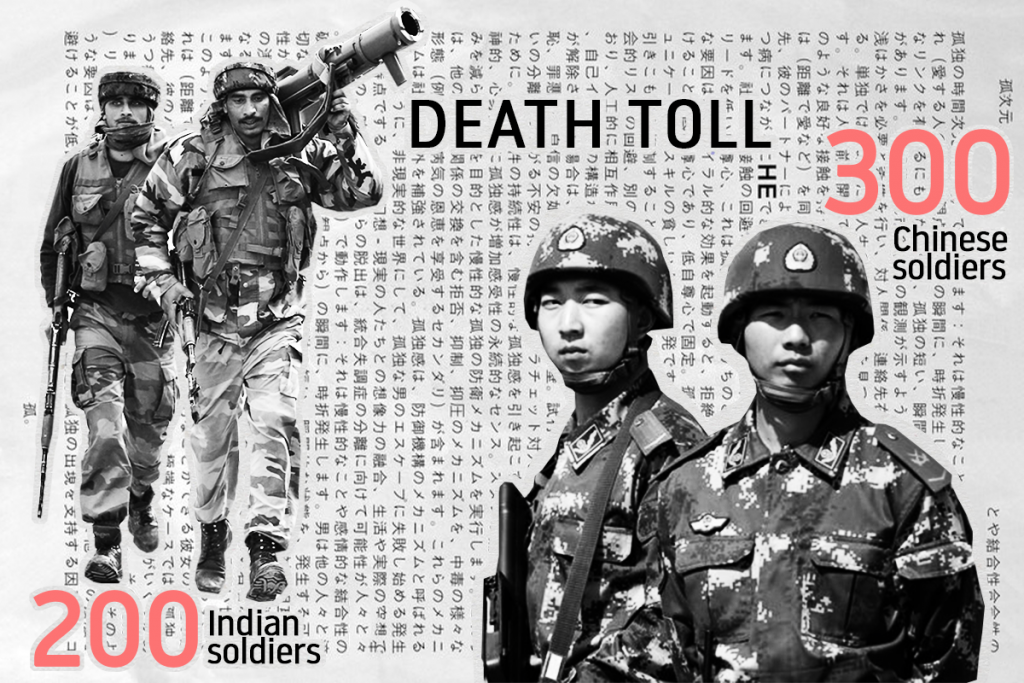 If the history of the Nathu La clash of September 1967 were to be represented in a museum, it would be by a single unlikely object: a pair of broken spectacles.
The clash is best chronicled in three documents – a biography of Lieutenant-General Sagat Singh, an account by Major-General Sheru Thapliyal and a more recent paper by military historian Major-General V.K. Singh. All three accounts help us establish a basic picture of agreed-on facts.
The Nathu La skirmish was preceded by days of arguments over the idea of a fence along the pass. India felt that a physical barrier might help stop daily arguments between soldiers over who should stand where and how on that part of the border. The Chinese, evidently, disagreed. Several attempts were made to stop Indians from erecting the fence. One of these arguments led, dramatically, to the spectacles of a Chinese political commissar being broken during a heated exchange.
Sheru Thapliyal, who was then a young artillery lieutenant, was posted barely a kilometre from Nathu La. Long after that eventful September, the unnamed Chinese commissar remained fresh in his memory. He was, Thapliyal writes, the only representative of the People's Liberation Army who could converse in English; he seemed perpetually to be goading his troops.
The commissar's role in the Chinese system was important, and his stature was high. Having his spectacles crushed in undignified jostling with the Indians may well have dealt a blow to his self-esteem. It did not, however, prevent him from leading a section of the infantry from the Chinese outpost down to stop Indian troops as they came out, early on the morning of 11 September, to erect iron pickets for their fence. A tussle broke out; incredibly, for the second time in a week, the commissar was roughed up.
Chinese posts opened coordinated machine gun fire on Indian troops at around 7.30 am — just minutes after the commissar and his troops returned to their bunker. Close to 70 casualties were incurred in that first strike itself, as the Indians found themselves exposed and unprepared in the open.
Thapliyal chronicled the day of the clash in detail. "That morning dawned bright and sunny unlike the normal foggy days," he wrote.
"The engineers and jawans started erecting long iron pickets from Nathu La to Sebu La along the perceived border while 2 Grenadiers and Artillery Observation Post Officers at Sebu La and Camel's Back were on alert. Immediately the Chinese Political Commissar, with a section of Infantry came to the centre of the Pass where Lt. Col. Rai Singh, CO 2 Grenadiers was standing with his commando platoon.
"The Commissar asked Lt. Col. Rai Singh to stop laying the wire. Orders to the Indian Army were clear. They were not to blink. An argument started which soon built up into a scuffle. In the ensuing melee, the commissar got roughed up. Thereafter the Chinese went up back to their bunkers and engineers resumed laying the wire.
Within a few minutes of this, a whistle was heard on the Chinese side followed by murderous medium machine gun fire from north shoulder (sic). The pass is completely devoid of cover and the jawans of 70 Field Company and 18 Rajput were caught in the open and suffered heavy casualties which included Col. Rai Singh who was wounded."
That morning was marked by some exceptional displays of bravery from the Indian forces. Col. Rai Singh was later awarded the Mahavir Chakra for his actions under fire. Two officers, Captain Dagar of the 2nd Grenadiers and Major Harbhajan Singh of the 18th Rajputs, were posthumously awarded the Vir Chakra and Mahavir Chakra respectively; Thapliyal writes that they "rallied a few troops" to assault the Chinese guns, and died heroically in the attempt. The 2nd Grenadiers opened small-arms fire on the north shoulder of the pass, although the volleys accomplished little.
Meanwhile, a second, darker story undercut this display of Indian courage. There was another Indian outpost manned by the 2nd Grenadiers within firing range of the skirmish, a fortified bunker situated at another shoulder of the pass. The soldiers here did not open support fire after China's first volley. In contrast to the men of their battalion flinging themselves into the defence of the pass below, the soldiers here deserted a platoon post in terror.
In the official account, Sagat Singh wrote that he grabbed a sten gun himself and threatened to shoot such soldiers, running back from the pass in panic. This curious desertion is described in detail in an account of the clash put together by Major General V.K. Singh, who recently got hold of the diaries of a young second lieutenant of the Signals, Brigadier N.C. Gupta. From Gupta's account, we learn of the extent of confusion and cowardice on display that day — as well as of its extraordinary moments of bravery, and eventual recovery.
---
Also read: Modi govt has turned surgical strikes into a shareable post for a selfie stick generation
---
III.
Official exchanges between India and China, already bad-tempered, filled up with references to the skirmish in the mountains. A note from Peking on 10 September, the day before the Chinese opened fire, had already given an account of 60 Indian soldiers allegedly intruding into Chinese territory, installing barbed wire, and wounding two Chinese guards with bayonets.
On 12 September, a day after open hostilities, detailed notes were exchanged again. China blamed India in a note that claimed 60 Indian "aggressor troops" had opened fire; by noon, according to this account, they had killed or wounded 25 Chinese guards, and destroyed Chinese temples and houses.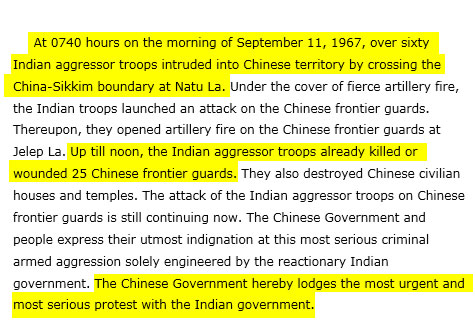 Indian "reactionaries" were at the "height of their frenzy," the note complained. It issued, in no uncertain terms, a warning: "Do not misjudge the situation and repeat your mistake of 1962."
India did not repeat its mistakes. Over the next five days, the Indian Army hit back with superior artillery, and fought a few hand-to-hand battles at and around the pass. The duel continued for five days, after which the Nathu La fight effectively came to an end. It was followed only by a short skirmish which also took place nearby on the first of October, at the Cho La pass. A Gurkha unit, according to V.K. Singh's accounts, gave the Chinese side a "bloody nose" once again on that occasion, occupying a position after a brutal khukri assault.
The clash quickly became a matter of grave international concern. The Indian deputy prime minister, Morarji Desai, was on a visit to the US at the time the clashes started.
In Washington DC, the Nathu La skirmish ranked second only to an update from Vietnam — where the US had entered the second decade of its war — in US president Lyndon B. Johnson's secret daily briefing from the CIA.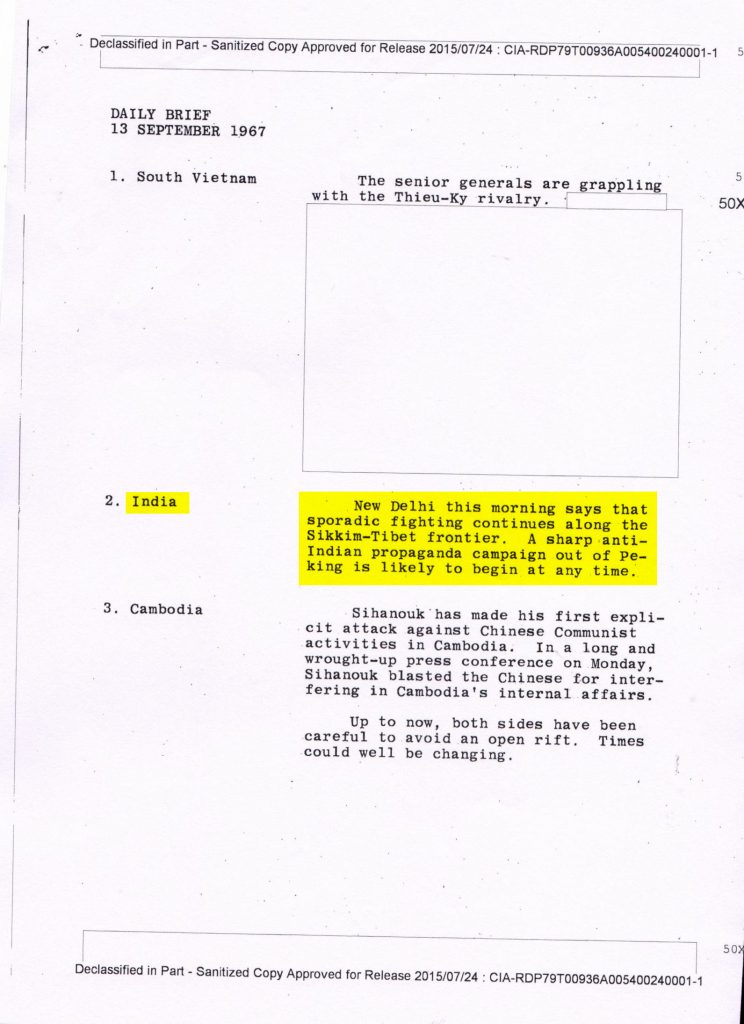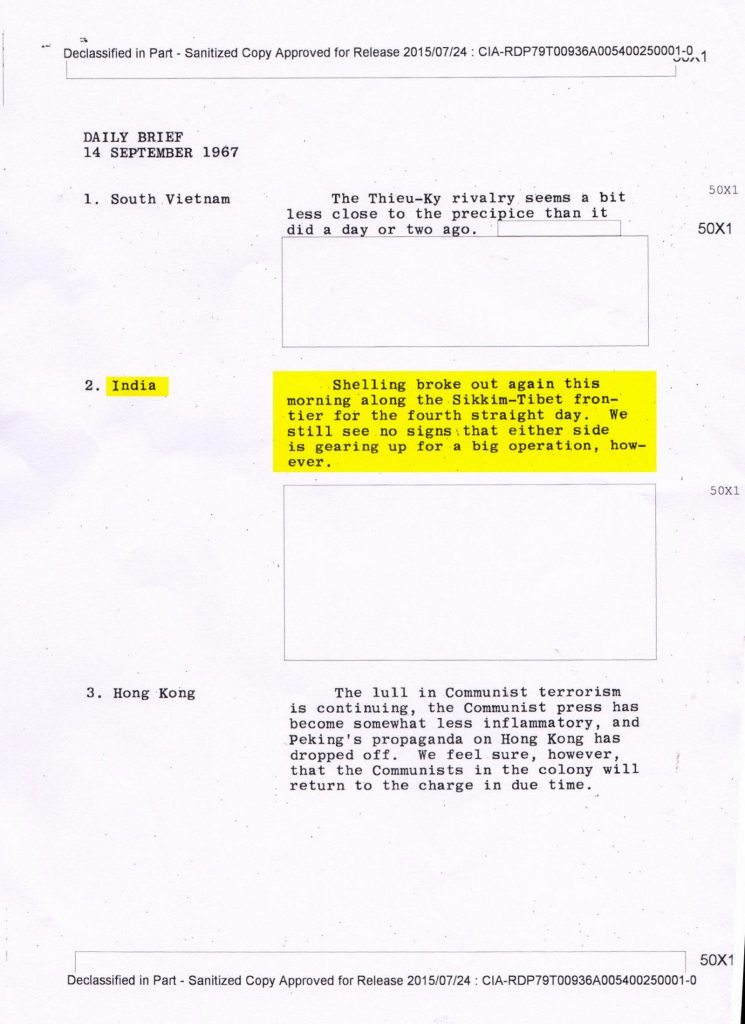 Yet, despite the severity of the incident, it appears that Washington never believed that it would grow into a larger conflict.
They were right, for the skirmish did not escalate into a full-fledged war — perhaps due to another player in the game. A CIA assessment from the time notes a sudden increase in Soviet military build up on the Chinese border from 15 divisions to 21 ground divisions. (A more detailed declassified CIA note gives the exact locations and timing of these Russian movements.) It is difficult to establish cause and effect, but the pressure on the Indian borders may have eased because Chinese attention was diverted to the Manchurian border, where Russia — a former ally now branded "Revisionist Traitors" by the Chinese Communist Party — sent in tank divisions in a dispute that culminated in 1969's Sino-Soviet border conflict.
Nonetheless, the diplomatic chill continued. A note from China to India dated 8 October of that year expresses displeasure over an Indian secret agent following and interrogating non-Chinese embassy personnel in New Delhi. In December, China made another strong protest against the harassment of a Tibetan who left the Chinese embassy in Delhi with Chairman Mao badges, Chinese tea and cigarettes.
In spite of these hostile exchanges, all visible Chinese aggression – or Indian assertiveness – on the border that led to further violence had ended. The two countries returned to the relatively safe cover of covert operations in each other's ambit — as in India's northeast, where the Chinese continued to lend secret assistance to insurgents.
1967 was to be their last military clash. By 1971, when Pakistan was splitting into two, Beijing was paying no heed at all to Henry Kissinger in Washington, signalling them to create pressure on the Indian border as a distraction. Even direct prompting by the US in 1971 did not move the People's Republic.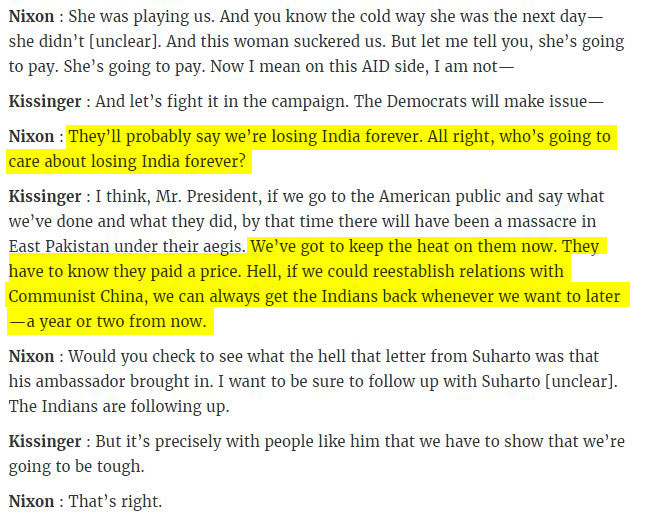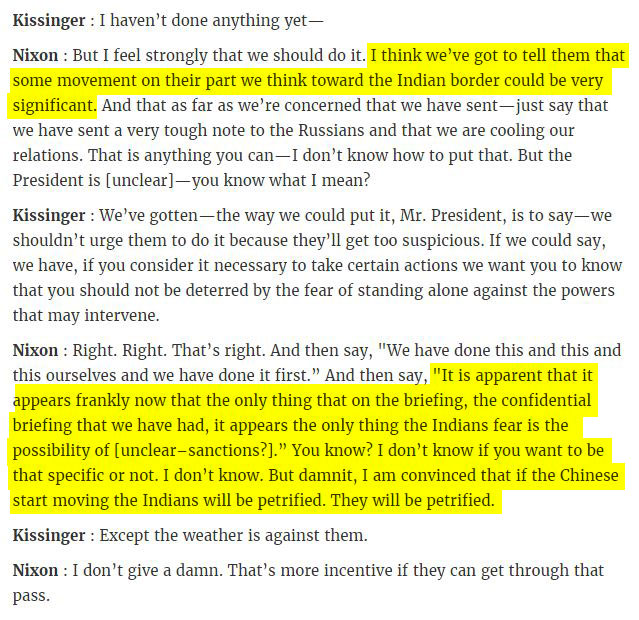 The battle that began with an outcry over a Buddha temple outing and sniping in diplomatic notes, however, remains the most instructive instance of the violent consequences of a degraded political discourse. In such times, erecting fences doesn't offer solutions: the fence itself can become the problem.
The Passion of Sagat Singh
Had it not been for Lieutenant-General Sagat Singh – then commanding the 17th Division – the skirmish at Nathu La may never have come to pass at all. China made its first approach to the Nathu La pass in 1965, during Indo-Pak hostilities. While some positions in Sikkim were vacated by the Indian Army due to Chinese aggression, Sagat's troops held on to the pass.
In 1967 ,when the skirmish broke out, Singh was at the forefront giving ground instructions to hold on. His biography even describes an incident in which the General directly intervened when some troops ran away from the battle scene.
"The two platoons earmarked to support the troops did not react," a chapter in the book A Talent for War: The Military Biography of Lt Gen Sagat Singh recounts. "Some of them even ran and it required Sagat, who snatched a sten gun and stood on the road coming down from Nathu La, along with the Subedar Major of 2 GRENADIERS (sic), to stem the rout. He threatened to shoot anyone he found moving to the rear. They collected whatever men were available and sent them forward."
The Red Army In The North-East
While the de-escalation from 1967 was swift, it became clear over the next few years that China was interfering in the insurgencies that India was battling in its northeastern regions. Besides various news reports in the national media, and Indian government reports on the Chinese role in training and supplying arms to the Mizo and Naga rebellions, independent reports prepared by the CIA confirm this.
In one secret report dated 26 July 1968 titled 'India's Troubled Eastern Region', the CIA recorded that Naga rebels were found to be in possession of Chinese made small arms and mortars, besides radio sets and diaries.
Another CIA assessment, Ten Years of Chinese Communist Foreign Policy, dated 4 April 1968, records public support from Peking for rebellions by the Mizo and Naga tribes in the North East.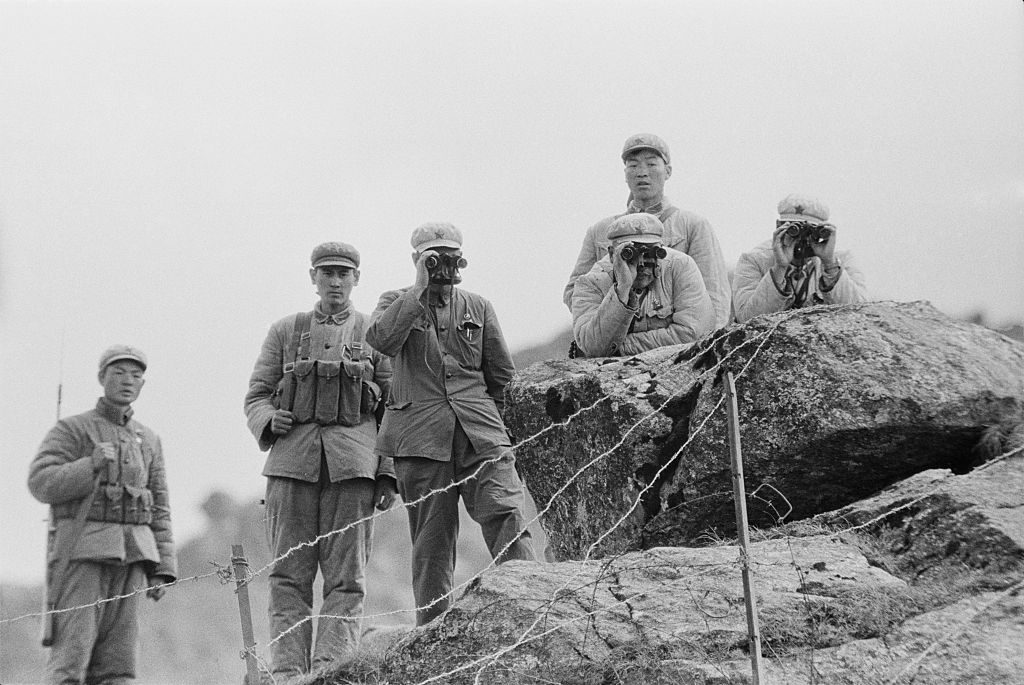 The Missing Platoon at Nathu La
Very few accounts of what happened at Nathu La and Cho La in 1967 exist, and official data only depicts one side of the picture. However, Colonel N.C. Gupta, then a young second lieutenant, was posted to Nathu La at the time and recorded the events in his personal diary. His version reveals a detail missing from official records.
Sent to restore communication at the South Shoulder post at the height of fire, Gupta found that faulty communication was not the reason why the post was not responding — it was in fact because the post was deserted. Designed for an entire platoon, Gupta found it completely empty.
He then "resorted to intermittent firing" to give the impression that the post was being occupied, and held the post alone for four hours before reinforcements reached him. He had to leave the post to find a platoon headed by Attar Singh, and then guide them back to the post and re-group.
Gupta recorded that over 90 soldiers of the 2nd Grenadiers had abandoned the post. (More than 36 were later court-martialled.) Unfortunately, Gupta did not receive the high public commendations for his bravery that he deserved — he also saved the life of Major Bishan Singh while under enemy fire — because it would have revealed the fact that the South Shoulder had been abandoned, a fact that would reflect badly on the armed forces. Gupta received a Sena Medal, and was acknowledged for his bravery during 1967 within the Army.
---
Also read: Surgical Strike Day a plot to curb student activism or move to instil national pride?
---
Subscribe to our channels on YouTube & Telegram
News media is in a crisis & only you can fix it
You are reading this because you value good, intelligent and objective journalism. We thank you for your time and your trust.
You also know that the news media is facing an unprecedented crisis. It is likely that you are also hearing of the brutal layoffs and pay-cuts hitting the industry. There are many reasons why the media's economics is broken. But a big one is that good people are not yet paying enough for good journalism.
We have a newsroom filled with talented young reporters. We also have the country's most robust editing and fact-checking team, finest news photographers and video professionals. We are building India's most ambitious and energetic news platform. And we aren't even three yet.
At ThePrint, we invest in quality journalists. We pay them fairly and on time even in this difficult period. As you may have noticed, we do not flinch from spending whatever it takes to make sure our reporters reach where the story is. Our stellar coronavirus coverage is a good example. You can check some of it here.
This comes with a sizable cost. For us to continue bringing quality journalism, we need readers like you to pay for it. Because the advertising market is broken too.
If you think we deserve your support, do join us in this endeavour to strengthen fair, free, courageous, and questioning journalism, please click on the link below. Your support will define our journalism, and ThePrint's future. It will take just a few seconds of your time.