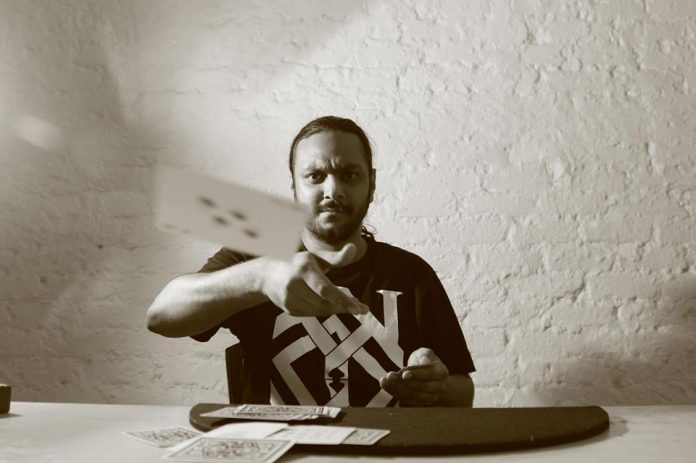 Text Size:
Karan Singh Magic is one of three performing artistes in Delhi who uses observation and an understanding of human psychology to 'read minds'.
New Delhi: Karan Singh Magic has a trick up his sleeve. Sitting on a dusty table in a coffee shop in Greater Kailash-3, he talks about placing a box over the India Gate a month before the country votes in the upcoming general elections.
"I don't go anywhere near the box until after the results are announced. And then the box is lowered, and inside it you find a script accurately predicting who wins which state, by how many seats, and who becomes the next Prime Minister," he says, smiling at the seeming ludicrousness of such an idea.
"I've been talked out of it, though, because I will get murdered no matter who wins."
Micro expressions
The name 'Magic' was gifted to Karan by a friend who set up his Facebook page, but what he does is not exactly out of the Harry Potter universe. He is one of three performing artistes in Delhi who practises what he calls "the meeting point of traditional psychology and modern magic, which gives the illusion that I'm reading minds".
His art is based on keen observation and an astute understanding of human behaviour – he can guess the word you've got in your head based on the curl of your lower lip.
"You're thinking of the word 'puppy'," Karan tells this reporter, "because your lips are trying to purse themselves into a round shape that only comes with the 'p' or 'b' sound."
Next to us, a litter of puppies runs around their mother.
These very brief involuntary reactions of the face, or 'micro expressions', are known to reveal a person's true emotions. So, for those who pay attention, people are largely predictable.
This is a concept that has been depicted in many popular TV shows such as Lie to Me, Psych and The Mentalist, as well as the modern-day adaptations of Arthur Conan Doyle's Sherlock Holmes stories.
For Karan, who is a trained hypnotherapist and has spent nearly a decade studying the human mind, people are also impressionable.
"Sometimes you have to place the idea in their head, and then convince them you guessed it," he says.
---
Also read: Why it's time for India to have its own porn star
---
The economics of 'Magic'
Karan's love for performance was born from a very basic school-time need – a bid to impress a rather indifferent girl in the seventh grade. He realised quickly that he wasn't built to excel at sports or music, and therefore tried his hand at parlour tricks.
"It didn't work, and it hasn't worked till today," he says with a laugh.
Karan admits he has had bad luck with women, but, at the age of 27, has managed to buy himself a red Mercedes-Benz CLA coupe, which costs upwards of Rs 30 lakh. He also owns a BMW X1 SUV. And it's all thanks to something that started as a hobby 16 years ago.
He has scored gigs with mammoth MNCs like Facebook, Apple, Google, Twitter and Dell, who have also taken him on international tours to the US, UK, Singapore and Dubai. He also performs at theatre venues across the country, which pay less, but are "important for my soul", he says.
A 20-minute corporate show fetches him Rs 1 lakh to 1.5 lakh, and for segments stretching to 90 minutes, the price is adjusted accordingly. With 80-100 shows a year, Karan asks us "to do the math".
"I haven't been financially dependent on my parents for the past three or four years now," he says. "Everything I've bought is from my own money."
A loss of faith
Belonging to a relatively orthodox Sikh family, he had to convince his parents that performing magic was a lucrative, viable and dependable career.
"My mother always wanted me pursue this as a second career to something more stable. For my father, as long as I was earning money, he was happy," Karan says.
Living in his older brother's shadow was also a tough task. "He works for Google in Singapore," he says, and adds with a smirk: "At least there's one child my father can introduce with pride. What would he say for me? 'Here, meet my son, he does magic'."
For the young Karan, the education system was a reminder of two things – that it was not built for people who lacked academic aptitude, and that God does not exist.
Although he remembers his school years with fondness, studying B.Com. at Shri Guru Tegh Bahadur Khalsa College at Delhi University was "a huge culture shock".
Being forced to wear a turban every day made him realise he did not want to ascribe to any institution that preached blind conformism. After repeating his first year, he dropped out of college in his final year to pursue magic full-time.
Strangely enough, the real path to a logical, rational worldview came through his magic tricks, he says.
"It makes you wonder how something is possible, and you begin to question the process and the potential of the human brain. For me, it's the most intellectually stimulating art form," Karan says.
More harm than good
But all gifts come with baggage, and for the 'mentalist', the ability to read people has sometimes done more harm than good.
A few years ago, a curious girl came up to him and asked him to reveal something about her.
"I told her I knew she had cheated on her boyfriend and then pretended like the break-up was his fault. She did that to cover up her own guilt, because no one found out about her infidelity," he recalls.
Three months later, the same girl called him on the phone, and said she hadn't left her room since their conversation because of how much what he said affected her.
"I can tell when someone is cheating or lying. But I no longer tell them I know that," he says.
---
Also read: What the West gets wrong about arranged marriages
---
Read Global Pulse for a sampler of the big international stories, and why they matter.