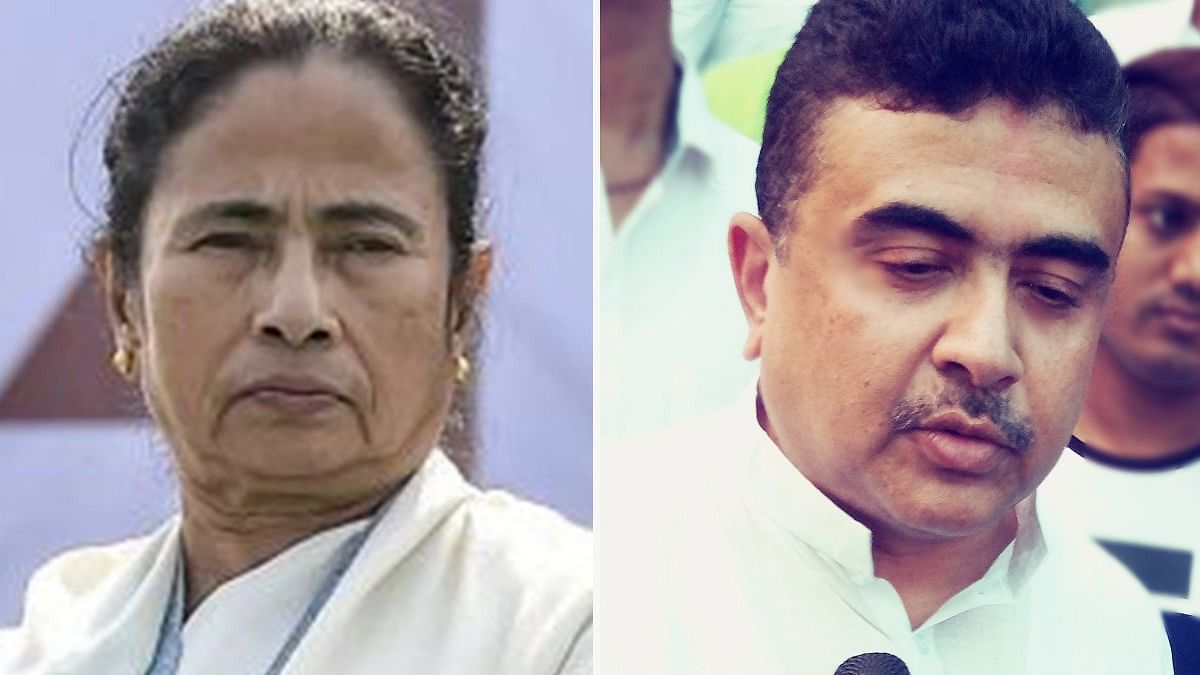 Kolkata: West Bengal Chief Minister Mamata Banerjee met leader of opposition Suvendu Adhikari, the first time since her former aide ditched the Trinamool Congress to join the BJP before the 2021 state polls, at her chamber in the state assembly Friday.
Adhikari had defeated the TMC supremo in Nandigram in the assembly polls.
The BJP leader was invited to Banerjee's chamber in the state assembly, to which he agreed. He also requested to bring a few other BJP MLAs along with him. Adhikari was accompanied by BJP MLAs Agnimitra Paul, Ashok Lahiri and Manoj Tigga. State Education Minister Bratya Basu was also present at the meeting.
While Paul touched Banerjee's feet and sought her blessings, Banerjee inquired after Adhikari's father, Sisir Adhikari.
During the three-minute meeting, Banerjee jokingly asked BJP MLA and economist Lahiri to come on Trinamool's side. To this, Lahiri offered the CM economic consultation whenever needed.
The BJP leaders also told the CM that they wanted Lahiri to head the Public Accounts Committee, but Krishna Kalyani, who won on a BJP ticket but jumped ship later to the TMC after the state polls, was given the critical post.
Speaking on the floor of the Vidhan Sabha after the meeting, Banerjee said, "Suvendu was like my brother, now he says it's off the party, by the party, for the party", referring to Adhikari's 2020 jibe at the TMC.
BJP chief whip Tigga, meanwhile, told ThePrint, "We want to work along with the government for the development of Bengal. The Trinamool Congress' stand hasn't helped the cause."
---
Also read: Students in Bengal school clash over saffron scarves, hijab. TMC calls it 'BJP conspiracy'
---
'Courtesy meet'
When asked what was spoken at the meeting, BJP leader Suvendu Adhikari declined to comment and only said it was a "courtesy meet".
Political analyst Bishwanath Chakraborty told ThePrint that this "courtesy meeting" was not without political intention. "Adhikari is the bridge to the Centre. He is the one who gives reports to the BJP central leadership about the progress of central programmes in the state. This meet will help bridge that gap."
West Bengal Minister Chandrima Bhattacharya, meanwhile, told ThePrint, "Despite all the humiliation, Banerjee met Adhikari. This has a big political message, that in politics, good behaviour is rare."
It is to note that Banerjee also greeted CPI(M) veteran Biman Bose during the swearing ceremony of new Bengal Governor C V Ananda Bose recently.
---
Also read: After wiping out TMC in one cooperative poll, Bengal BJP-CPI(M) 'alliance' flops in another
---