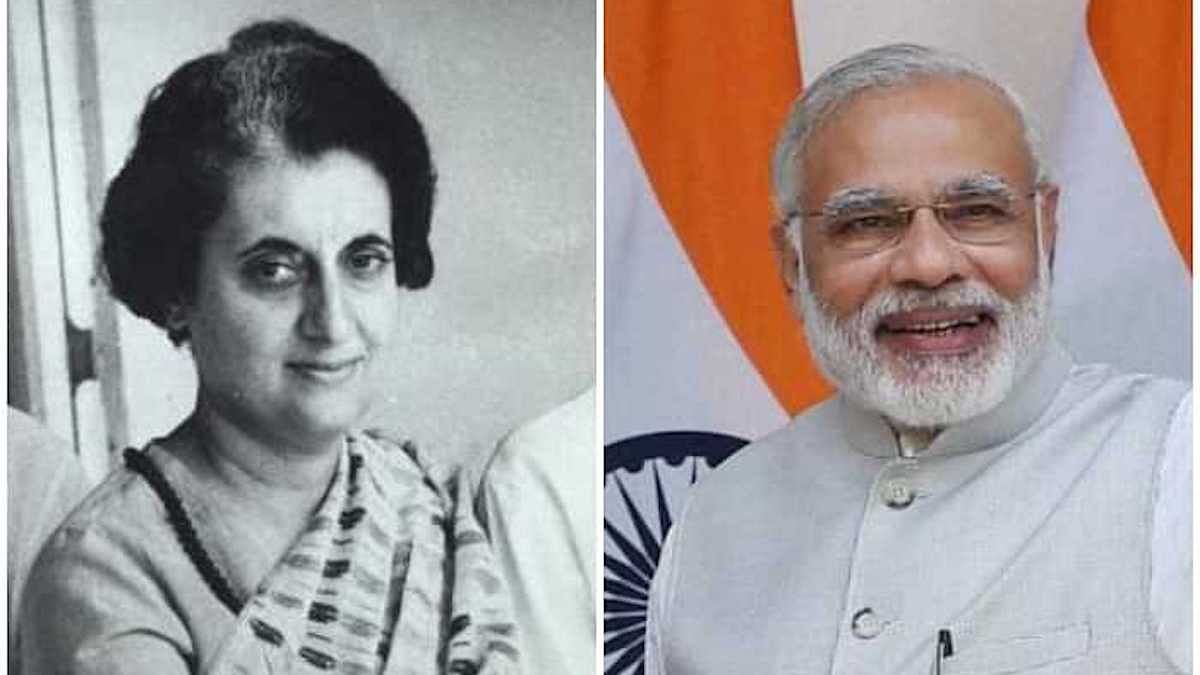 New Delhi: Atal Bihari Vajpayee had described Indira Gandhi's bank nationalisation move in four words — ashobhinya (ugly), anuchit (improper), akaran (without justification) and anaavashyak (unnecessary).
On Sunday, which marked 51 years of the move, Shekhar Gupta recalled what Vajpayee said to explain why bank nationalisation was Gandhi's biggest economic blunder.
Not only was Vajpayee angry with the decision, but he was also angry about the manner in which it was done. It was brought in by an ordinance on a Saturday, almost by stealth. The manner was almost akin to how Narendra Modi brought in demonetisation, both of which were equally disastrous for the economy, Gupta said in episode 526 of ThePrint's Cut The Clutter.
For the economics of the bank nationalisation, one may refer to episode 217 of Cut The Clutter, which marked the 50th anniversary of the move, but in this latest edition, Gupta focused on its political history.
---
Also read: Why Minoo Masani & Atal Bihari Vajpayee opposed Indira Gandhi's bank nationalisation
---
'Bank nationalisation like demonetisation'
The move to nationalise banks was supposedly meant for India's poor. However, all it did was create more branches in rural India. Aside from that, it did not benefit anyone, said Gupta. In a prescient diagnosis, Minoo Masani, one of the leaders of the Swatantra Party, India's only economic right and libertarian party, said the move would result in bureaucratic red tape, corruption and create a chronic loss in business making.
Gupta also said it was surprising that Prime Minister Narendra Modi had still not reversed Indira Gandhi's mistake. However, he noted that bad ideas, once implemented, are very durable and take a lot of courage to be reversed. Typically, bad ideas come from political populism.
Though Modi has made several efforts — such as bank consolidation of 21 banks as 12 national banks, which has helped reduce the size of the problem — he hasn't reversed the move entirely, Gupta said.
Bank nationalisation was neither an economic nor social step, but a political step for Gandhi to edge out Morarji Desai and split the Congress party, he added.
---
Also read: If Modi wants a real legacy, he must undo Indira Gandhi's disastrous bank nationalisation
---
The Nagarwala scandal
What bank nationalisation did do was lead to many scandals.
The Nagarwala scandal was the first banking scandal in India, which came to light on 24 May 1971. Jimmy Nagarwala, who had worked with Army intelligence, was accused of impersonating Gandhi and her chief secretary P.N. Haksar, taking Rs 60 lakh from then SBI chief cashier Ved Prakash Malhotra and disappearing with it.
When the scandal leaked, Gandhi was severely criticised. Subsequently, the Delhi Police launched 'Operation Toofan' to track down the money. Nagarwala was arrested and later convicted in a trial that lasted all of 10 minutes with no arguments. It was based solely on a confession by him.
He was then sentenced to four years of rigorous imprisonment in Tihar Jail. He appealed the verdict and a sessions court ordered a re-trial. However, before the trial, D.K. Kashyap, who was leading the investigation in the case, died mysteriously. Nagarwala claimed he had a big scoop, but fell extremely unwell and was shifted to Tihar Hospital. He died at GB Pant Hospital in Delhi on 2 March 1972, before he could reveal any details of his 'scoop'. In such cases, nothing is a coincidence, said Gupta.
In his own diagnosis of the scandal, Gupta said it was likely that Nagarwala had been co-opted to work between the R&AW and military operations to get the money for Mukti Bahini, which was the guerrilla resistance movement of Bangladeshi Forces, during the 1971 War for East Pakistan. The money was actually meant for Tiger Siddiqui, who was a Mukti Bahini member and led the Bangladesh Liberation War.
On the allegations that Nagarwala had impersonated both Haksar and Gandhi on the phone, Gupta said it was unlikely as he had facial paralysis and a speech impediment. So, in all likelihood, the story leaked and it was ultimately Nagarwala who took the fall, said Gupta.
Watch the full CTC episode here: