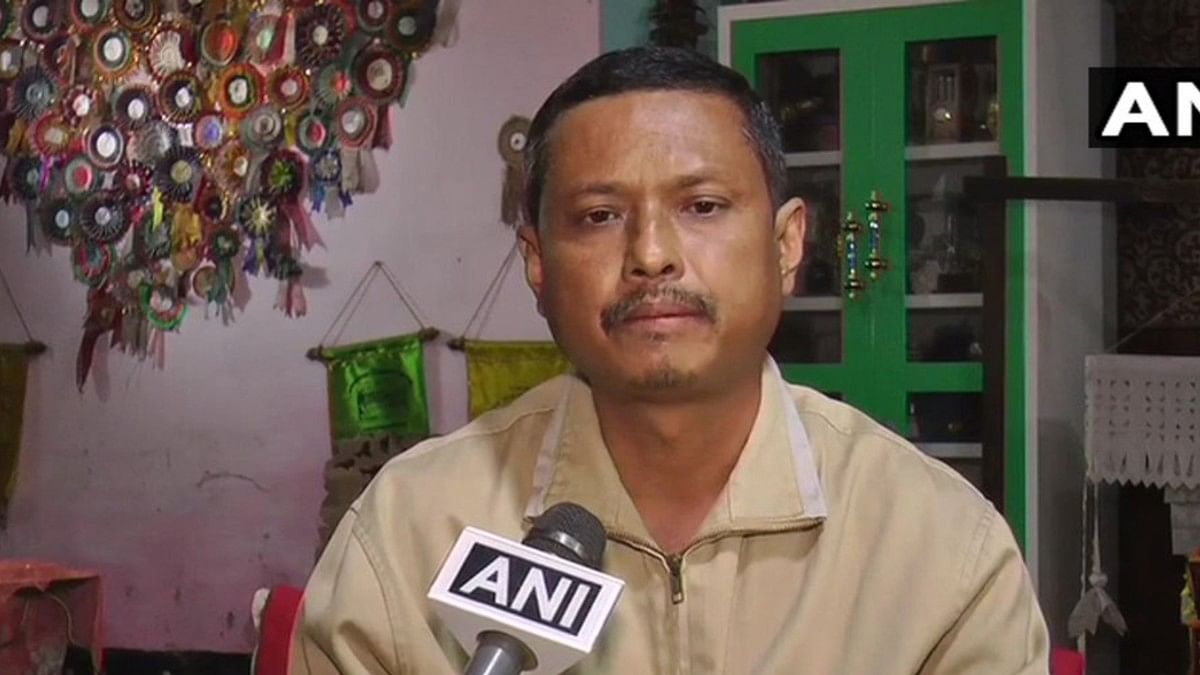 New Delhi: Leishemba Sanajaoba, the titular king of Manipur who was recently elected to the Rajya Sabha on a BJP ticket, has been found to be the poorest among 62 new MPs.
According to a report titled 'Analysis of Criminal and Financial Details of Newly Elected MPs of Rajya Sabha, June, 2020' by the Association for Democratic Reforms (ADR), Sanajaoba's assets amount to Rs 5,48,594, the least among his parliamentarian peers.
His total assets included income of self, spouse and dependents, the report, released on 23 June, said.
Sanajaoba had contested the election despite protests by civil society organisations who wanted him to abdicate kingship if he wanted to contest the elections.
"Kingship is customary and I inherited it. People were divided on the issue of my contesting the election. Some wanted that I retain kingship. Some were opposed to my candidature. I feel very proud of my history," he has been quoted by The New Indian Express as saying.
The Kingdom of Manipur or 'Kangleipak Kingdom' was formerly a princely state and had merged with the Indian Union in 1949. The royal family had received a "privy purse" of Rs 3 lakh per annum from 1949 to 1971 before the system was abolished.
---
Also read: Manipur is upset its traditional leirum phee is being sold as 'Modi gamcha' in UP
---
13 villages in Sikkim's Dzongu remain cut-off since 2016
As many as 13 villages in the upper Dzongu area of Sikkim have remained cut-off for the past four years after a massive landslide in 2016 choked the path of Kanaka river and resulted in the formation of an artificial lake.
A report by the EastMojo said residents have since been making do with rafting boats, temporary structures and a small bailey bridge to cross the lake when water level decreases during winter. With monsoon setting in now, the villagers are linked to the rest of the state only through a cane bridge.
A suo motu PIL was registered by the Sikkim High Court in 2019 after reports in local newspapers said the bailey bridge was submerged by the lake, leaving the 13 villages marooned.
The high court had on 20 June this year asked the state government to ensure completion of a permanent steel bridge at Upper Dzongu within the scheduled time of January 2021. It also asked the state government to monitor the temporary cane bridge for the safety of the villagers.
---
Also read: Nagaland village hosts open beauty salon to help locals earn money in lockdown
---
Health workers navigate flooded road to collect swab samples
The video of a nurse and two laboratory technicians navigating a flooded road in Arunachal Pradesh's Changlang district to collect swab samples has been earning praises from social media users.
Lab Technicians on sample collection duty in Changlang.Transferred from PTC Banderdewa, sweating it out in these hard conditions.

Salute to the ladies.

Hope they receive their due incentives and recognition.@tongamrina @tabaajum @sangnoamar @RanjuDodum @PemaKhanduBJP @ndtv pic.twitter.com/MqVoWxD06P

— Babin (@tadarbabin) June 24, 2020
The three health workers were identified as Nang Purnima Chouhai, a nurse, and laboratory technicians Tarak Yasin and Yajum Game.
They were on their way to collect samples from the Mudoi Deep Upper Primary School that has been converted into an institutional quarantine centre in Changlang district.
---
Also read: Mizoram's doctor MLA walks miles, crosses a stream to treat soldier in remote area
---
Sikkim vocalist is frontman for Megadeth drummer's new band
Gangtok-born Girish Pradhan has joined Chris Adler from Megadeth and Lamb of God fame as the frontman of the latter's new band called Firstborne.
Pradhan, who had formed Girish and the Chronicles in 2009, first worked with Adler in November 2019 for a workshop on music. The Megadeth drummer was so impressed with Pradhan that he decided to form a band with him as its frontman.
"I sent back demos to them and they were ok with it and wanted to take it forward. I used to record and keep sending it. Over the month we started making lots of tracks and it became a reality. They make tracks in LA through Zoom calls, where we discuss and make music, recording live, and writing lyrics together," Pradhan told EastMojo.
Adler's project also features James LoMenzo, who was part of bands like White Lion and Megadeth, and Myrone, a Los Angeles-based guitarist. They released their first five-song album on 19 June.
---
Also read: Adil Hussain, Papon join campaign to save 'Amazon of East' as Assam trends #SaveDehingPatkai
---
Covid patients walk 8-km to reach ambulance
Two Covid-19 patients in Manipur's Ukhrul district walked 8 km to reach an ambulance waiting to pick them up, due to the unmotorable road leading to their village of Razai Khullen.
The dilapidated road between Razai Khullen and another village called Razai Khunou had forced the ambulance driver to park the vehicle at the nearest motorable road on 17 June.
The two patients had completed their 14-day quarantine period at the Jessami Quarantine Centre and came to their village on 13 June without getting their test results. When the results came, they tested positive but the road leading to their village was damaged due to incessant rains, forcing the duo to walk.
V.S. Mishivam, the headman of Razai Khullen, reportedly said the road become unmotorable every monsoon.
---
Also read: Mizoram, Manipur are using this traditional practice to keep coronavirus in check
---