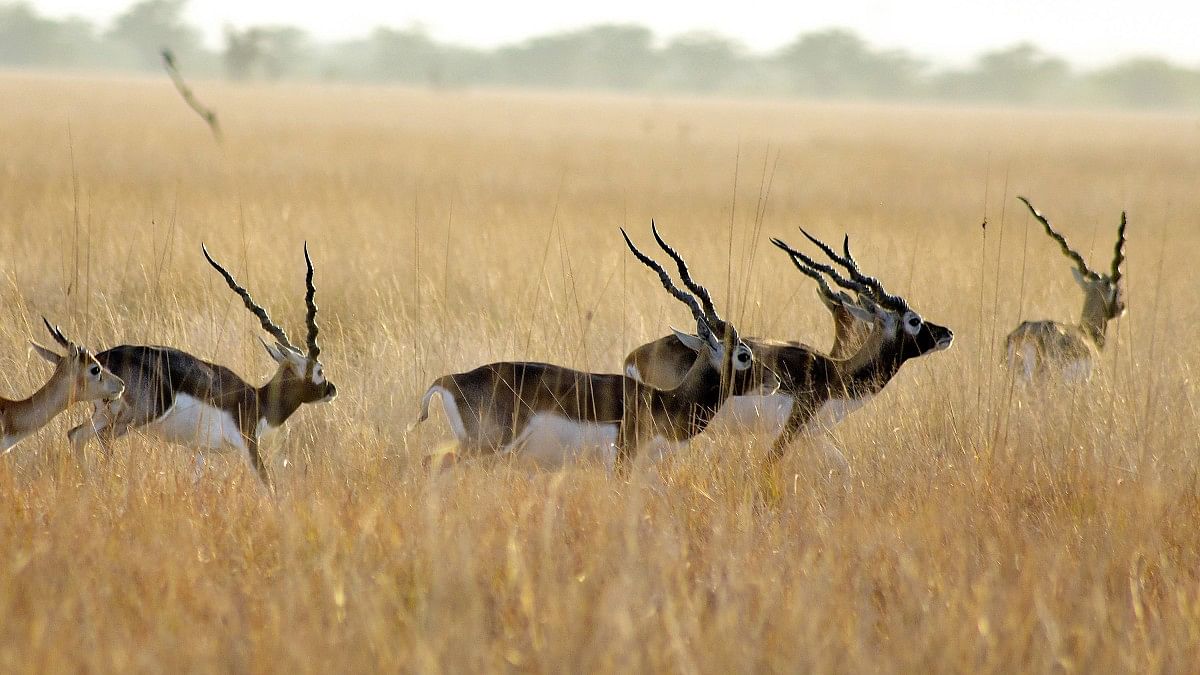 New Delhi: Twelve blackbucks were killed in an accident along the Solapur-Bijapur highway in Maharashtra Saturday evening, alarming wildlife experts who have emphasised on the need to implement mitigation measures along linear projects that interfere with the movement of wildlife.
Linear projects such as roads and railways are known to cause habitat fragmentation, making it risky for wild animals to cross over.
According to deputy conservator of forests, Solapur, Dhairyashil Patil, the blackbucks fell to their death from a height of approximately 30-to-35 feet as they attempted to cross a newly-constructed bypass road that cuts through a hill. The officer added that three blackbucks, who were injured in the accident, were currently being treated by the department.
The incident took place in Solapur's territorial forest division and within a 10-kilometer radius of the district's Great Indian Bustard Sanctuary, which is considered a protected area under national environmental laws. This stretch also features agricultural fields and human habitation, according to project documents.
"We are awaiting a more detailed report of the incident, following which mitigation measures will be suggested, if required," principal chief conservator of forests (wildlife) Maheep Gupta told ThePrint.
In the year 2018, at least 5,902 accidents had occurred due to collision of vehicles with animals, according to data revealed in Parliament by the Ministry of Road Transport and Highways.
When the ministry was asked the same thing in 2022 — how many animals had been killed in road accidents that year — it chose not to answer.
According to wildlife experts, mitigation measures should be incorporated in the projects as they are being built, as opposed to in the aftermath of such incidents.
The Solapur-Bijapur highway was first proposed in 2012, and was awarded wildlife clearance by the standing committee of the National Board for Wildlife in August 2014. Among the conditions stipulated by the committee was that "Two per cent of the proportionate project cost falling within the area of 10 km from the boundary" of the Great Indian Bustard Sanctuary would be paid towards wildlife conservation and management.
---
Also read: From January to June, wildlife board gave permits that can be 'disastrous' for protected areas
---
'What drove them to that area?'
Solapur is home to several wild animals and birds, such as wolves, Indian bustards and blackbucks that typically inhabit grassland ecosystems. Several of these species, including the blackbuck, are accorded the highest level of protection under the Wildlife Protection Act.
While roadkill incidents are common, Tushar Chavan, deputy conservator of forests (wildlife), Pune, told ThePrint that an event like this one is unusual for the area.
"What needs to be investigated is what drove them (blackbucks) to go to that area, whether they had sufficient water and food in their usual habitat," he said.
According to Mihir Godbole, founder of Pune-based conservation organisation, The Grasslands Trust, herbivores like the blackbuck frequent agricultural fields for nutrition, because grassland ecosystems have been heavily degraded. His organisation is working on a grassland restoration project with the state forest department.
"Lots of wildlife exists outside protected areas, which makes it especially important for mitigation measures to be factored into these linear projects that get in the way of wildlife movement," he said.
The Wildlife Institute of India and the Ministry of Environment, Forest and Climate Change in 2016 came up with guidelines for the construction of linear projects to reduce their impact on wildlife.
The guidelines state that fences should be erected along a linear project to prevent animals from crossing the road in places where there is no underpass or overpass. Other suggestions include putting up warning signs, installing animal detection systems, and retrofitting existing drainage culverts to facilitate wildlife passage.
According to Milind Pariwakam, former lead of linear infrastructure policy, Wildlife Conservation Trust, and founder of Landscape Research & Conservation Foundation, mitigation measures are not complied with because they are not seen as a priority. Pariwakam added that he has filed over 20 cases related to linear project mitigation for wildlife in various courts across the country.
"In the majority of cases, wildlife is not seen as a problem that should be factored in. We have guidelines that exist on paper on how to prevent these deaths from happening, but they are still not implemented on the scale we need," Pariwakam said, adding: "There is a lot of political pressure to implement these projects, and so the threat to wildlife is completely ignored."
(Edited by Nida Fatima Siddiqui)
---
Also read: 'Speed of a cheetah' — read the subtext. Modi's 'pet' project is heavy with political messaging
---