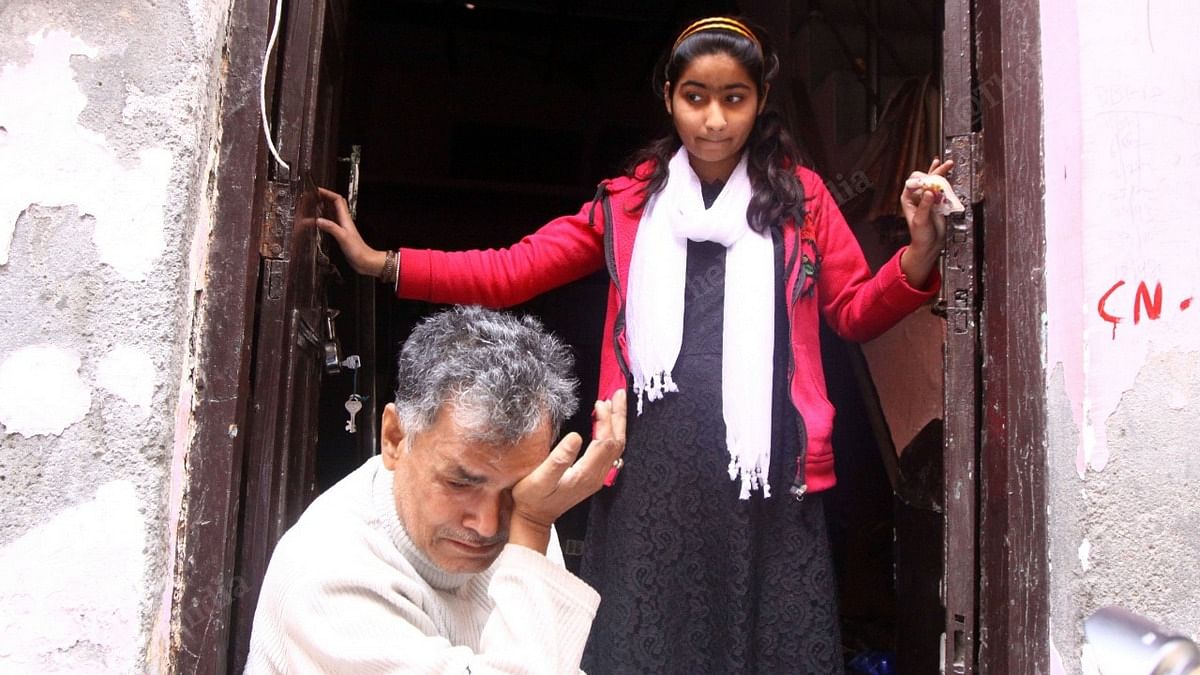 New Delhi: The residents of Shiv Vihar, one of the worst-affected regions in the Delhi communal riots, made attempts to return to their homes Monday — only to find them ransacked and nearly all their belongings stolen.
Residents fled Shiv Vihar en masse after several houses, shops and vehicles were torched in last week's devastating violence. While some stayed with relatives in other parts of the national capital, most have been residing in "shelter homes" — homes opened up by residents of the nearby areas of Chaman Park and Babu Nagar — since last Tuesday.
"We were very scared, but we thought things might have settled down in a week. So, we came back to take some of our things, but there is literally nothing here. Our bike, our cylinder, our jewellery, our money — everything has been stolen," Mohammed Hasmuddin, 55, told ThePrint.
Hasmuddin, whose family has lived in Shiv Vihar for over 30 years, said his home was fine until Tuesday night — when most vehicles and properties were torched.
"This means the burglaries took place after all of us left our homes, and haven't stopped since then," he said.
---
Also read: Left and liberals should stop looking for the perfect victim in Delhi riots
---
'Need to feel safe first'
Hasmuddin's brother-in-law Mohammed Sharafat said there is "no possibility" of their return home in the foreseeable future.
"We need to feel secure. That is the most basic requirement of a home — to feel secure. We feel terrified right now. We need more security forces here. We also need the Delhi CM to tell us that we will be safe in our homes," he said.
Zareena, 65, who has been living with her family in a "shelter home" in Chaman Park since the riots, agreed.
"This is a good place, and we are grateful to the people here, but at some point, we have to return home. How will we ever return when we are living under the threat of being shot, or our homes being burnt?" she told ThePrint.
Those who have sought shelter in such homes were the ones who rushed out of their localities in the midst of the violence, and couldn't carry too many belongings.
Asif Saikiya, a migrant from Assam who has lived in Shiv Vihar for over two decades, moved to a shelter home last week. Monday, he visited his home with his 14-year-old daughter, Alvina, to collect her things. But the condition of their home left the duo shaken.
"I found some of my school books, but so many of them have gone missing," said Alvina.
'Only so much security forces can do'
Several Rapid Action Force (RAF) officers were stationed at Shiv Vihar Monday, and many police officers, as well as officials from the district magistrate's office, were seen going from house to house to collect information on the losses sustained by the residents.
"This information will then go to the district magistrate's office. We will try and help the people in whichever way possible," an official surveying the area, who did not wish to be named, told ThePrint.
Meanwhile, asked about the alleged burglaries in the area, the security forces said there's "only so much" they can do.
"If we see someone in civilian clothes entering an empty home, how are we supposed to know if this is their home or not? We will assume it's their home. This place will only become safe again when residents return to their home and safeguard it themselves," said an RAF officer.
---
Also read: Rickshaw puller Prem Singh went to buy milk during Delhi riots & never returned
---