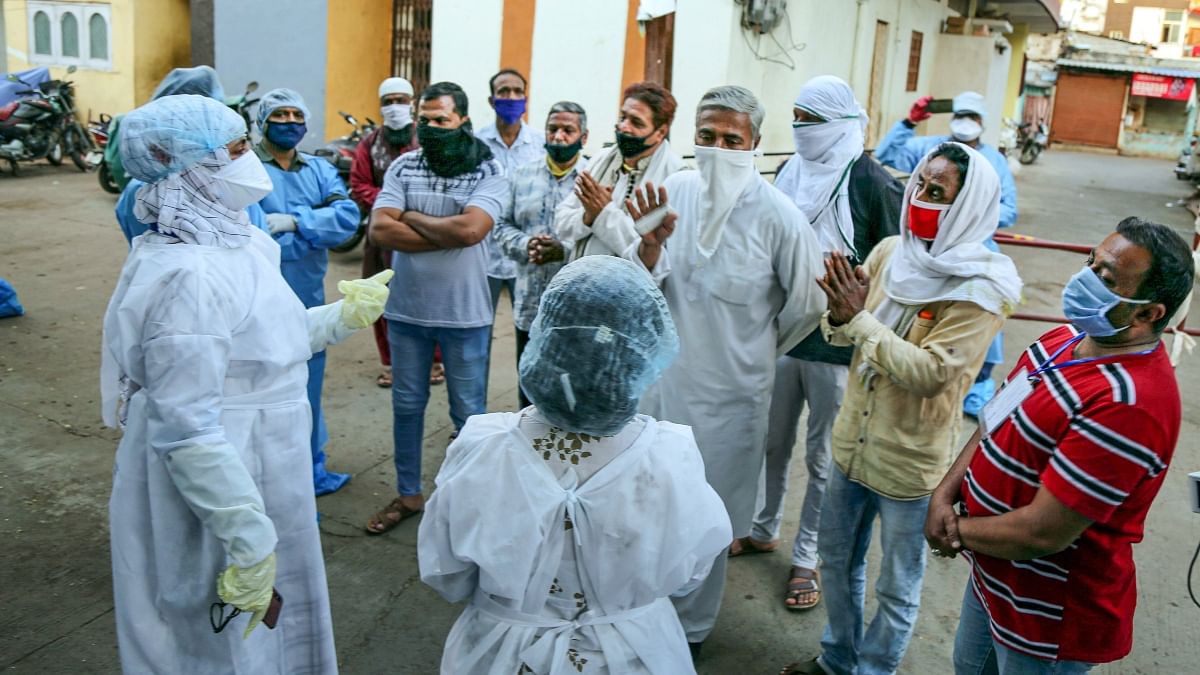 New Delhi: Dr Trupti Katdare, who was pelted with stones by a mob in Indore, returned to the spot a day later, Thursday, to screen people for coronavirus, saying she wasn't afraid.
"We aren't afraid and will continue to serve the nation and perform our duties in these testing times," she told ThePrint.
Dr Katdare, along with other health workers, faced stone-pelting in Tatpatti Bakhal area Wednesday, when she had gone there to screen suspected Covid-19 patients. She had sustained injuries in the incident. 
"We are not scared and will continue to perform our duties. We went back to the same area Thursday along with the police force. Everything was done smoothly," said Dr Katdare, who works at a primary healthcare centre.
Another female doctor, Dr Zakia Sayed, who got injured in the attack, also went back to Tatpatti Bakhal to continue her Covid-19 duty.
"We have sustained injuries but we have to do our job and will not be scared," she told ANI Friday.
The attack & arrests
A video of the attack has gone viral on social media. The video showed a mob of around 100 people chasing health workers with sticks and stones.
Seven people were arrested Thursday in this connection. The Indore administration has even slapped the National Security Act (NSA) against four of the accused. 
They have been identified as Md Mustafa, Md Gulrez, Shoaib and Majeed.
Indore reportedly accounts for 77 per cent of all the coronavirus-positive cases in Madhya Pradesh.
---
Also read: India isn't on top of list for coronavirus test kits suppliers
---
'The mob hurled abuses at us'
Dr Katdare told ThePrint: "We have been going to the area for the past 3-4 days and didn't face any problem. On Wednesday, we got information that one of the residents had got in touch with someone, who tested positive for corona. We went and enquired about it. Although he was not there, we were chatting with his mother and when she told us she was diabetic, we told her to be more careful."
The doctor said all of a sudden a group of 100-200 people came running towards us and started throwing stones and were even hurling abuses. 
"The police quickly grabbed us and took us in their car. It is because of them that we managed to escape. Had they not been there, god knows what would have happened. We have seen something like this only in movies, but that day we saw it in reality," she said. 
'Anti-social elements misled the residents'
Dr Katdare said she is happy with the prompt action by the administration as more police personnel have been deployed in the area now.
"BJP leader Kailash Vijayvargiya also met us and told us not to be scared of anything and continue our work. The chief minister has also taken action promptly and is quite caring. The collector also met us and extended support. Our hospital administration has also been very helpful," she added.  
Madhya Pradesh Chief Minister Shivraj Singh had released a video message on Twitter Thursday, saying that strict action will be taken against those involved in the stone-pelting and "no one will be spared".
इंदौर में हुई दुर्भाग्यपूर्ण घटना में शामिल अराजक तत्वों को किसी भी कीमत पर नहीं छोड़ा जाएगा!

पीड़ित मानवता को बचाने के आपके कार्य में कोई भी बाधा डालेगा तो उसके खिलाफ सख्त से सख्त कार्रवाई की जाएगी! #IndiaFightsCorona #CoronaWarriors https://t.co/7SwFjNe0dm

— Shivraj Singh Chouhan (@ChouhanShivraj) April 2, 2020
When asked if the residents cooperated with them Thursday when they went back to screen them, she said the residents are not at fault as some "anti-social elements had tried to mislead them".
"They (residents) are innocent people. Our job is to carry out screening and survey the houses, which we will do to tackle coronavirus," added Dr Katdare. 
---
Also read: Tracking India's coronavirus deaths — 24 of first 35 victims had no foreign travel history
---