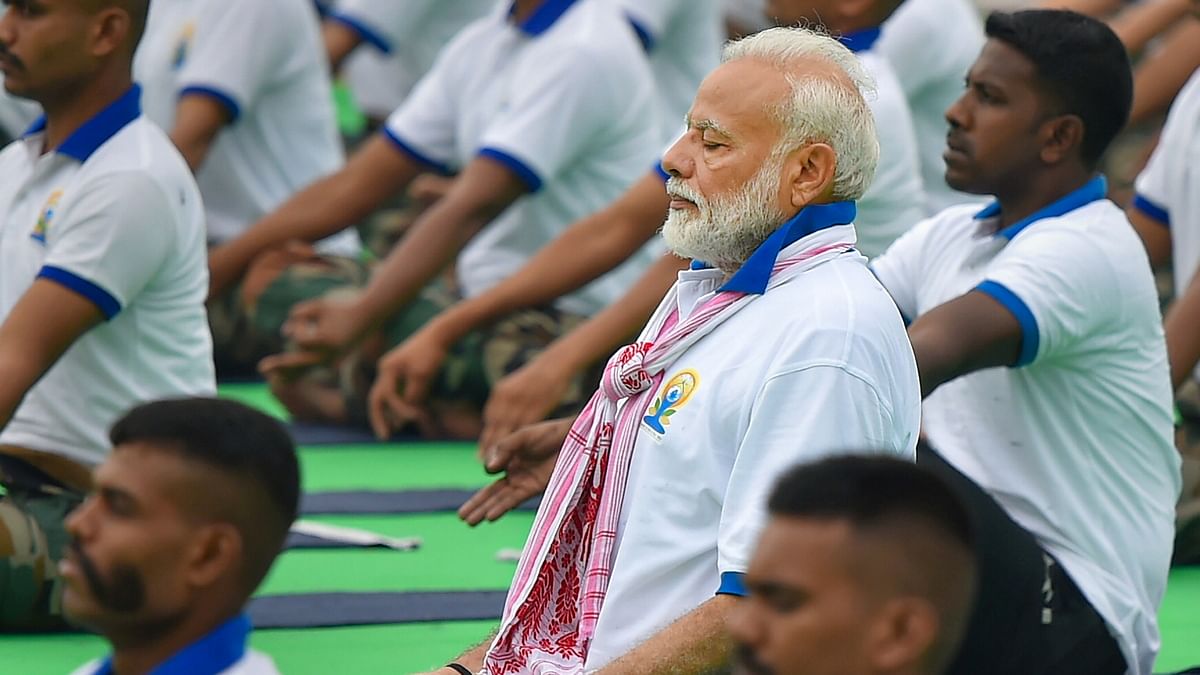 New Delhi: From understanding the effects of yoga on people with schizophrenia to knowing if breathing techniques can help those suffering from congenital heart diseases, the Narendra Modi government has been funding over 80 projects since 2015 to demystify the science behind yoga and meditation.
The projects are being funded under the Department of Science and Technology's (DST) Science and Technology of Yoga and Meditation (SATYAM) programme, which came into effect in 2015.
While 50 projects were funded between 2015 and 2018 with more than Rs 13 crore, the DST chose 32 new projects in the 2019-20 financial year with total funding of Rs 8 crore. Each team can get up to Rs 70 lakh for a maximum study period of three years.
According to a senior official at the DST, the government is not trying to promote yoga or meditation through the SATYAM programme, but only encourage scientists to "demystify these ancient practices".
"Our interest lies in understanding the science behind yoga and meditation. That is why it is mandatory to have at least one person in the research team from a pure science background to get funding," the official, who did not wish to be named, told ThePrint.
Scientists have been working on topics such as effects of yoga on lifestyle-related diseases such as diabetes and obesity to mental illnesses such as bipolar disorder and schizophrenia.
---
Also read: Stress management, ancient wisdom, yoga — what IAS, IPS officers learn at Art of Living
---
Nine studies at AIIMS, Delhi
Dr Smita Neelkanth Deshpande of Delhi's Ram Manohar Lohia Hospital is one of the scientists whose team has been funded by the SATYAM programme.
"I was extremely sceptical when I started this research. I absolutely did not believe that yoga could improve brain function. But we found that it does," Deshpande told ThePrint.
Her team is investigating whether yoga and meditation can benefit patients of schizophrenia.
"Until now, the belief was that people with major mental illnesses cannot perform asanas as it could lead to a nervous breakdown. The idea was that yoga was too difficult for mental health patients and could adversely affect them," she said.
In collaboration with yoga practitioners, Deshpande's team has now developed a 21-day programme that is said to benefit brain functioning.
Although results of the team's study are still being analysed, Deshpande said preliminary findings have shown that schizophrenia patients — who are not in an active psychotic phase — can practice yoga and meditation for three weeks.
She also said that her team was surprised to find significant cognitive improvement among patients in only three weeks, and added how anti-psychotic drugs take longer to show positive results.
Another researcher, Shirley Telles, of the Patanjali Yogpeeth, said studies on yoga and meditation can no longer be thought of as pseudoscience.
Telles' research has found that yoga breathing techniques such as kapalabhati, anulom-vilom, bhastrika and bhrahmari improve attention span without any increase in blood pressure or pulse rate.
Telles, who has been studying the effects of yoga since 1988, also said that while there are people dabbling in more obscure fields related to 'aura and energy research', most teams funded by SATYAM are undergoing research into how yoga as therapy can help people recover from injuries and prevent adverse health events.
She pointed out that medical colleges from across the country have applied for the SATYAM funds.
According to information provided by the DST, at least nine research studies under this scheme is being carried out at the All India Institute of Medical Sciences (AIIMS) in New Delhi. Other prestigious institutions include the Indian Institute of Science and the National Institute of Mental Health and Neuro Sciences (NIMHANS) in Bengaluru.
Deepeshwar Singh of the Swami Vivekananda Yoga Anusandhana Samsthana (S-VYASA Yoga University) in Bengaluru is another researcher whose project has been funded by the SATYAM programme. He similarly said that it was wrong to think of yoga as pseudoscience.
"If we don't evaluate the benefits of yoga by scientific methods, we cannot claim that it has a positive effect on the body's functions," he added.
Singh further said that people would only practice yoga if it is backed by scientific evidence. His team is investigating the effects of breathing techniques on brain plasticity that is linked to cognition.
---
Also read: Siddha treatment getting popular, Tamil Nadu institute saw 2,000 patients per day in 2018-19
---
Results of many studies to be published this year
Most of the teams are yet to publish the results of their studies since the average duration of many of these projects is about two to three years. However, a number of scientists ThePrint spoke to said their findings are expected to be published this year.
Scientific research in India and across the world have shown that yoga and meditation can have tangible health benefits. A recent review of research studies by the University of Illinois at Urbana-Champaign, US, showed that yoga improves brain functioning in the same way that aerobic exercises do.
While it has been observed that meditation helps improve mental health, the science behind how it boosts health is still not understood well. Scientists at the UCL have even shown how meditation may be unpleasant for some people, calling for a need to conduct more research into understanding the practice.
---
Also read: Modi govt to promote Tibetan healing system with AIIMS-like Sowa-Rigpa hospital in Leh
---