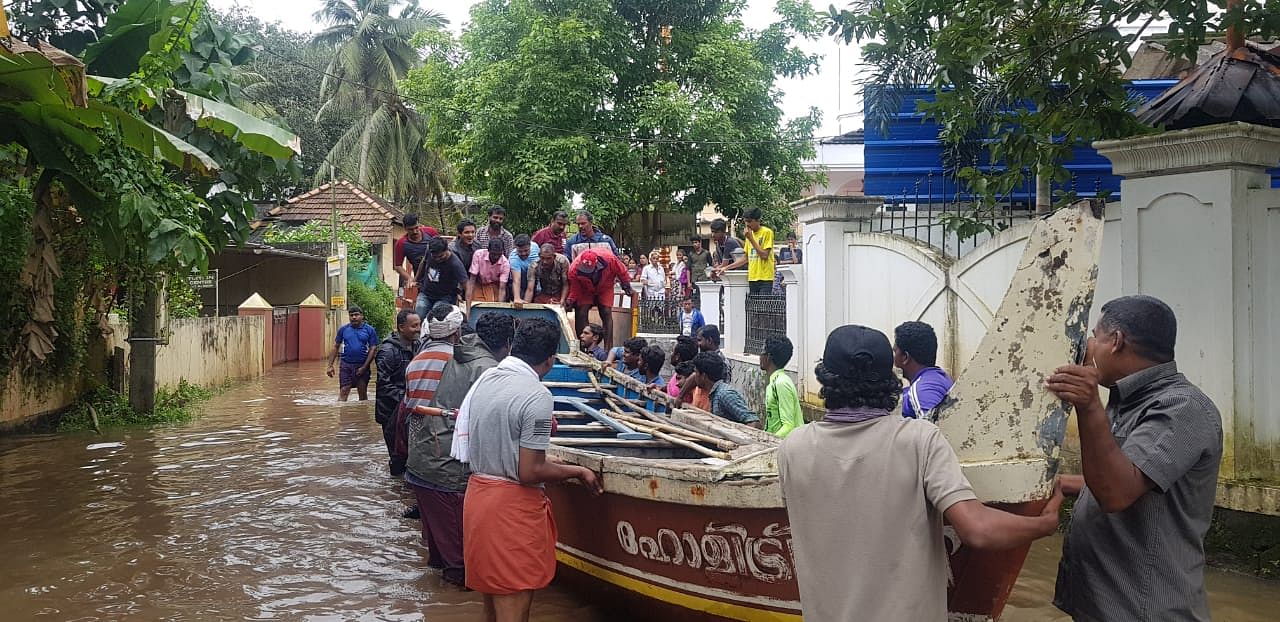 The 700-odd boats manned by Kerala's fishermen are estimated to have rescued around 35 per cent of the flood-affected people in the state.
Alappuzha: God's own army. Kerala's navy. Coastal warriors. Kerala's fishermen are being hailed as heroes around the country for their proactive and voluntary participation in rescue and relief operations during the recent floods.
Their experience battling rough seas was an asset as swelling waters submerged vast swathes of their state, and their boats a boon for wading into dingy lanes most Army and National Disaster Relief Force personnel could not reach.
According to the state government, nearly 700 boats, motorised and manual, were in service across the state. It is now believed that more than 35 per cent of those rescued have the state's fishermen to thank.
T. Peter, the general secretary of the Thiruvananthapuram-based National Fishworkers Forum, a body that represents fishermen, said all they needed to do was send out a message and hundreds of fishermen got into action.
"Not a minute was lost. They carried all the fuel they had, loaded their boats into trucks, and began coordinating with the central agencies on the ground," he added.
Joseph John of Kollam was among those who answered the call as soon as the areas around Pathanamthitta and Kuttanad, Alappuzha — two of the four worst-hit districts — began getting submerged.
"I loaded my boat into a truck with relief supplies. When we reached the area near Ambalappuzha (Alappuzha), people were desperate. They were falling out of their balconies, asking us to reach them," he told ThePrint.
"It was heart-wrenching as many of them were wailing, and I could also see children shouting for help," he said.
Off to rescue
Trucks loaded with boats, many of them packed with life vests and other safety gear, were a common sight on roads leading towards different pockets of disaster.
At a safe distance, the boats were lowered from trucks onto flooded roads, and the fishermen set out.
In many areas, the water had risen close to 11 feet, so they had to row carefully. Hitting a roadblock could have damaged the vessel, and there was always a chance that the boat might get caught in power or telephone cables, a prospect that would have lost rescue personnel crucial time.
Jaisal K.P. of Vengara, the man who went down on his knees and elbows to serve as a human stair for the stranded, has emerged as the face of human solidarity following a video of him that has gone viral.
While ThePrint could not reach Jaisal, he had detailed the episode in an interview with News18.
"The National Disaster Response Force personnel who were leading the rescue operations in Vengara region informed us that they won't be able to reach the place where some (women and children) were stranded. We asked them to give their boats to us for a while, and we rescued them," he added.
---
Also read: In Kerala flood war room, clockwork efficiency is the order of the day
---
Vipin, who joined the operation at Ettumanoor in Kottayam, said he also stocked his boat with relief supplies.
"It was havoc all over. Never have I seen human tragedy like this. People were asking for food and water," he told ThePrint.
"I was constantly monitoring WhatsApp for updates, and made a list of basic things I could carry in my boat. I took a few medicines and a few kilos of bananas as well as water packets, he added.
Fear and brotherhood
Shaji, who lives in Kumarakom, described heartbreaking scenes of families huddling in fear inside houses that had failed to hold out the water.
"We would leave at the break of dawn and row towards those houses and speak to the residents. The first floor of these houses was inundated, and they would be on the second," he added.
"We shifted many elderly and pregnant women to the closest hospital," Shaji said.
For Rony Thomas, memories of the devastation caused by Cyclone Ockhi last year were enough to push him to help out this time.
"We shared location information on WhatsApp. During one rescue, an inconsolable young girl insisted on speaking to her father, who was in Dubai. Her mother's cell phone had no charge and I did not have enough money to make that call," he added.
"But I took down the number and sent a WhatsApp picture of her to her father. The smile she had when she spoke to him was priceless," Rony said.
At Aluva in Ernakulam, also among the worst-hit, Shaji Rajan was overcome with emotion as he helped an infant stuck in the deluge with her mother.
"I had tears in my eyes when I carried the three-day-old baby in my arms. She was so delicate, and unaware of the calamity that had just struck. Her mother was in no shape to get into the boat. We used ropes and a bedsheet to literally pull her towards the boat," he added.
About 'being human'
The fishermen involved in the rescue worked in coordination with state police and the fire department, reaching out to the central control room when they required the help of central forces.
Kerala chief minister Pinarayi Vijayan Sunday announced that each of the fishermen would be given Rs 3,000 for each day of their services, a new boat (as many of them sustained damage), and fuel charges for the motorised ones.
However, according to local news reports, many fishermen, including Khyas Mohammed of Fort Kochi, have politely declined to take the compensation.
For them, the efforts were just a part of being human.
---
Also read: How Capt. Rajkumar saved 26 people in a single sortie of a Sea King 42B chopper
---