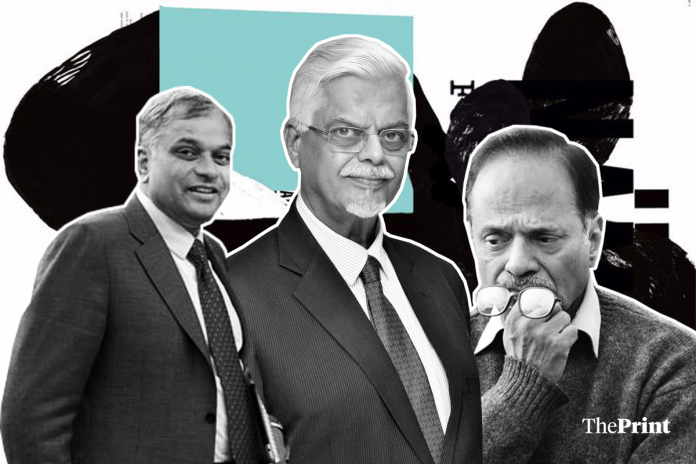 Text Size:
While Manmohan Singh has taken a backseat from public life since Congress' defeat in 2014, his 3 media advisers have continued to have impressive careers.
New Delhi: Harish Khare, who resigned as the editor-in-chief of The Tribune earlier this month, had served as the media adviser to Manmohan Singh, considered one of India's quietest prime ministers in recent times.
While Singh has taken a backseat from public life since the Congress-led UPA was voted out of power in 2014, his three communication advisers — Sanjaya Baru, Khare and Pankaj Pachauri — have continued to have impressive career beyond their stints as the PM's press secretaries.
ThePrint looks at the illustrious, if rocky careers of the three men who were once privy to all important decisions of Singh's office through his 10-year-long tenure.
Sanjaya Baru (May 2004-August 2008)
Sanjaya Baru, the first media adviser to Singh, is also probably the most controversial. Baru, who is currently serving as secretary general of the Federation of Indian Chambers of Commerce and Industry (FICCI), sparked a huge row with his tell-all memoir 'The Accidental Prime Minister' published in 2014, a month before the BJP government came to power.
While Baru insisted that he had set out to show Singh in a positive light, the PMO itself repudiated the book — which only strengthened the rumours about Sonia Gandhi actually calling the shots in the UPA government.
In addition, in his memoir, Baru reinforced the belief that while Singh himself was an incorruptible leader, he routinely turned a blind eye towards the misdoings of his colleagues.
"Dr Singh's general attitude towards corruption in public life, which he adopted through his career in government," he wrote in the book, "seemed to me to be that he would himself maintain the highest standards of probity in public life, but would not impose this on others. In other words, he was himself incorruptible, and also ensured no one in his immediate family ever did wrong, but he did not feel answerable for the misdemeanours of his colleagues and subordinates."
Even in recent times, Baru has not refrained from making unfavourable statements about the Congress party. Only last year, in a statement that had to be refuted by the Congress leadership later, Baru said that in order to revive its fortunes, "you need a Narendra Modi" within the Congress.
Since Khare's resignation had been in the offing for a while, speculation about Baru being in the reckoning for the top job at The Tribune has also been doing the rounds.
Harish Khare (June 2009-January 2012)
Khare, who made the announcement of his resignation during a morning meeting with senior members of The Tribune staff, had served as the media adviser to Singh between June 2009 to January 2012. Soon after, he became a Jawaharlal Nehru Fellow for two years.
Khare, known to be close to Congress leaders, was appointed as the editor-in-chief of The Tribune in 2015 amid talks that Congress leaders played a key role in the appointment.
However, Khare's tenure at The Tribune was fraught with controversy. Late last year, ThePrint reported that Khare, offered his resignation in protest after an apology to former Punjab revenue minister Bikram Singh Majithia was "forced upon him from the top" for publishing two stories about his alleged links with drug cartels.
The same year, The Tribune landed itself in controversy over an investigative report from Jalandhar, which showed how easy it was to access Aadhaar data. While the Unique Identification Authority of India (UIDAI) denied the possibility and lodged an FIR against reporter and the newspaper, Khare stood his ground and backed the report, inviting the ire of the government. Khare was also criticised by the Tribune Trust for leaking the news about his differences with the latter to other media outlets, following which his position in the group became even weaker.
Pankaj Pachauri (January 2012-May 2014)
The last to serve as Singh's communications adviser was Pankaj Pachauri, founder and editor-in-chief of GoNews, an app-based TV news channel. A former anchor with NDTV India, Pachauri demitted office along with Singh on 26 May, 2014, where he reported to the principal secretary to the Prime Minister. He had also worked at BBC, India Today, The Sunday Observer and The Patriot before his appointment in the PMO.
After demitting office in 2014, Pachauri briefly served as director at a business school before he launched GoNews, which focuses on short format videos and text reporting.
Get the PrintEssential to make sense of the day's key developments