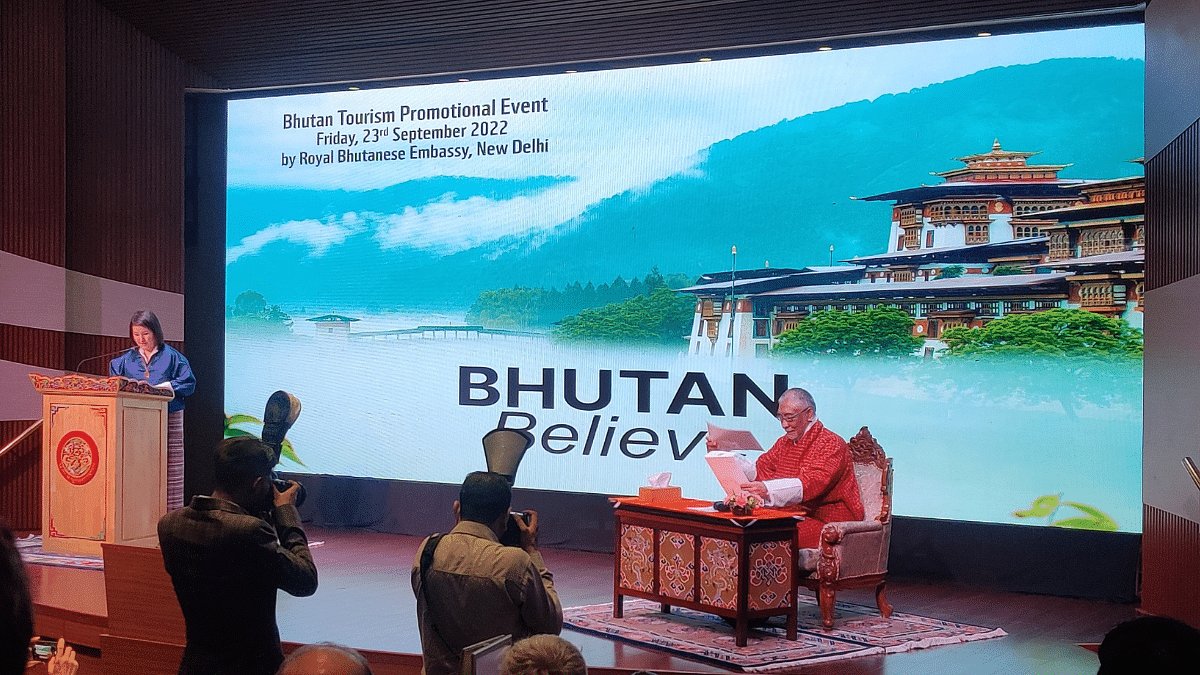 New Delhi: Bhutan opened its borders for tourists for the first time in two and half years Friday after keeping it closed due to the threat of Covid. To mark the reopening of borders, an event was organised in New Delhi.
Bhutan Ambassador to India, V. Namgyel, introduced the country's new tourism policy, with 93 international tourists expected to land Friday.
A country with a population of over 7,00,000 people, the Bhutanese government also introduced its "high value, low volume" tourism policy which has three key areas of focus — enhancements to its sustainable development policies, infrastructure upgrades and elevation of guest experience.
As part of this new policy, the government plans to impose a "sustainable development fee" (SDF) on visitors. Tourists from India, Bangladesh and Maldives will now have to pay a daily fee of Rs 1,200 during their stay. For tourists from other nations, the fee is $200 (around Rs 16,000) each night.
This fee had also been announced in 2019, but could not be implemented because of restrictions during the Covid pandemic.
"Tourism is one of the most important industries and foreign exchange earners of my country. When we closed our borders in March 2020 and adopted stringent measures against Covid-19, our economy and livelihood of people was very seriously affected," said Namgyel at the event.
He added, "Taking a cue from 'never letting a good crisis go to waste', we used the time to reflect on how to revitalise and improve the tourism industry."
SDF isn't the only charge that will be levied. Passengers flying Drukair, Bhutan's national airline, will also have to shell out more compared to pre-pandemic charges.
---
Also read: No stop to China's building spree in Bhutan as new village springs up, satellite images show
---
No more minimum package
In the 1970s, tourists visiting Bhutan were charged a minimum package of $130 (Rs 10,545) for each night. In 2012, following a study to "revamp the tourism industry", Bhutan increased its minimum package for tourists to $250 (Rs 20,288) for international tourists. This included an SDF of $65 (Rs 5,274) for the first time.
According to the ambassador, this SDF was to "mitigate the negative impact of tourism on the cultural landscape and natural environment" of the country.
The number of tourists visiting Bhutan increased from 54,000 international and 50,000 regional (those from India, Bangladesh and Maldives) in 2012 to 72,000 international and 2,43,000 regional in 2019. Due to this rise in the gap between international and regional tourists, the ambassador said Bhutan's tourism became "low value, high volume" and the new fee was introduced.
A review carried out by the Tourism Council of Bhutan during the pandemic found that the country's tourism industry provided employment to a large number of people. But the full potential of the industry hadn't been tapped.
Under the new Tourism Levy Act of 2020, implemented this year, SDF has been increased from $65 (Rs 5,274) to $200 (Rs 16,230) for international tourists. SDF of $16 for Indian tourists will remain for two years, following which it may be reviewed and revised. However, there will be no minimum package for tourists any more. Tourists can directly deal with hotels or Bhutanese tour operators.
"Essence of the new strategy and Bhutan's promise of the brand as a special & exclusive tourist destination will be followed up with good brand delivery by our tourism industry," said the ambassador.
---
Also read: Jolted by Lanka, Pakistan, Bangladesh, Bhutan 'taking steps to strengthen economy', says FM Dorji
---