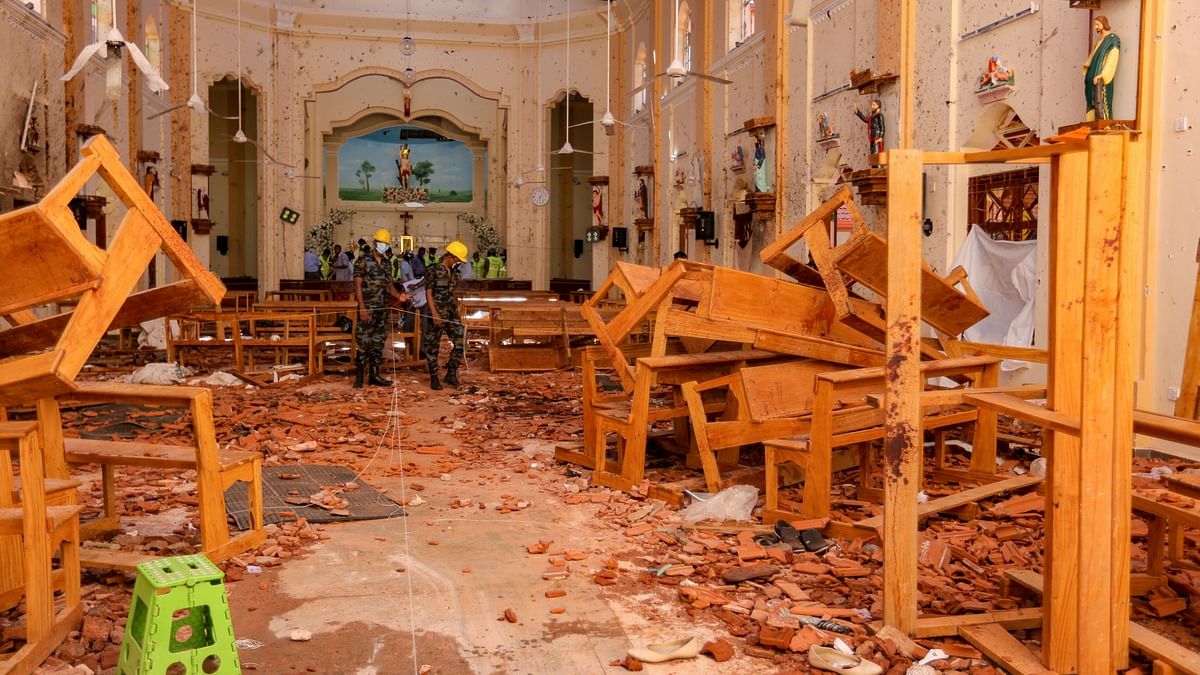 New Delhi: The Sri Lankan authorities have caught a former military intelligence chief of the island nation for allegedly acting as a Chinese mole and trying to obstruct a probe by foreign agencies into the Easter bombings, sources told ThePrint.
According to the sources, Kapila Hendawitharana, former Sri Lankan director general of military intelligence, is known to be a close aide of the family of former president Mahinda Rajapaksa. He is believed to be the man Friday of Rajapaka's younger brother and former defence secretary Gotabaya Rajapaksa.
Mahinda Rajapakasa is currently the leader of the opposition in Sri Lanka.
Last week, Hendawitharana was caught leaking crucial information to a Chinese intelligence official regarding the ongoing probe that is being carried out by foreign investigation agencies, particularly American, after the 21 April serial blasts, sources said.
Hendawitharana is currently undergoing investigation but the Maithripala Sirisena government has not been able to arrest him due to his "top political connections", and "constant in-fighting going on between the political parties" in Sri Lanka, said the sources.
ThePrint has accessed an audio clip in which Hendawitharana is purportedly speaking to a Chinese intelligence official. ThePrint cannot vouch for the authenticity of the audio tape.
---
Also read: Sri Lanka terror attacks can help Rajapaksa use wartime credentials for political gains
---
'Underhand plans'
In the tape accessed by ThePrint, Hendawitharana can be purportedly heard telling the Chinese that he will keep them abreast of the "underhand plans" of the US agencies.
He can be heard purportedly telling the Chinese that they should "take up the matter with the foreign ministry of Sri Lanka in advance as a deterrent action".
Hendawitharana can also be heard telling the Chinese officials about how the Sirisena government is letting the Americans access sensitive information about their ports and airports in the course of a probe that can jeopardise China's growing influence in the island nation.
"The Sri Lankan government has become so weak that it is giving free access to the Americans, which is proving to be dangerous for the Chinese," said an official who didn't wish to be named.
The official added that the US has always been wary of growing Chinese influence in Sri Lanka after the Hambantota port takeover, and Colombo's involvement in the 'Belt and Road Initiative'.
Hendawitharana was dismissed by former Army chief Sarath Fonseka in 2006. Under the Rajapaksa regime, Hendawitharana was reinstated and promoted as major general and then as chief of national intelligence. At the time, Gotabaya was the defence secretary.
In January 2015, after being removed from office, Hendawitharana was quickly installed as the security head for the Shangri-La Hotels.
During the 21 April bombings, Shangri-La was one of the hotels that were attacked by the terrorists. Several foreign nationals, including US citizens, were killed at the hotel.
---
Also read: Why Sri Lanka became a target for Islamic State after defeat on Iraq-Syria turf
---