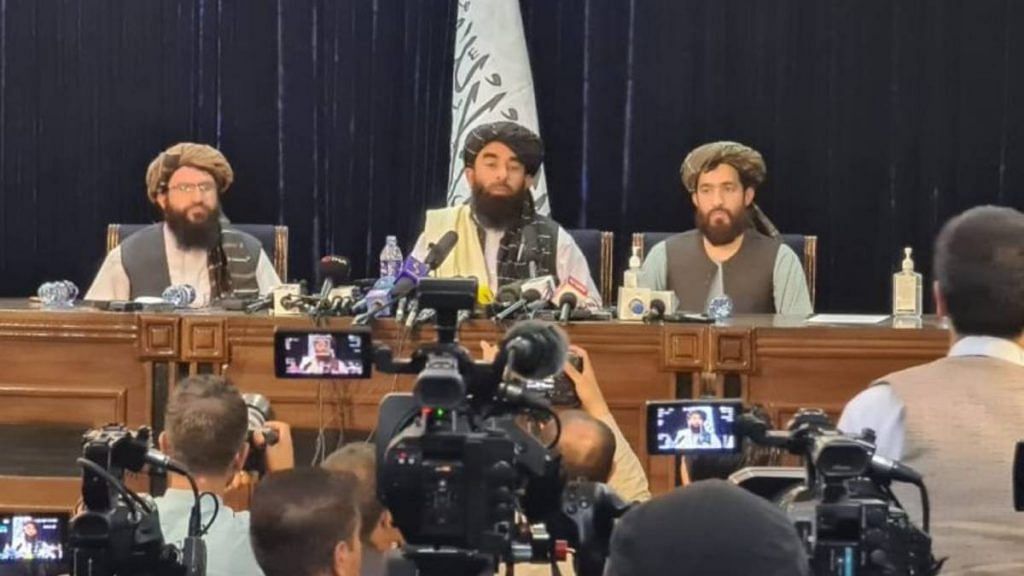 New Delhi: The Taliban Tuesday announced an interim government in Afghanistan, declaring the country an 'Islamic Emirate'.
The new government will be led by Mohammad Hasan Akhund. The other top leaders in the cabinet include Abdul Ghani Baradar, who will be the acting deputy Prime Minister; Sirajuddin Haqqani, Interior Minister, and Mawlawi Amir Khan Muttaqi, Foreign Minister.
Haqqani, leader of the terror group Haqqani Network, is also on the FBI's most-wanted list. The Haqqani Network is affiliated with the Taliban and has been responsible for several attacks in Afghanistan, including a bombing in Kabul in 2017 that killed over 150 people.
Other top Taliban leaders who will be part of the new government include Hedayatullah Badri as finance minister, Khalil Ur Rehman Haqqani as acting minister of refugees, Mawlawi Taj Mir Jawad as acting deputy intelligence chief, Sheikh Mawlawi Noorullah Munir as education minister, and Mullah Abdul Haq Wasiq as acting head of Afghanistan's National Directorate of Security (NDS).
ThePrint takes a look at the new Taliban government, which includes at least five UN-designated terrorists.
Mohammad Hasan Akhund, acting Prime Minister
Mohammad Hasan Akhund has been described by the UN sanctions list as a "political advisor" of late Mullah Mohammed Omar, the Taliban leader and founder of the Islamic Emirate of Afghanistan in 1996. Omar allegedly died of tuberculosis in April 2013.
According to the UN, Akhund occupied top posts during the previous Taliban regime. He had served as the first deputy in the Council of Ministers, foreign minister as well as governor of Kandahar.
---
Also read: Pakistan and China are preparing for a Taliban govt they don't trust. So should India
---
Abdul Ghani Baradar, acting deputy Prime Minister
Abdul Ghani Baradar, who served as the defence minister during the first Taliban regime, headed the insurgent group's political office in Doha, becoming one of the most prominent figures during peace talks with the US last year.
In February 2010, he was captured by American and Pakistani intelligence forces and kept in custody in Pakistan. An extradition request to Afghanistan was pending in Lahore High Court, Pakistan as of June 2011 until he was finally released in 2018.
The UN describes him as a "senior Taliban military commander and member of Taliban Quetta Council as of May 2007".
Abdul Salam Hanafi, acting deputy Prime Minister
Abdul Slam Hanafi is another Taliban leader who was part of peace talks with the US in Doha last year.
Soon after Kabul fell in mid-August, Hanafi, while serving as the deputy head of the Taliban political office in Qatar, met with the Chinese Ambassador to Afghanistan Wang Yu in Kabul. The two discussed the security of the Chinese embassy and diplomats, the current situation in Afghanistan, bilateral relations and China's humanitarian assistance, said a Taliban spokesperson.
According to the UN blacklist, he was in charge of the Taliban-controlled northern Jawzjan province, bordering Uzbekistan until 2008, and was "involved in drug trafficking".
Sirajuddin Haqqani, Interior Minister
Sirajuddin Haqqani, according to the UN, has been heading the Haqqani network as of late 2012. He is the son of Jalaluddin Haqqani, the founder of the US-designated terror group Haqqani Network.
Sirajuddin's name has figured on the FBI's most-wanted list. The FBI in the past also offered a reward of up to $10 million for information on the militant leader.
The FBI website states: "Sirajuddin Haqqani is wanted for questioning in connection with the January 2008 attack on a hotel in Kabul, Afghanistan, that killed six people, including an American citizen. He is believed to have coordinated and participated in cross-border attacks against United States and coalition forces in Afghanistan."
It adds that Haqqani was also allegedly involved in the planning of the assassination attempt on former Afghanistan president Hamid Karzai in 2008.
Mawlawi Amir Khan Muttaqi, Foreign Minister
Mawlawi Amir Khan Muttaqi served as the minister of culture and information as well as minister of education during the previous Taliban government.
According to an NYT report, Muttaqi most recently played a key role as the head of Taliban's powerful Invitation and Guidance Commission that helped persuade many members of the Afghan army and police forces to surrender in recent months.
He also served as a member of the Taliban Supreme Council in June 2007.
The UN notes that he was allegedly taking refuge in the Afghanistan/Pakistan border area in recent years.
Mullah Mohammad Yaqoob, Defence Minister
Mullah Mohammad Yaqoob is the son of the Taliban founder Mullah Omar. Yaqoob's name does not figure on the UN sanctions list, but he is seen as a major pillar of strength within the Taliban.
A BBC report notes that Yaqoob first came to prominence in 2015 when he called for unity within the Taliban after his father's death.
---
Also read: The alphabet soup of terrorists that an ill-governed Afghanistan can launch against India
---