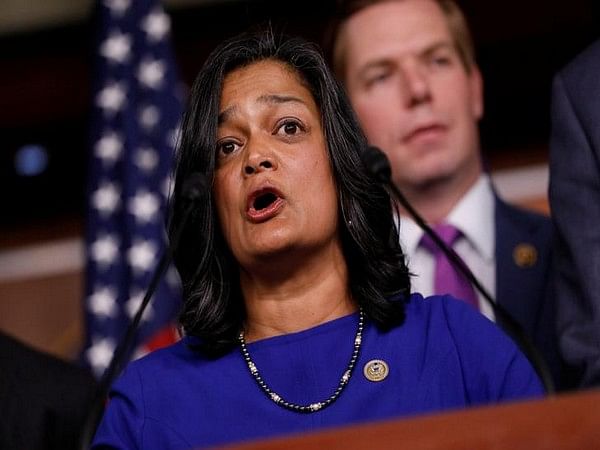 Washington [US], February 2 (ANI): Indian-American US Representative Pramila Jayapal has been named Ranking Member of the House Judiciary Committee's Subcommittee on Immigration Integrity, Security, and Enforcement, making her the first immigrant to serve in a leadership role for the subcommittee.
"As the first South Asian woman elected to the US House of Representatives and one of only two dozen naturalized citizens in Congress, I am honoured and humbled to serve as the Ranking Member of the House Subcommittee on Immigration Integrity, Security, and Enforcement," Jayapal said in a press release.
Jayapal is the first immigrant in recorded committee history to serve as either Ranking Member or Chair of this Subcommittee, the media release said.
Calling it "extremely meaningful", Jayapal said in the media release that she will now be in a position to better move the needle and recenter broken immigration system around dignity, humanity, and justice.
Recalling her memories of arriving in the US, Jayapal stated, "I came to this country when I was 16, alone, and with nothing in my pockets. After 17 years on an alphabet soup of visas to become a US citizen, I was lucky enough to have the opportunity to live the American Dream, a dream that is out of reach for too many immigrants today. "
The Subcommittee on Immigration Integrity, Security, and Enforcement will be chaired by Tom McClintock and has jurisdiction over immigration law and policy, naturalization, border security, refugee admissions, non-border immigration enforcement and other various issues.
"In the minority, Democrats will have to be an opposition party that stands up to the most extreme ideas of the GOP and protects our values. However, in this role, I also see promise for bipartisan work with a number of more moderate Republicans who themselves understand the need to restore our country as a beacon of hope," Jayapal said in the press release.
Prior to coming to Congress, she was a longtime organizer and activist for immigrants' rights. After the attacks on September 11, Jayapal began 'One America', the largest immigrant rights organization in Washington that filed a lawsuit against the Bush administration to stop the deportation of over 4,000 Somalis.
The Obama administration recognized Pramila Jayapal as a Champion of Change for her work at OneAmerica, according to the press release.
She was also the founding co-chair of the We Belong Together campaign to mobilize women in support of common-sense immigration reform to keep families together and empower women. Jayapal was arrested during a civil obedience demonstration in protest against the Trump Administration's zero humanity family separation policy. (ANI)