Hong Kong: Hong Kong Chief Executive Carrie Lam said she wouldn't seek a second term, ending a tumultuous five-year tenure that saw the financial hub become more isolated due to its twin crackdowns on Covid-19 and the democratic opposition.
Lam announced her plans at a regular news briefing Monday, saying that she informed authorities in Beijing of her plan at a National People's Congress session more than a year ago. Hong Kong's benchmark Hang Seng Index climbed as much as 2% after her announcement.
"This is a question of my personal wish and aspiration. My personal wish and aspiration is entirely based on my family considerations," Lam told reporters. "This is what I have told the central people's government. And they have expressed understanding."
Lam came under fire repeatedly during her tenure as Beijing's increased its control over the city: She faced U.S. sanctions over her role in helping China quash pro-democracy protests in 2019 and later drew scorn from international businesses over one of the world's strictest hotel quarantine policies.
The veteran bureaucrat has been the city's least popular chief executive since the U.K. handed control of Hong Kong to China in 1997, according to Hong Kong Public Opinion Research Institute. Her successor will take office July 1, the halfway mark in Beijing's 50-year pledge to preserve the city's liberal financial and political systems.
Would-be contenders for Lam's job have two weeks to step forward to compete in the May 8 vote of 1,500 mostly Beijing loyalists. Lam declined to comment on reports that her No. 2 official, John Lee, was preparing to run, saying she hadn't received the resignation notice that government officials must file to seek higher office.
Lee, a former top police official and security minister, had helped oversee a clampdown on the city's opposition after Beijing imposed a sweeping national security law in 2020.
"It is a real concern that Hong Kong could become a police state," said Alfred Wu, associate professor specializing in Hong Kong politics at the National University of Singapore's Lee Kuan Yew School of Public Policy, saying that Lee would be the "ideal candidate" for that task. "Beijing wants Hong Kong to politically and structurally better align itself with the realities of how China operates: controlling its people through big data, and mass monitoring," he added.
Lam's term will be remembered for some of the city's biggest crises since returning to Chinese rule, and a further widening of divisions apparent under her former boss, ex-Chief Executive Leung Chun-ying. Leung also opted not to seek a second term amid widespread discontent.
Her proposal to introduce a law allowing criminal suspects to be sent to China sparked the city's largest-ever street protests in 2019. Beijing imposed the security law the following year, which has been used to jail scores of opposition leaders and shutter several pro-democracy news outlets. China also overhauled the city's Legislative Council to ensure only "patriots" who "respect" the Communist Party can serve.
Those curbs prompted tens of thousands of residents to leave the once-freewheeling city, while others fled stringent virus controls as Lam hewed to China's strict Covid Zero strategy. While that kept Covid at bay for almost two years, the omicron variant broke Hong Kong's defenses, resulting in the city logging the developed world's highest death rate per capita.
The omicron wave, which some experts say infected half of Hong Kong, has served as a warning to mainland officials battling the more infectious variant in Shanghai. Before the strain arrived in Hong Kong, Lam had been tipped as the front-runner in the race, giving an interview to the South China Morning Post in November for an article that described her as a "comeback queen." She had unveiled an ambitious long-term project to alleviate the city's chronic housing shortage.
By February, President Xi Jinping was calling on Lam's government to take "all necessary measures" to get the virus under control, in an unusually direct intervention that cast new doubt on for her political future. She subsequently invoked emergency powers to postpone the election for her job originally planned for March 27.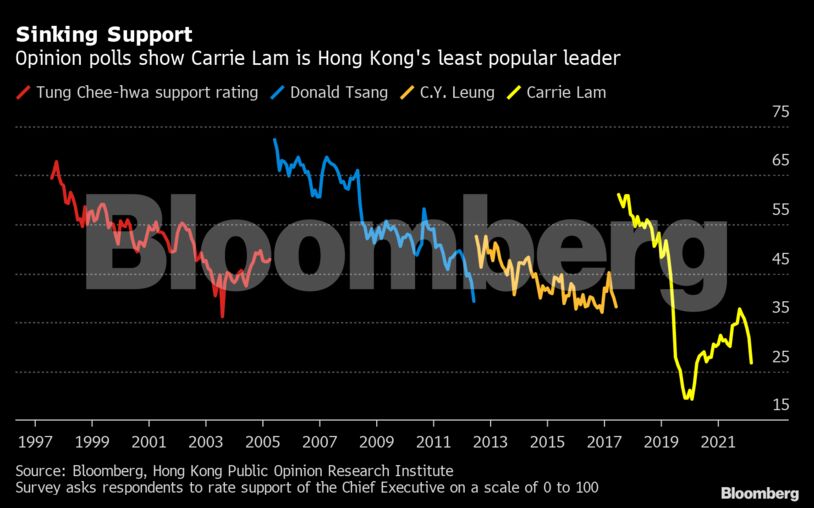 Last week, China's top leadership held a series of top level meeting to decide her fate, which resulted in her traveling Friday to the mainland city of Shenzhen, the South China Morning Post reported. Lam declined to discuss details of her communication with the central government on Monday.
Despite everything, Lam said she was handing Hong Kong's next leader a stronger city than the one she had inherited. Notably, she cited the national security legislation and electoral overhaul, two measures that were handed down by Beijing after years of frustration with the city's political gridlock.
"Compared to this term of government, the next government will be seeing a more stable political environment," Lam said Monday. –Bloomberg
---
Also read: Hong Kong loses its business hub luster with diminishing freedoms as China tightens grip: US
---