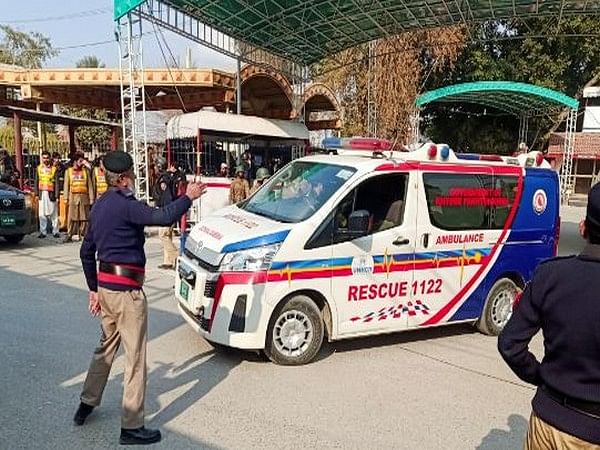 Islamabad [Pakistan], February 2 (ANI): After investigating how the suicide bomber entered the Peshawar mosque and attacked, Pakistani police claimed that there are chances that the bomber was able to evade the security check because of an insider hand, reported Reuters.
Peshawar police chief Ijaz Khan said they are investigating how the suicide bomber entered the highly-secured police area, adding that they were not ruling out internal assistance to the attack, as per the Reuters report.
Pakistan police had arrested several suspects in Peshawar, as the investigation continues.
On Monday, a blast ripped through a mosque, claiming over 100 lives and leaving 170 people were injured. While the Tehreek-e-Taliban Pakistan (TTP) had initially claimed responsibility for the attack, there has been no official confirmation of the same.
After the words went out regarding the possibility of security officials' involvement, Radio Free Europe reporter Bashir Ahmad Gwakh shared the video of police protesting against the governmnet and tweeted, "As death toll raised to 106 & 221 injured, #KPPolice protest against the suicide bombing. Pointing to the obvious quarters, they shouted: Ye Jo Namalom Hei, Ye Hamei Malom Hei (We know the unknowns). Why this much divide among #Pakistan security forces?"
Another editor and reporter Wajahat Khan also tweeted, "Unbelievable. Unprecedented. Unreal. After rumours of Monday's Peshawar bombing being an inside job, Police protest in Peshawar–where 100, including many cops, were lost–chanting slogans against "unknown persons:" the local euphemism for the spy services."
Earlier, Peshawar officials confirmed that the bomber stood in the front row at the time when 400 people were offering prayers. Peshawar Capital City Police Officer (CCPO) Muhammad Ijaz Khan said "the bomber detonated his load at the moment hundreds of people had lined up for prayers," according to The Express Tribune.
The mosque is located inside a highly fortified compound in Peshawar that included the headquarters of the Khyber Pakhtunkhwa (KP) police force and the Counter-Terrorism Department (CTD) offices. After the explosion, parts of the mosque collapsed, trapping many under the rubble.
The Express Tribune quoted Khan as saying, "The attacker appeared to have passed through several barricades manned by security forces to get into the "Red Zone" compound."
"An inquiry was underway into how the attacker breached the elite security cordon and whether there was any inside help," Khan said.
Peshawar's provincial health department declared an emergency and ordered all medical personnel to remain on duty. (ANI)