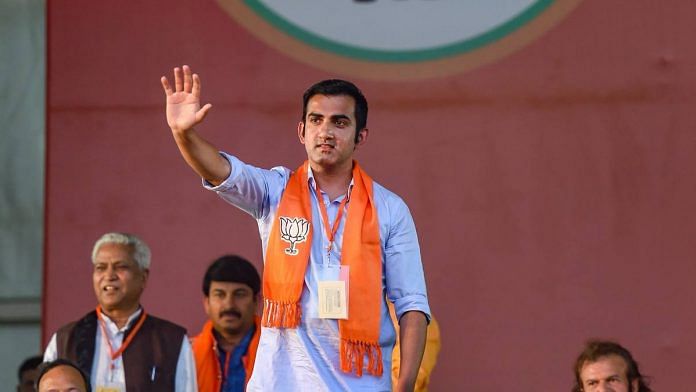 Text Size:
New Delhi: Twitter users focussed dwelt upon the torrential downpours in the capital city, remembered former Delhi chief minister Shiela Dikshit, and actor Kangana Ranaut's sensational interview on nepotism.
BJP spokesperson Meenakshi Lekhii's ironic comment on Arvind Kejriwal's administration for failing to fix the waterlogging problem under the Minto Bridge in Delhi—and who will come to his rescue once again.
Years of mismanagement of Delhi , same hotspot where every year during rains problem of water drainage erupts. PWD road & drain. Guess post monsoon We will have to request Hon'ble HM to get this sorted & post that Delhi CM could give interviews & publish advertise abt Delhi model pic.twitter.com/5aLauEJreA

— Meenakashi Lekhi (@M_Lekhi) July 19, 2020
Delhi BJP MP Gautam Gambhir chooses poetry to make a point. Who says poems are always romantic?
चेहरे पे सारे शहर के गर्द-ए-मलाल है
जो दिल का हाल है वही दिल्ली का हाल है
-मलिकज़ादा मंज़ूर अहमद #DelhiDrowning

— Gautam Gambhir (@GautamGambhir) July 19, 2020
Congress' Priyanka Gandhi Vadra, Pawan Khera and Siddharth Tiwari fondly remember former Delhi CM Sheila Dikshit on her death anniversary.
Memories pic.twitter.com/Uk4lXznsjc

— Pawan Khera (@Pawankhera) July 20, 2020

As a school kid I landed in a struggling city called Delhi in 1998. As a professional I landed in a world class city called Delhi in 2009. You had a will of steel. No one could do what you did for our national capital Shiela ji! We miss you!🙏🙏 @Pawankhera @_SandeepDikshit pic.twitter.com/kD0WCw49Qy

— Siddharth Tiwari (@SiddharthCong) July 20, 2020
दिल्ली की मुख्यमंत्री रहते हुए दिल्ली के विकास को एक नई दिशा और नई ऊँचाई देने वाली, विनम्र और गंभीर नेता स्वर्गीय शीला दीक्षित जी की पुण्यतिथि पर उन्हें सादर नमन।#SheilaDixit pic.twitter.com/Dm2cV6uTvg

— Priyanka Gandhi Vadra (@priyankagandhi) July 20, 2020
Former union secretary of health K. Sujatha Rao rails against the despicable condition of India's government hospitals.
Osmania hospital has flood waters in the ward, Bareilly hospital s roof collapses with a waterfall on patients and a Bangalore hospital has pigs roaming around the covid hospital. No wonder we are busy constructing temples. So much easier than managing govt hospitals. So shameful

— healthiswealth (@sujakrao) July 19, 2020
Congress youth wing's Srinivas B.V. shares the 'reality of atmanirbhar bharat'.
इससे ज्यादा आत्मनिर्भर भारत क्या बनाएंगे प्रभु,
इतना ही काफी है…🙏 pic.twitter.com/BTo9WYKL4Q

— Srinivas B V (@srinivasiyc) July 19, 2020
Forget all that, Rajya Sabha member Sudhanshu Trivedi is happy about Prime Minister Modi's Twitter following, even as India's Covid-19 count is on a steady rise.
PM Modi's Twitter followers crosses 60 million,Shows the gigantic global fan following of our PM. He has more followers than most of the global bigwigs even Twitter itself.
चल पड़े जिधर दो डग मग में,
चाल पड़े कोटि पग उसी ओर,
गड़ गई जिधर भी एक दृष्टि,
गड़ गए हैं कोटि दृग उसी ओर। pic.twitter.com/NAwqaGbSZd

— Dr. Sudhanshu Trivedi (@SudhanshuTrived) July 19, 2020
Two icons of Hindi cinema in one frame. Surest blockbuster.
Happy B'day to the actor whose contribution to my career is immense #NaseeruddinShah from doing Woh 7 Din to encouraging me to do my first regional Telugu film, thanks for making me realise that acting has no language & for being a great influence and inspiration for all actors! pic.twitter.com/Qzazs8TylT

— Anil Kapoor (@AnilKapoor) July 20, 2020
Congress leader Yasmin Kidwai misses Kangana's "hate torrent" on Republic TV Saturday.
Yesterday's situation in Delhi wit flooding in #AnnaNagar made me miss the hate torrent by #KanganaRanawat -her tirades against @ReallySwara & @taapsee only show her innate insecurity & make these girls & their dignity shine more ♥️
Get well soon Kangana

— Yasmin Kidwai (@YasminKidwai) July 20, 2020
How Kangana Ranaut makes it "all about herself".
Kangana Ranaut is extremely brave. Not everyone can have the guts to use the tragic death of Sushant Singh Rajput and make it all about herself

— Joy (@Joydas) July 19, 2020
A crash course by Swara Bhasker on how to remain head and shoulders above filth.
Dear @IASassociation , do your officers not have enough work ? This creepy old uncle ji seems to be totally jobless and a little obsessed with me! Pls offer him some counselling sessions. Since he seems unfit to be an officer of the Indian bureaucracy. 🙏🏽🙏🏽🙏🏽🙏🏽 pic.twitter.com/ZKhWg3TZYO

— Swara Bhasker (@ReallySwara) July 20, 2020
Does BJP's Sambit Patra sound envious, here?
वाह …पिज़्ज़ा, पास्ता और मुगले आज़म के बाद आज अंताक्षरी …
क्या ठाट है …
वहाँ Corona से जनता पस्त ..और यहाँ न किसी मास्क की ज़रूरत न social distancing की ..कमाल है!! https://t.co/g3K3VAQpnA

— Sambit Patra (@sambitswaraj) July 19, 2020
Filmmakers Anubhav Sinha and Hansal Mehta wonder if it's time for the film industry to find a new home.
मेरा तो दिल कह रहा है। बहुत समय से। सुधीर भई से कहा वो भी बोले चलो। और भी कुछ दोस्तों से बात की थी यूँ ही।सब बोलते हैं चलो। चला जाय क्या बम्बई से? कही और जहां शांति हो थोड़ी। जिस तरह की बातें होनी लगी हैं, हमारे बिज़नेस में वो दर्दनाक हैं। दिल दुखता है। https://t.co/IsGrbFxlI1

— Anubhav Sinha (@anubhavsinha) July 19, 2020
Here's something that will leave you with a smile.
Daughter welcoming her mother home after #Covid19 treatment@hvgoenka pic.twitter.com/yuNH6WFnpg

— PadmaRani (@KPadmaRan1) July 19, 2020
Actor Deepika Padukone points out a variety of mistakes in a Variety report.
Hey @Variety …

Thank you for reporting.However,

a)The film is not titled #Prabhas21.It only happens to be Prabhas's 21st film.

b)It is a trilingual film:Hindi,Tamil & Telugu

Kindly make note.

Thank You… https://t.co/WCYmPAzLBx

— Deepika Padukone (@deepikapadukone) July 19, 2020
Actor Amitabh Bachchan dedicates a poem by father Harivansh Rai Bachchan to frontline healthcare workers.
T 3599 -मैं हूँ उनके साथ, खड़ी जो सीधी रखते अपनी रीढ़।

कभी नहीं जो तज सकते हैं⁰अपना न्यायोचित अधिकार,⁰
कभी नहीं जो सह सकते हैं⁰शीश नवाकर अत्याचार,⁰
एक अकेले हों या उनके⁰साथ खड़ी हो भारी भीड़;⁰
मैं हूँ उनके साथ, खड़ी जो सीधी रखते अपनी रीढ़।
~ HRB
to them that protect us

— Amitabh Bachchan (@SrBachchan) July 19, 2020
Among other things, US President Donald Trump is also the ultimate member of the Book of the Month club.
I am the ultimate member of The Book of the Month Club. First I have lowlife dummy John Bolton, a war mongering fool, violating the law (he released massive amounts of Classified Information) and an NDA in order to build badly needed credibility and make a few dollars, which

— Donald J. Trump (@realDonaldTrump) July 17, 2020
Subscribe to our channels on YouTube & Telegram
Why news media is in crisis & How you can fix it
India needs free, fair, non-hyphenated and questioning journalism even more as it faces multiple crises.
But the news media is in a crisis of its own. There have been brutal layoffs and pay-cuts. The best of journalism is shrinking, yielding to crude prime-time spectacle.
ThePrint has the finest young reporters, columnists and editors working for it. Sustaining journalism of this quality needs smart and thinking people like you to pay for it. Whether you live in India or overseas, you can do it here.