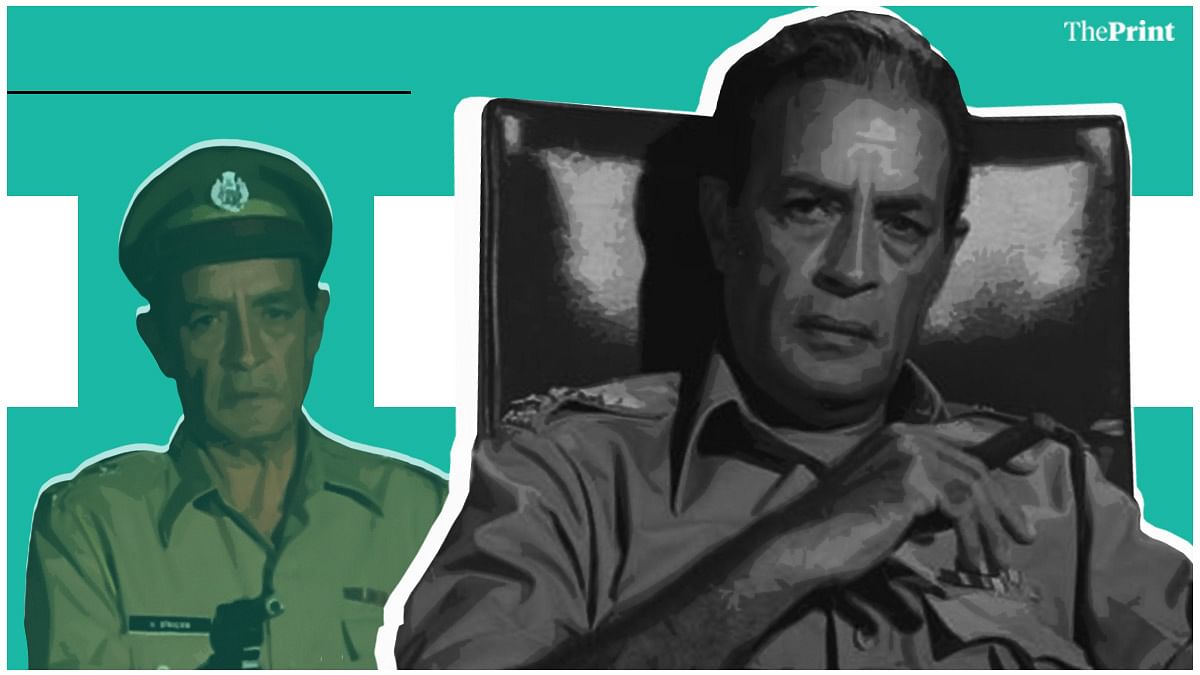 Don (1978) may have starred Amitabh Bachchan but one of the dialogues that has become synonymous with Bollywood's cops was not said by him, but by the character of DCP D'Silva: "Bhaagne ki koshish mat karna. Humne tumhe chaaron taraf se gher liya hai. Bhalaai isi mein hai ke tum apne aap ko kanoon ke hawaale kar do."
Those words have become a staple, albeit with some tweaks here and there, of Bollywood cop scenes through the ages. And for that, we have to thank Sayedana Iftekhar Ahmed Sharif, better known as simply Iftekhar. On his 25th death anniversary, ThePrint looks back at the life of Hindi cinema's favourite upright, ethical police officer.
Singer, painter, actor, cop
Born in Jalandhar on 22 February 1920, Iftekhar was the eldest of four sons of a high-ranking professional in a private company in Kanpur. Drawn to the arts from a young age, Iftekhar opted for a diploma course in painting from Lucknow University after his matriculation. But his real dream was to become a professional singer – he was inspired by superstar singer KL Saigal, who was the benchmark for any aspiring singer in the country in the 1940s. At this time, Calcutta, not Bombay, was the entertainment capital. So Iftekhar set off to Calcutta in 1942. He walked into the office of HMV and auditioned for composer Kamal Dasgupta. It is said that Dasgupta took one look at the tall, elegant young man and recommended him for a role with MP Productions. So Iftekhar dropped singing for a career in front of the camera and made his debut in Taqrar (1944).
---
Also read: Teesri Manzil will remain Shammi Kapoor's, and Bollywood's, shining glory
---
He then played supporting roles in several films. In the meantime, he married a Jewish woman, Hannah Joseph, who changed her name to Rehana Ahmed. His daughter Salma was born in 1946 and Saida, a year later. Things had been going well enough, but when Partition happened, it turned Iftekhar's life upside down. While many of his family chose to move to Pakistan, he was keen to stay on in India, but had to leave Calcutta. Iftekhar's daughter Salma recounts, "We (me and my sister) were still young and would often be without food". What followed was a long struggle for survival, with more small roles. It was only with Raj Kapoor's Shree 420 (1955) that he found what was to become his legacy – the role of an honest cop.
The loyal officer who sticks to his duty at all costs was soon to become Iftekhar's speciality, aided in no small part by his handsome face and the air of dignity about him. Deewar, Zanjeer, Don, Hare Rama Hare Krishna, Loafer, Ittefaq, Teesri Manzil, Daag — these are just some of the movies that have the Iftekhar stamp. On the rare occasion that Iftekhar played a criminal, like the smuggler Davar in 1975's Deewar or Black Cobra in Khel Khel Mein, his stature and gravitas ensured he made an impact.
While the role of the cop became synonymous with Iftekhar, he never forgot his love of painting. In fact, according to his wife, Iftekhar even taught Ashok Kumar the art of painting. In an interview, she said, "We were, and still are, very close friends. Dada Moni learnt to paint and sketch from Ifti. Once, Dada Moni fell sick and he was very irritable since he was confined to bed for a long time. Dada Moni, being the busybody he is, felt very restricted. Ifti suggested that he pursue a hobby, and taught him how to paint. That's how Dada Moni is such a good painter."
In the 1964 Kishore Kumar vehicle Door Gagan Ki Chhaon Mein, Iftekhar did more than just act. It was a rare occasion when his artwork featured in the title credits. The likeness of the actors captured by Iftekhar's brush was uncanny. It showed the hidden talent of an understated actor who never really got his due.
Coincidentally, both Ashok Kumar and Iftekhar ended up being actors despite having very different professional goals. While Iftekhar wanted to be a singer like K.L Saigal, Ashok Kumar wanted to be a lawyer. Thankfully for us, they didn't.
---
Also read: C.I.D. — when Bollywood musical met noir in signature Dev Anand style
---