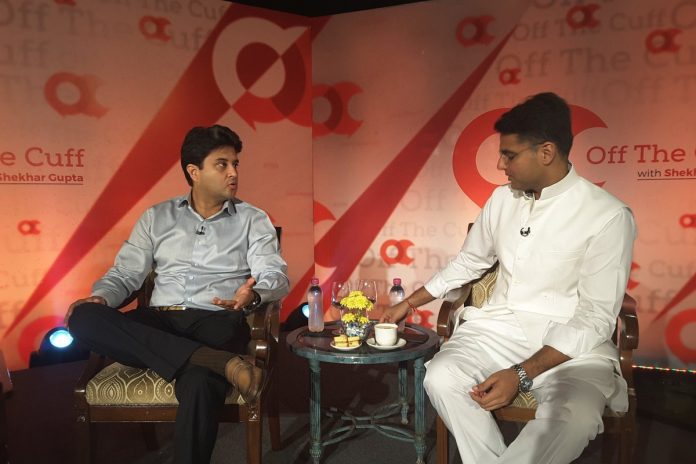 Text Size:
Jyotiraditya Scindia said that Rahul Gandhi would take charge of the party soon and there would be a 'reaffirmation' of the party's core beliefs. 
New Delhi: The Congress will undergo "churn" over the next two months and it is a matter of days before Rahul Gandhi replaces his mother as the head of the 131-year-old party, Congress MP and senior leader from Madhya Pradesh Jyotiraditya Scindia said.
The revelation by Scindia about the much-talked about change of leadership in the main opposition party came at ThePrint's 'Off The Cuff' event Monday.
Scindia and Rajasthan Congress president Sachin Pilot were in conversation with ThePrint Editor-in-Chief Shekhar Gupta and Associate Editor Ruhi Tewari.
"It's a matter of days now," Scindia said in reply to a question on whether the suspense over Rahul Gandhi taking over the party would end. "You will see lot of changes. You will see reaffirmation of what our core beliefs are."
The two young politicians, seen as part of the Congress party's next generation of leaders, opened up about a range of issues including the party's miserable performance in the 2014 Lok Sabha elections.
They expressed hope that Congress would make a comeback if it plays its cards right.
"We lost and we lost badly. But we are the only party with a presence in every corner of the country. A party like this is bound to rebound. I am confident that Congress will have a national revival and for that we will have to win small and big states. That's in the pipeline," said Pilot.
"We did go wrong. May be our marketing was wrong. We are in the process of metamorphosis right now. People are looking for a refreshing change and the bench strength of the Congress party is strongest," said Scindia.
Asked whether Congress should declare a chief minister candidate before elections in every state, the leaders had a difference of opinion. Scindia felt that declaring a name would be better in Madhya Pradesh.
However, Pilot said, "Congress has not generally gone out fighting elections saying XYZ should be the chief minister, exceptions exist of course."
Scindia said that it was a smart move by the BJP not to declare a chief minister candidate both in Haryana and UP.
Pilot played down the inner rivalry among Congress leaders in Rajasthan saying he is not the only CM face in the state.
"As Congress president today, I can think of 5-7 people as the CM face. If you are honest with each other there is no reason to fight with each other. What's written in your fate, you will get it. So we are working together and see what happens," he said.
In Madhya Pradesh, Scindia claimed to be getting support from all section of leaders and party workers.
"Politics is not a science but art. We should make genuine relationship. When I did satyagrah in Madhya Pradesh every leader and worker of Congress supported me," he said.
Pilot criticised the BJP government at the Centre and in Rajasthan for what he said was targeting opposition leaders over corruption charges and dividing the society.
"I am not convinced that whatever cases of corruption emerging are in all parties but the BJP. Anyone who is a perceptible threat to the BJP is actually raided and targeted. In Madhya Pradesh there is this huge Vyapam scam where 60 people lost their lives but no one fixes responsibility on the chief minister," he said.
"In Rajasthan, a man is lynched to death and the minister says both the sides were wrong. This just gives a message to the police person inquiring the case about how to deal with it. This is not what people voted you for," Pilot said.
The leaders felt that this is the time for Congress to capture the minds of people but the party needs to build alliances across the country and distribute tickets keeping the winnability of the candidate.
"Time is now. If we take longer than this we will be gone," said Scindia. "What we have to prepare for in 2019 is a widespread coalition."

Get the PrintEssential to make sense of the day's key developments