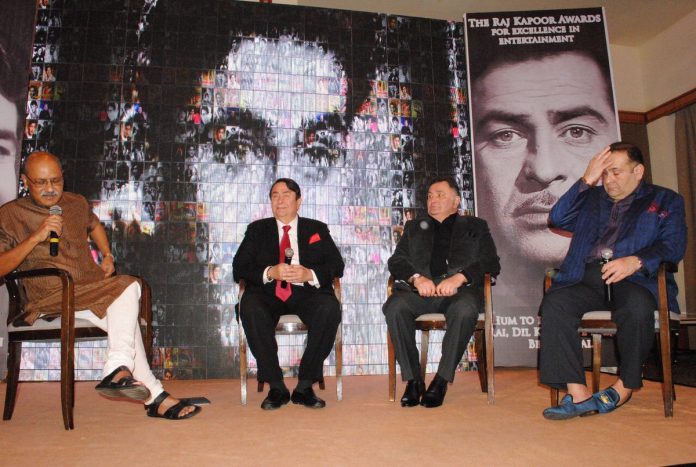 Text Size:
Three sons of the legendary Raj Kapoor explain what it was like to work with him and why his films continue to remain relevant.
Legendary actor Raj Kapoor always insisted that his children find their own space and made sure they gained recognition on their own, said his son and actor Rishi.
"Our father would throw us into a dead end (sic) and made sure we built our own identity to gain recognition," Rishi said.
"Tum apni chaap banao. Build your own identity," he said.
Randhir, Rishi and Rajiv Kapoor were in conversation with ThePrint's editor-in-chief Shekhar Gupta in Mumbai on February 14 at the launch of the Raj Kapoor Awards for Excellence in Entertainment.
Rishi also said that that the legendary actor-director-producer was so professional that his sons would address him as 'sahib', instead of 'daddy'.
When Raj Kapoor refused to go to China 
Randhir recounted an incident when the family was invited to visit China as state guests. He said that although his father had initially been excited about visiting the country, he decided to cancel the trip two days later.
"'They're in love with the Raj Kapoor of Awaara and Shree 420. Look at my size now! I don't look like that anymore and neither do I want to disappoint my fans,' he said," Randhir said.
Rishi recounted an argument he had with his father on the sets of Bobby, about dancing to the song Main Shayar Toh Nahin without a choreographer to guide him.
"I said, 'Saahib, woh dance master nahin aaye (Sahib, the choreographer isn't here)?'. My father got a little angry and said, 'Why a dance master? Why do you even need a dance master?!'," Rishi said.
Rishi said that despite being confused and panic-stricken, Kapoor insisted on him following his instincts and dancing without any guidance.
The relevance of Raj Kapoor films today
"The films have managed to pass from generation to generation and still stay relevant – no one will ever know why," Randhir said.
The three brothers said that the popularity of Raj Kapoor's films in today's generation is a mystery to them despite them discussing it several times.
Member states of the former Eastern Bloc still talk about Raj Kapoor's films, Rajiv said.
"If you're an Indian, and especially a Kapoor, people from these countries make sure to talk to you about Raj Kapoor," he said.
So would the three sons ever consider remaking any of their father's films today?
"We'd rather not meddle with the classics," Randhir said.
For ThePrint's smart analysis of how the rest of the media is doing its job, no holds barred, go to PluggedIn