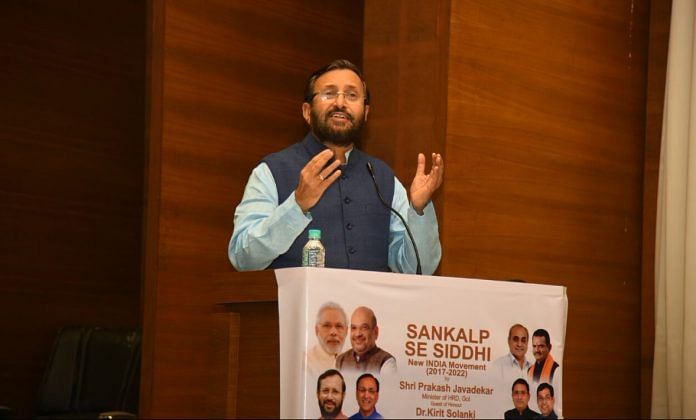 Text Size:
BJP's Karnataka in-charge opens up on its poll strategy, the key issues ahead of the state elections, and on allegations against CM candidate Yeddyurappa.
Union Human Resource Development Minister Prakash Javadekar is the BJP's state in-charge in poll-bound Karnataka. The party is keen to snatch this southern state from the Congress.
In an interview to ThePrint, Javadekar talks about the BJP's poll strategy, its strengths, and the key election issues. Excerpts:
Prakash ji, in Karnataka, Hinduism, Ram mandir, Article 370 or triple talaq may or may not work. The BJP is being seen as a north Indian party in the south. How do you propose to lure the Karnataka voters?
Your questions are loaded, but I will be answering straight: Every state election is different. We have a complete plan for Karnataka. We have ruled Karnataka once, and Karnataka is now up for change.
This is because of three issues.
One, our performance was much better than what Siddaramaiah has achieved. Two, the worst kind of corruption exists in every field. Three, the way the honest officers are hounded under suspicious circumstances has created a tremendous emotional issue.
In other words you are depending on anti-incumbency to come back to power?
That, and also our earlier programmes, which people still remember. The Yeddyurappa government actually ensured infrastructure development, launched farmers' schemes and irrigation schemes. His parivartan yatra is drawing tremendous support from all over. We are also taking care of the organisation.
We were talking about the Congress's failure. One by one, the court verdicts in the 2G case and the Adarsh case etc. are giving it relief. The Congress must be thinking 'achche din aa gaye'.
If they are thinking so, they are living in fool's paradise, because these are not achche din. They may be happy about the 2G verdict, but the Supreme Court says 2G was corruption, which is why it cancelled 122 licences. They are celebrating the Adarsh verdict too, but only the permission given by the governor was the issue. It is not a clean chit to others. Let us understand.
In the coal scam, people are going to jail, but the Congress is keeping mum. Let us wait for things to pan out. We don't know what the decision of the appellate courts will be. It is not the final verdict of the Supreme Court.
It was your party which made much of 2G…
That is correct. Our stand is vindicated.
How?
You may recall the Jessica Lall murder case. Who killed Jessica? Nobody killed Jessica, because no sufficient proof was given against the accused (this verdict of the lower court was later overturned by the Delhi High Court, which convicted Manu Sharma. The Supreme Court upheld the overturned verdict).
The fact is that 122 licences were cancelled (by the Supreme Court), and they were not revived. Many legal experts talk of aberrations. So let us wait.
You claimed the Yeddyurappa government was very good. If that was so, why was it voted out last time?
It was voted out because our party got divided into three parties. One was B.S. Yeddyurappa, who got 19 per cent of the vote. The other was the Janardhan Reddy/Bellary group. They got a good number of votes in Bidar and the neighbouring areas. Now all are united.
What kind of social engineering are you looking at in Karnataka?
We are getting support from all sections of society – social and economic. So that stereotype analysis is gone. You have seen that in Gujarat too, where poll calculations had all gone wrong. All castes voted for the BJP. Let us understand the new India.
Do you think that announcing Yeddyurappa as the chief ministerial candidate might boomerang? He carries the corruption tag, and your party has factionalism and groupism. How will you deal with this?
We don't have factions. There are no other aspirants. We have unanimously selected Yeddyurappa as the chief ministerial candidate. K.S. Eshwarappa is with Yeddyurappa. We are carrying out our party programmes at booth level, and there are also other programmes. Any press person can visit the state before 20 January, and you can see for yourself how popular Yeddyurappa is. He was not only acquitted, but also all the charges had fallen flat. There was no case.
Both parties are trying to make corruption a poll issue. You are talking of Siddaramaiah and they are talking of Yeddyurappa. Is this corruption issue going to click?
There are other issues like mal-governance, and the law and order situation. The Karnataka government has completely failed to nab any terrorists so far. Bengaluru was the best city, and now it has become a city of garbage and of potholes. That is what is irritating Karnataka. Farmers are very unhappy because in Maharashtra and UP, the BJP has given very big loan waivers. Farmers have a feeling that they are being deceived.
You are depending mainly on Modi magic and anti-incumbency, and also Yeddyurappa's strength as a strong Lingayat leader. Will there be a new narrative?
There is no new narrative. The narrative is development. We will continue with this ethos till everybody realises that India has changed. The Modi magic is everywhere. Some time ago, when he went to see Karunanidhi, thousands of people were outside chanting 'Modi, Modi'. DMK was the only party which used to criticise Modi ji and also give slogans against the BJP. So the magic is everywhere.
Will you have a tie-up with the DMK in the future?
I don't know about that.
Karnataka is called the 'Silicon Valley' of India. Do you have any special plans to woo IT professionals?
Yes. We are coming out with our vision document soon. I will not reveal everything today. But yes, I can tell you, we are making a very robust plan for taking Karnataka to the next level, not only in IT but also in other areas.
My worry is that we are an IT super power, particularly in software, but not in hardware. Secondly, in IT too, we have not come out with things like Google, Facebook, Windows, Twitter etc. We are talking about 'brain gain'. So, bringing good, talented people back is what we aim at. That will be our next cycle of innovation.
What about first-time voters?
Since 2009, 30,000 to 50,000 voters are added to every constituency every year. They are already fascinated with Modiji. We are offering them good education, good law and order, and good skilling programmes.
Siddaramaiah is raising the issue of Kannada pride and a separate flag for the state. How do you view these?
Karnataka has a flag right from the beginning. It also has a very good state song. In our programmes too, we sing that song. Siddaramaiah might raise these issues, but there are no disputes. We believe all Indian languages must have their pride. All Indian languages must flourish. That is our policy.
Will there be a manifesto?
We have a vision document which will be released later.
Now that the Gujarat elections are over, what are the lessons learnt from the results?
The lesson is that we have won, and we will continue our winning streak. Aspirations of the poor have changed. They want progress. They are not ready to get swayed by caste feelings.
Let me give you the big picture. Between the two national parties – the Congress and the BJP – for the first time, the BJP has won a state for the sixth consecutive term. From 1989 onwards, actually, we have been getting nearly 50 per cent votes, and that is a tremendous change. After 2014, we have won 10 new states and retained nine old states. It is a major shift in Indian politics.
It still is a bipolar polity, and we want it to be bipolar. Unfortunately, the Congress is not learning any lessons.
Kalyani Shankar is a columnist, the former Political Editor of the Hindustan Times and former Washington correspondent of the Hindustan Times.
Subscribe to our channels on YouTube & Telegram
Why news media is in crisis & How you can fix it
India needs free, fair, non-hyphenated and questioning journalism even more as it faces multiple crises.
But the news media is in a crisis of its own. There have been brutal layoffs and pay-cuts. The best of journalism is shrinking, yielding to crude prime-time spectacle.
ThePrint has the finest young reporters, columnists and editors working for it. Sustaining journalism of this quality needs smart and thinking people like you to pay for it. Whether you live in India or overseas, you can do it here.