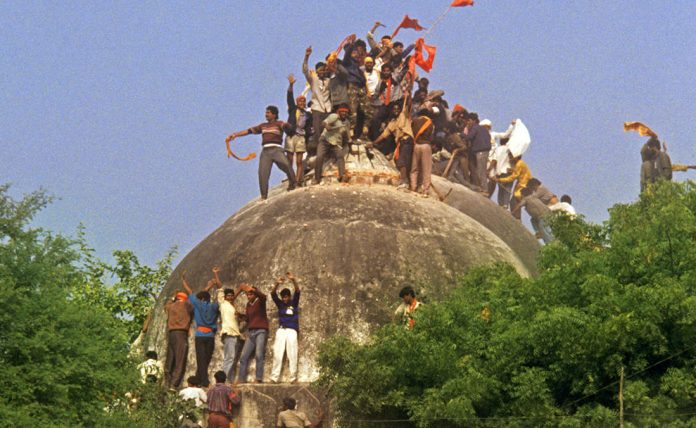 Text Size:
An emotive issue of its own accord, the Ram Janmabhoomi-Babri Masjid matter in apex court gains greater significance ahead of Lok Sabha polls.
New Delhi: A five-judge constitution bench set up by the Supreme Court, led by Chief Justice of India Ranjan Gogoi and comprising Justices S.A. Bobde, N.V. Ramana, U.U. Lalit and D.Y. Chandrachud, will begin hearing Thursday the Ram Janmabhoomi-Babri Masjid title suit, or the Ayodhya case.
The bench will hope to resolve the decades-old dilemma at the heart of the dispute: Who owns the 2.77-acre plot where the 16th-century mosque was built and Hindu deity Ram is believed to have been born?
An emotive issue of its own accord, the matter gains greater significance as it is taken up by the apex court just ahead of the 2019 Lok Sabha elections.
The Bharatiya Janata Party (BJP), which stormed to office in 2014 on a manifesto where the Ram Mandir possessed pride of place, has been under pressure from within as well as the Rashtriya Swayamsevak Sangh (RSS) to issue an ordinance and go ahead with the construction of the temple.
Some allies, like the Shiv Sena, have openly called out the BJP for failing to construct the temple despite having formed a majority government.
The BJP, which has officially said it will wait for the court verdict to forge ahead with the construction, enters the poll season on this note.
Prime Minister Narendra Modi, in a recent interview to ANI, insisted that his government will await the Supreme Court's decision, but nevertheless blamed the Congress for obstructing the progress of the case in court.
---
Also read: Mumbai to Ayodhya, Shiv Sena re-connects with its hardline Hindutva past via Delhi
---
The dispute
The Ram Janmabhoomi title suit long predates the 6 December 1992 Babri Masjid demolition that thrust India into deep communal frenzy.
It was first taken to court in 1950. In 2010, the Allahabad High Court finally issued a verdict, dividing the land equally between two Hindus – representing Lord Ram and the Nirmohi Akhara — and one Muslim party, the Sunni Waqf Board.
As many as 15 appeals were filed to this judgment, and it is these that the Supreme Court bench will take up.
---
Also read: In Jerusalem, I saw a reflection of Ayodhya
---
The Ismail Faruqui judgment
On 28 September, the apex court, in a majority 2:1 judgment, declined to refer its 1994 Ismail Faruqui judgment to a larger bench.
The 1994 ruling — which allowed the central government to acquire the disputed 2.77 acres — held that praying in mosques is not an essential religious practice in Islam, and the Sunni Waqf Board claimed that it prejudiced the Ram Janmabhoomi case against it.
Get the PrintEssential to make sense of the day's key developments