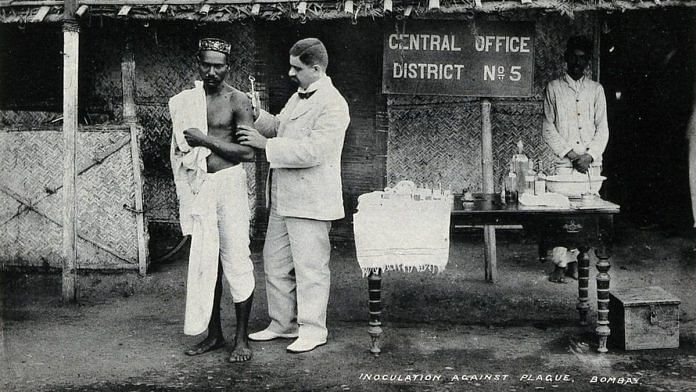 Text Size:
New Delhi: Bayannur, a city in northern China, was on high alert after a suspected case of Bubonic plague was reported Saturday. According to state-run People's Daily Online, authorities in the Inner Mongolia Autonomous Region announced a level III warning of plague prevention and control.
Local authorities announced that the warning period will continue until the end of 2020 since the plague ran the risk of spreading.
"At present, there is a risk of a human plague epidemic spreading in this city. The public should improve its self-protection awareness and ability, and report abnormal health conditions promptly," authorities announced.
Xinhua news agency, another state-run agency, reported on 1 July that two suspected cases of the Bubonic plague, which were recorded in Khovd province in Western Mongolia, were confirmed by labs.
The confirmed cases were of a 27-year-old resident and his 17-year-old brother who had eaten marmot meat. After their cases came to light, health officials urged people to not eat the meat. So far, 146 people who had been in contact with them have been isolated and are being treated.
ThePrint looks at what this plague is and its history.
---
Also read: Plague of 1896 redefined sedition. Coronavirus mustn't bring in laws that outlive crisis
---
Bubonic plague and its symptoms
The Bubonic plague is a bacterial infection that is transmitted by fleas and rodents. It is a zoonotic disease, which means it can jump from animals to humans.
The plague is estimated to have a basic reproduction number, or R0, between 5 and 7. This means that one infected person can spread the disease to 5-7 people. The ongoing Covid-19 pandemic's R0 is between 1 and 2.
The first confirmed record of a plague pandemic dates back to 541 AD, called the Plague of Justinian, where an estimated 50 million people died over two centuries.
The disease usually spreads from fleas who have bitten infected animals like mice, rats, rabbits and squirrels. It is found on all continents except Oceania.
The plague is caused by a bacterium called Yersinia pestis which cause two other diseases — Septicaemic plague and Pneumonic plague. If not treated in time, the bacteria can kill an adult in less than 24 hours.
This disease has a case-fatality ratio of 30 per cent to 60 per cent among the diagnosed, if not treated on time. Septicaemic and pneumonic kinds of the plague can reach a 100 per cent fatality. However, the number can be brought down if patients are diagnosed and treated on time.
Some of the symptoms of the disease include swollen lymph nodes which can be as large as chicken eggs, fever, chills, coughs, fatigue, muscle ache, etc. The swollen lymph nodes are called buboes, which is where the name 'Bubonic' comes from. The symptoms for this disease start occurring after an incubation period of 1-7 days.
---
Also read: Plague tested Gandhi and Patel leadership style. Just like Covid is testing Modi and Rahul
---
Black death
The Bubonic Plague was known as 'Black Death' in the Middle Ages. It broke out between 1347 and 1351 and took more number of lives than any other epidemic or war up till that time.
The disease originated in China, but the epidemic reached parts of the Mediterranean from there. It is believed that the disease spread through trading ships.
Some accounts by Italian poet Giovanni Boccaccio explain the gruesome nature of the disease at the time: "In men and women alike … At the beginning of the malady, certain swellings, either on the groin or under the armpits … waxed to the bigness of a common apple, others to the size of an egg, some more and some less, and these the vulgar named plague-boils."
The epidemic resulted in the death of over 50 million people and wiped out around 25 per cent to 60 per cent of the European population then.
The Great Manchurian Plague
Since the reported cases of the plague were linked to Marmot meat, residents of Bayannur have been directed to report findings of dead or sick marmots. Marmots are a type of large ground squirrel which are eaten in parts of China and Mongolia.
Back in 1900s, Marmots were hunted for its fur, so their popularity increased. Local hunters were asked by foreign buyers to bring marmot hides. While hunters avoided using infected marmots for food, they didn't foresee any harm in using the hide of sick marmots.
Infected marmots are believed to have caused the Great Manchurian Plague that broke out by 1910 in northeastern China. It is estimated that the plague killed over 63,000 people. While the epidemic was contained within a year, marmot-related infections have persisted since.
India chapter
The Bubonic plague severely impacted India too. The first official case was reported on 23 September 1896 in what was then Bombay. It was a part of the third plague pandemic, which originated in China in 1855. The disease was spread in India through trading ships, hitting the port cities of Calcutta, Karachi, Punjab and United Provinces among others. Over 12 million Indians were estimated to have succumbed to this disease.
The situation went so out of hand that it led to the Epidemic Disease Act of 1897 being 'hastily' drafted. The law has the "power to take special measures and prescribe regulations as to dangerous epidemic disease". The British used it to demolish any property they thought was contaminated by the plague.
The act has also been exercised this year in view of the Covid-19 pandemic. The Central government in March decided to invoke Section 2 of 1897 Act, according to which the Centre gets power to take special measures and invoke regulations. It also gave authorities power to look into "persons travelling by railway or otherwise, and the segregation, in hospital, temporary accommodation or otherwise, of people suspected by the infecting officer of being infected with any such disease."
The bacteria Yersinia pestis struck India again in 1994, but caused the pneumonic and not Bubonic plague.
Treating the plague
With the introduction of antibiotics, most infections if caught early, can be treated and hence, can be prevented from rapidly spreading and turning into an epidemic.
The World Health Organization (WHO), though, has categorised it as a re-emerging disease. While modern medicines may be able to treat the plague, it remains unclear whether they can eliminate it entirely.
According to WHO data, over 1,000 to 2,000 people contract the plague every year. So far, there hasn't been an effective vaccine against the disease. Modern antibiotics though, have been able to prevent further complications and even death.
Amid concerns on whether these reported cases of Bubonic plague in China can turn into a full blown pandemic like Covid-19, Bruce Y. Lee, professor of Health Policy and Management at the City University of New York, wrote, "While the outbreaks of the plague may occur every now and then, it's very unlikely that this will become an epidemic. The availability of effective treatment has been a game changer. Before the age of antibiotics, the plague was a big deal, a very big deal. But this isn't the 1300's or even the 1800's anymore. It's 2020."
---
Also read: Move over Contagion. Board and video games on virus apocalypse are the new obsession
---
Subscribe to our channels on YouTube & Telegram
Why news media is in crisis & How you can fix it
India needs free, fair, non-hyphenated and questioning journalism even more as it faces multiple crises.
But the news media is in a crisis of its own. There have been brutal layoffs and pay-cuts. The best of journalism is shrinking, yielding to crude prime-time spectacle.
ThePrint has the finest young reporters, columnists and editors working for it. Sustaining journalism of this quality needs smart and thinking people like you to pay for it. Whether you live in India or overseas, you can do it here.