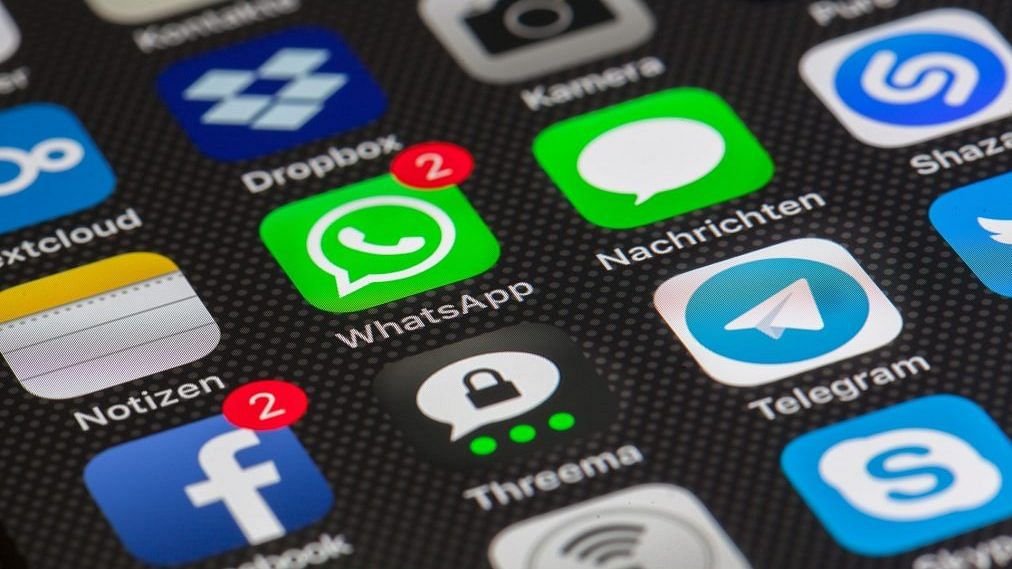 New Delhi: In the same month that Indians found out they had been snooped upon through WhatsApp, they made the instant messaging service the most downloaded app for the third month in a row.
According to data with the mobile app intelligence firm Sensor Tower, WhatsApp, with nearly 8.7 crore (87 million) downloads, was the world's most downloaded non-gaming app in November, with Indians primarily driving the numbers. 
Indians accounted for 43 per cent or 3.7 crore of the total downloads, according to Sensor Tower, with Brazilians a distant second with just (69 lakh) or 8 per cent of the total downloads. 
India's share of worldwide WhatsApp downloads has only increased month on month from 24 per cent in June to 43 per cent in November, the data states.
Minor blip during scandal but WhatsApp figures pick up again
It was on 1 November that the Pegasus scandal broke in which it was revealed that the WhatsApp numbers of prominent activists had been hacked into through the Israeli spyware Pegasus. The spyware is sold only to government agencies.  
It is the only period when WhatsApp's popularity took a hit. 
Perhaps, owing to the Pegasus hack, WhatsApp downloads in India fell by 80 per cent for a nine-day period from 26 October to 3 November, reported Business Standard, citing Sensor Tower data. The blip, however, was temporary. 
WhatsApp registered 25 per cent more downloads in November 2019 than it did in November 2018, according to Sensor Tower estimates.
And the instant messaging service continues to be the top app in the country.  
WhatsApp's ranking, indicating the app's popularity and demand in India, was number 1 as of 11 December, according to Sensor Tower. The ranking had slipped marginally to number 4 at the peak of snooping scandal between 28 and 31 October, and then again on 2 and 3 November. 
---
Also read: Facebook wary of new Data Protection Bill that asks it to give non-personal info to govt 
---
Signal, Telegram benefit but only briefly
During the same nine-day period, encrypted messaging app Signal saw a 63 per cent rise in downloads in India to reach 9,600 total downloads and a similar app, Telegram, saw a 10 per cent rise to 9,20,000 downloads in the country.
According to Sensor Tower, Signal improved its ranking by almost 213 slots, from 268 on 29 October to 55 on 7 November.  
The rise, however, was short-lived. According to the latest ranking, as of 11 December, Signal is ranked 193. 
It is a near-similar tale with Telegram. Its ranking improved 19 slots from 77 on 29 October to 58 on 7 November. According to the latest available ranking for India, Telegram is at the 61st place. 
---
Also read: Telegram, Signal, WhatsApp — what Gandhis, Kejriwal, Badals use to keep their calls private 
---
'We still use WhatsApp'
Cybersecurity expert Jiten Jain, CEO, Indian Infosec Consortium, told ThePrint that WhatsApp has become an essential app for Indians and so people are unlikely to give it up despite the risks.   
"People didn't stop using Facebook after Cambridge Analytica data breach — it has become the new normal for people to continue using such apps knowing the risks," Jain said.
Even prominent activists like Bela Bhatia and Shalini Gera, whose WhatsApp accounts were allegedly snooped upon, said they still use the messaging app despite the surveillance risks.
"Can't really help it, people are on it," Gera said.
Gera was among the 121 Indians and 1,400 users worldwide whose phones were hacked through Pegasus.
Others named in the leak such as activist Seema Azad, lawyer-activist Nihalsing Rathod, social and environmental activist Vivek Sundara, activist and former journalist Shubhranshu Choudhary, and Delhi University assistant professor Saroj Giri said they still continue to use the app.
All activists except Rathod said they have started using Signal as well. 
---
Also read: Why Kashmiris are mysteriously losing their WhatsApp accounts
---