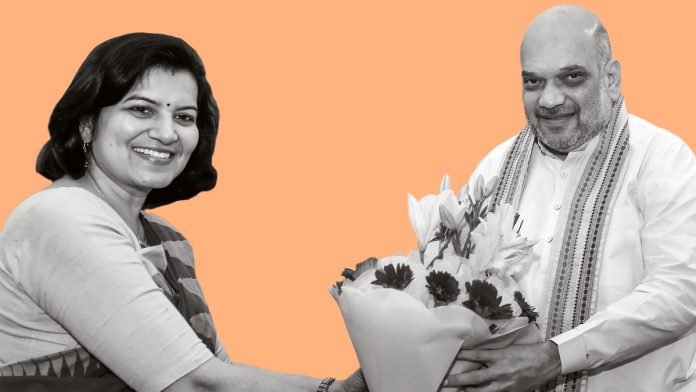 Text Size:
Senior Odisha-cadre IAS officer Aparajita Sarangi, who had sought voluntary retirement in September, joined the BJP last week. Joining the party just before the 2019 elections, Sarangi said she wants to "work for people on a very large scale".
ThePrint asks: Unethical for IAS officers to join politics ahead of polls or do they make for good netas?
---
A civil servant is supposed to be apolitical and not hobnob with politicians for party positions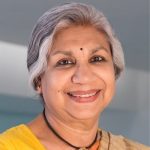 Shailaja Chandra
Former secretary, government of India and former chief secretary, Delhi
The conduct rules debar a civil servant from employment in any private organisation before the two-year mandatory cooling off period. There exists no such rule for joining politics, but that is because when these rules were formulated, it was beyond any one's imagination that civil servants would join politics.
There are many things that can attract a retired civil servant to politics — one is, of course, the glamour and visibility attached to active politics. There may well be a desire to serve the citizens of the country, but there is also the lust for power. Retired civil servants may see a much more promising future and greener pastures in politics. They can go on till they are 80 years of age in politics if circumstances favour them. Politicians today enjoy much more authority than officers. Those days are long gone when officers used to have the last word.
When a serving bureaucrat has an inkling towards a certain party, they're bound to start cultivating contacts in that particular party at least five years in advance. This is completely unacceptable. A civil servant is supposed to be apolitical, notwithstanding what we see happening today.
Hobnobbing with politicians was considered a cardinal sin at one point, but has become almost a norm today to show the networking one is capable of. This tendency must be put an end to, and a two-year year cooling off period put in place.
---
Entry of IAS and IPS officers into politics will lead to better governance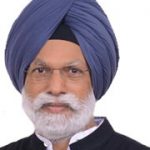 Amar Singh
Vice President, Punjab Congress and retd IAS officer
The conduct of IAS officers is regulated under the All India Services (Conduct) Rules, 1968. The said rules do say that an officer shall remain politically neutral in his or her service, but there is no restriction on participation in politics post-retirement. The Constitution and the Representation of People Act also allow anyone whose name appears in the appropriate electoral roll and is of a certain age to take part in electoral politics. Legally, therefore, there is no dilemma about IAS officers' participation in electoral politics.
Every officer who enters the civil services does so with the intent to make a positive impact on the nation. In my personal experience, politics provides a great platform for that, sometimes even better than the civil services themselves. A politician is not bound by the same rules as a civil servant nor do they have to restrict themselves to a certain area of operation. Politicians usually have territorial constituencies to look after. These constituencies do not change for long periods of time, thus helping them focus on issues of the area for much longer than an average bureaucrat is able to.
IAS officers tend to make good politicians for other reasons too, such as their knowledge of government functioning and its limitations, their ability to express public opinion in an actionable form, their ability to better monitor implementation of government works and schemes, and their financial stability.
Thus, while the entry of IAS and IPS officers into politics may raise some eyebrows, it will ultimately lead to improving the quality of politics in the country.
---
Doesn't behove a civil servant to immediately join a party after retirement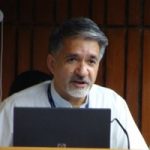 Padamvir Singh
Former IAS officer
Joining a political party after taking voluntary retirement right before elections puts a question mark on the impartiality of the concerned IAS officer. It is true that all of us have our individual political leanings; we do go and vote after all. But if you have been close to power, and then go ahead and become one of them, it's objectionable. There should be a cooling off period after retirement. Personally, I don't approve of people who leave the service and immediately join a party. I don't feel very proud of such civil servants, as their move reeks of opportunism.
It may or may not be technically correct, but it is definitely not something that behoves them. This doesn't align with the traditional spirit of civil service.
This trend is something we've been noticing for a while. Former Army Chief, V.K. Singh and former home secretary R.K. Singh joined a political party after retirement. If there is a rule stating that civil servants should not join the corporate sector, then the same logic should apply here. Imagine a former telecom minister joining the Aircel board, doesn't it sound absurd?
One of the primary reasons it isn't a very good practice is because it sends a wrong signal to the younger bureaucrats. They begin to think that it's fine to hobnob with politicians. The very idea of a neutral bureaucracy gets undermined.
---
No rule to debar civil servants from joining politics, but it is best avoided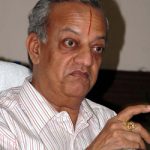 N. Gopalaswami
Former chief election commissioner
Personally, I believe there should definitely be a cooling off period before a retired civil servant joins a political party. Forget contesting elections, just the act of joining a party is something that can be avoided.
There will always be the public perception that if you have been in the government, you can exercise undue influence.
There exists a rule that prohibits retired servants from joining the corporate sector, and rightly so. A parallel cannot be drawn with retired servants joining politics because taking employment in a corporate sector is a matter of pecuniary advantage. Thus, it becomes a far more weighty issue. This may not be the case in joining a political party.
Although a retired servant may not necessarily have this kind of influence and exercise it once they enter politics, but for all practical purposes, it becomes a matter of public perception about them. This is avoidable, but given how it isn't a matter of pecuniary advantage, there isn't a written rule debarring retired servants from entering politics. Nonetheless, it is avoidable and must be given thought to by the civil servants.
---
Idea of applying different yardstick to a free citizen is abominable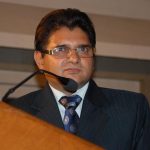 Sanjay Dixit
Additional chief secretary, Rajasthan
The question in itself is disingenuous. The term ethics was used by the Church to control the laity. Democracy is about individual rights, and politics is its expression. The theories of individual rights grew out of Protestant revolt against the Catholic Church and a call to go back to the Bible. The mechanistic theories, including the one by Newton, seemed to support this construct, in which parts made up the whole.
It is, therefore, a theoretical nightmare when questions of ethics are bandied about to throttle individual rights. India chose a Constitution where rights are fundamental, but duties have a subordinate status of just being legal. I should mention that this is a fundamental departure from the Indian philosophy in which discharge of one's debt to various institutions was the fundamental principle of liberation, and individual freedom was a means to achieve that objective.
Viewed from this perspective, why should the individual rights of IAS officers be at a different pedestal compared to normal citizens? Retirement automatically frees an officer from the legal obligations of service rules. The idea of applying different yardstick to a free citizen is abominable in the extreme.
There is a tendency to treat public servants as a set of privileged people who need to be shown their place. There may be many other ways of making them true servants of the public, but denying them their rights as free citizens is not one of them.
---
No harm in bureaucrats joining politics, it's the immediacy which becomes problematic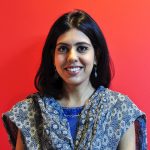 Sanya Dhingra
Principal correspondent 
Politics in a democracy is no one group's birthright. In a country where dynasties still dominate the political landscape, popular persons from an array of fields should explore politics.
But certain professions are trickier than others — bureaucracy, judiciary, journalism being some of them. As a civil servant in a position of authority, one is obviously in a position to take important decisions that can have a direct impact on elections and election campaigns. Should civil servants then be allowed to quit the services and immediately join politics? Certainly, there is no harm in former bureaucrats donning political hats after retirement. It is the immediacy which becomes problematic. For any retired bureaucrat who wishes to take up a corporate job after government service, there is a cooling off period. Surely, nothing stops the government from introducing it for politics as well, other than, as some believe, vested political interest.
---
By Fatima Khan, journalist at ThePrint. You can follow her on twitter @khanthefatima.
Check out My543, our comprehensive report card of all Lok Sabha MPs.