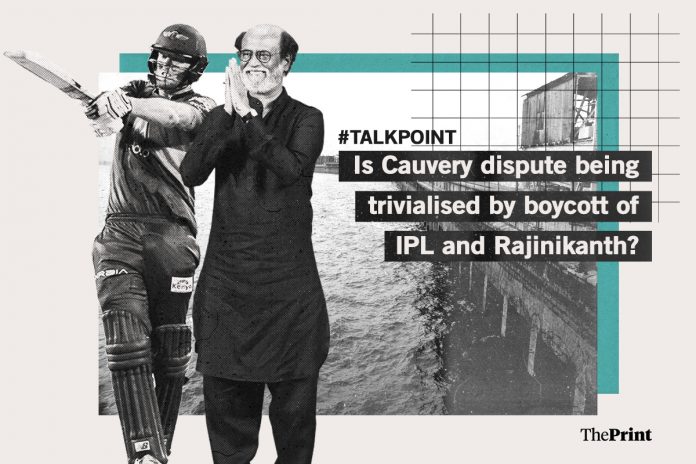 Text Size:
From banning IPL matches in Chennai to banning Rajinikanth's upcoming movie Kaala in Karnataka, protests over Cauvery water dispute are once again trying to draw people's attention to a decades-old problem.
ThePrint asks: Is Cauvery dispute being trivialised by boycott of IPL and Rajinikanth?
---
Those calling for bandh are encouraging hatred, polarising society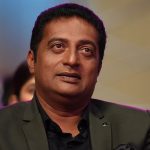 Prakash Raj
Actor
People should understand that such protests over Cauvery only disturb the common man. It is like hitting yourself. No solution can be arrived at with these boycott protests. Solution can be reached at when the two governments sit across the table with specialists and work together.
Nobody seems to understand what the Cauvery issue is about and it is being used as a means to instigate by a few who want to politicise it.
Let me ask you, where does language come in or where does cinema come in? It will only make people jobless.
Rajinikanth has a right to make a statement. What will you achieve by protesting? As an actor, Rajinikanth is worth his salary. Several lives are dependent on a movie, from the investors to the technicians to the boys who put up posters.
Such protests are nothing but a form of blackmail. You are hurting people who are nowhere concerned with your issue. You can show your dissatisfaction on an individual's take on the issue, but you will strike and stop public transport, shut down theatres.
Now take the case of an IPL match, I do agree that you should celebrate. But with protests against movies and the IPL, what have you managed to stop? You have hurt more people. Those who have called for a bandh are encouraging hatred and somebody's car will be burnt. You are polarising people. You are creating a flashpoint at this rate.
---
No business of Rajinikanth or Kamal Haasan to talk on Cauvery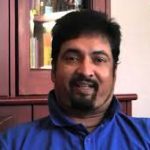 Vedam Jaishankar
Sports Commentator
It was highly immature to kick up a shindy on IPL. And, who are the people doing this? They are movie stars. If they were so worried about the Cauvery issue and were so disturbed by it, they should have banned movies for two months instead of banning IPL in Chennai.
Cricket has become a soft target. IPL does not run on Cauvery water. Movie stars like Rajinikanth prevented IPL in Tamil Nadu. It is not the business of Rajinikanth or Kamal Haasan to talk on the Cauvery issue. They don't know the issues, and if they are going to make Cauvery an emotive subject, then Karnataka is perfectly legitimate in raising its voice and stopping the movie's release.
IPL has never had a problem in Bengaluru because it is well-organised. We have our own sewage treatment plant, which generates 2.1 lakh litre water per day. Of this, 60,000 litre is used and the rest is given back to the state.
Film stars have now decided that they want to do something about the Cauvery issue. It has all become a joke.
People go to IPL to have a good time, watch a good match and then go home. Professional troublemakers should not be encouraged.
---
It would be great if filmmakers made a movie on Cauvery issue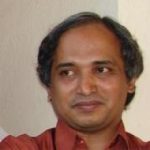 Prof T. V. Ramachandra
Centre for Ecological Studies, IISC
The Cauvery issue is one of mismanagement of the river basin, and people are not addressing that.
Cauvery is losing its ability to retain water. Because of deforestation, only 17 per cent of the Cauvery basin is under forest area today. The area is being converted into agricultural lands for rubber and sugarcane plantations. When the catchment loses its vegetation cover, it cannot retain water even when you have good rains.
The second problem is the inappropriate growth of crops in Tamil Nadu and Karnataka. Both states sow crops, which require large amounts of water. Earlier, people used to grow millets, a low-water intensity crop, in the Cauvery catchment area. To grow pulses, you need 200 litre of water per kg, for paddy, you need nearly 5,000 litre, and for sugarcane, it is 10,000 litre.
Coming to the mismanagement part, Tamil Nadu has several lakes but these have never been de-silted. This is a major reason for degrading of catchment areas around lakes and water scarcity. That is why the government of India has recommended that the issue be addressed through water-shed treatment.
People who do not understand the complete picture are complicating the issue. We need to have a board on the lines of the US and Canada. These boards have no interference from courts or politicians, and what technocrats say is the final word.
The Cauvery issue must be resolved sensibly by the respective governments and one must not give any importance to fringe elements.
Filmmakers don't have any genuine concerns regarding Cauvery. Rather, it would be great if they made a movie educating people on the Cauvery issue. Without giving a solution, they have no right to criticise. They are not young people, they are seniors and they should not indulge in emotional talks. We should stop allowing such business gimmicks.
---
Rajinikanth mustn't use Cauvery as an issue to launch his party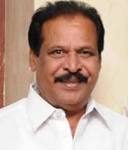 Sa Ra Govindu
President, Karnataka Film Chambers of Commerce
The pro-Kannada organisation has put pressure on us to join the protest and not allow the screening of 'Kaala' in Karnataka. We are getting support from several quarters on this. When the Cauvery protests took place in 2016, Kannada movies playing in Tamil Nadu theatres were immediately stopped. Why did you not raise this question then?
Rajinikanth keeps saying that the Cauvery board has to be established and to that effect bandhs were called seven times in Tamil Nadu. We ran into severe losses then. This bandh call was given by Rajinikanth himself because he wanted to pressure the Supreme Court and the central government. So when he does things like that, can Kannadigas sit quietly? Let Rajinikanth indulge in politics, we don't care. If he wants to float a party, let him do so, but don't use Cauvery as an issue to launch your party.
Both states should debate and settle the issue, but not like this. The industry has suffered huge losses. But, the Cauvery water issue is most important – it is about drinking water – and we must support any decision that helps us in this issue.
All that Rajinikanth has to say is: if there is water in the Cauvery basin, please give us, and if not, let's see what can be done. Look at what actor Simbu said: if there is no water, how can they (Karnataka) give us?
We are very proud of Rajinikanth, but in this particular issue, he is using Cauvery as his political platform.
---
Cinema is a soft target for fringe groups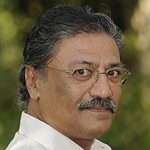 K. Hariharan
Film director
There is no doubt that several fringe groups are trying to get onto the bandwagon by supporting the Cauvery issue. I don't think they have a clue of what the issue is about. Cinema definitely is a great soft target and is easily susceptible to such boycotts. On the other hand, IPL is a massive monolith. IPL organisers can shift venues overnight. Is it possible for cinema to shift venues like that? We don't have that kind of money power.
Rajinikanth's producers or Bhansali's producers don't have the money power. These fringe groups use the media during this time and get publicity and that is enough for them. Now let me ask you what happened to the Karni Sena after 'Padmavati' release? Their job was done by creating a ruckus. If this Karni Sena had to become a political power with a publicity campaign in the media, it would have gone bankrupt by now.
Banning a movie in the industry is the easiest thing to get attention. The media is equally susceptible and plays into the hands of fringe groups. If the media says they will not publish this act of a fringe group, the latter will not get any publicity. Media does not care to inform people if it is fair or realistic to ban a film to get a dispute solved.
The simple fact is that two-thirds of Cauvery is in Tamil Nadu and one-third in Karnataka. The court is trying to ensure that there is a rational adjustment of water. If Karnataka takes most of the water, then Tamil Nadu gets to make it a national issue. By banning a movie, this will not get resolved. We should not fall prey to such goons.
---
Rajinikanth must stop accommodating futile politicking of Kannada outfits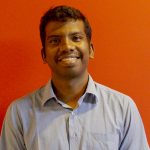 Aananth Daksnamurthy
Business analyst, ThePrint
There is a clear distinction between the two incidents, in the first place. When the Tamil Nadu youth demanded a ban on IPL, it was orchestrated to bring the attention of media and the entire country to the Centre's lethargy in coming up with a scheme to implement the Supreme Court's Cauvery judgment.
Now that the issue has been put to rest with the Centre presenting the scheme to Supreme Court, this recent drama of Karnataka Film Chamber of Commerce (KFCC) banning the upcoming film of the superstar is silly. When the whole Tamil film fraternity has raised their voice on Cauvery issue, why only target the Thalaivar? This is clearly a personal attack on Rajinikanth over his comments demanding the implementation of the apex court's judgment.
It is a well-known routine. First, the KFCC bans the Tamil film and then allows screening after some visible rapprochement — a public apology was sought in 2008 during the release of Rajini's film 'Kuselan' for his comments on the the Hogenakkal row. For 'Baahubali 2' in 2017, the supporting actor Sathyaraj (who played Katappa) had to apologise for his previous statements on Cauvery before they allowed screening. This has become predictable ritual of pledging loyalty to the state and people of Karnataka.
In fact, other Tamil actors and the outspoken Kamal Haasan are spared from all this. Rajinikanth is an easy target and will continue to be unless he stops accommodating these futile politicking of Kannada outfits.
By associating with the Cauvery issue, Kannadigas confronting Rajinikanth for other self-driven motives are also trivialising the issue.
---
Compiled by Rohini Swamy, associate editor at ThePrint.
Read Global Pulse for a sampler of the big international stories, and why they matter.