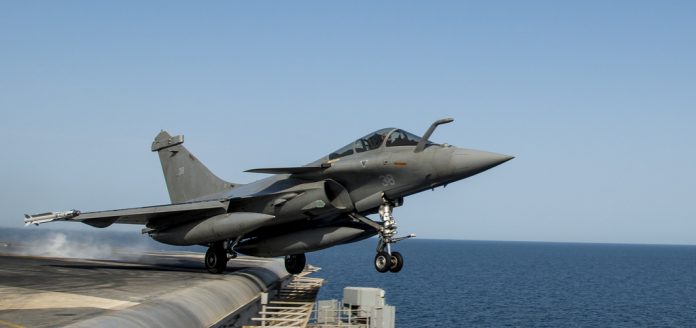 Text Size:
The recent muckraking over the Rafale fighter jet deal has seen shots being exchanged between the Congress and the BJP over alleged overpricing and crony capitalism. The deal has a complicated history, starting from a selection by the UPA and a signing by the NDA in 2016. As the debate heats up, we ask: 
Is political debate on defence deals like the Rafale fighter jet necessary for accountability?
In a parliamentary democracy, transparency and accountability of the government and its institutions is certainly a must. However, the moot question remains as to how much information is too much and how little is too little.
During the past week, the 36 Rafale aircraft deal signed by the government during 2016 has been in the limelight. The opposition has wasted no opportunity to question the bonafides of the contract, primarily in terms of pricing. It has been alleged that the pricing has been much higher than what was negotiated by the UPA government.
It would be useful for the government to place the facts in the public domain to avoid such controversies. The point to note is that on occasion, the contractual obligations between the governments of France and India have disclosure restrictions. This is to avoid the Original Equipment Manufacturer (OEM) being at a disadvantage for other commercial negotiations. As a consequence, all the figures that are being brandished may not be factual or authenticated.
Allegations based on half-baked information in the realm of defence procurements are detrimental to national security. The Case of Bofors guns is a classic example. For 23 years, the Indian Army did not get any replacement for artillery guns due to an alleged scam. No wrongdoing has been proven till date.
Political debates are necessary in our democracy, but they must be tempered with political maturity. Allegations without confirmed facts must be avoided. It is necessary to avoid raising issues purely to gain political advantage and score brownie points. The repercussions could be drastic.
The military is the finest institution in our country. They must be given the requisite capability and in time to protect our sovereignty and independence. It would indeed be immature for our political leadership to treat the crucial subject of defence procurements in a casual manner.
In all high-ticket defence deals, it may be prudent for the government to brief a compressed Parliamentary Committee for Defence, regarding the nuances of the contract. This would meet the requirements of transparency and avoid apprehensions and spread of misinformation, whilst simultaneously ensuring the requisite secrecy.
PS Ahluwalia, Air Marshal (Retd), is Former Chief of Western Air Command.
Get the PrintEssential to make sense of the day's key developments