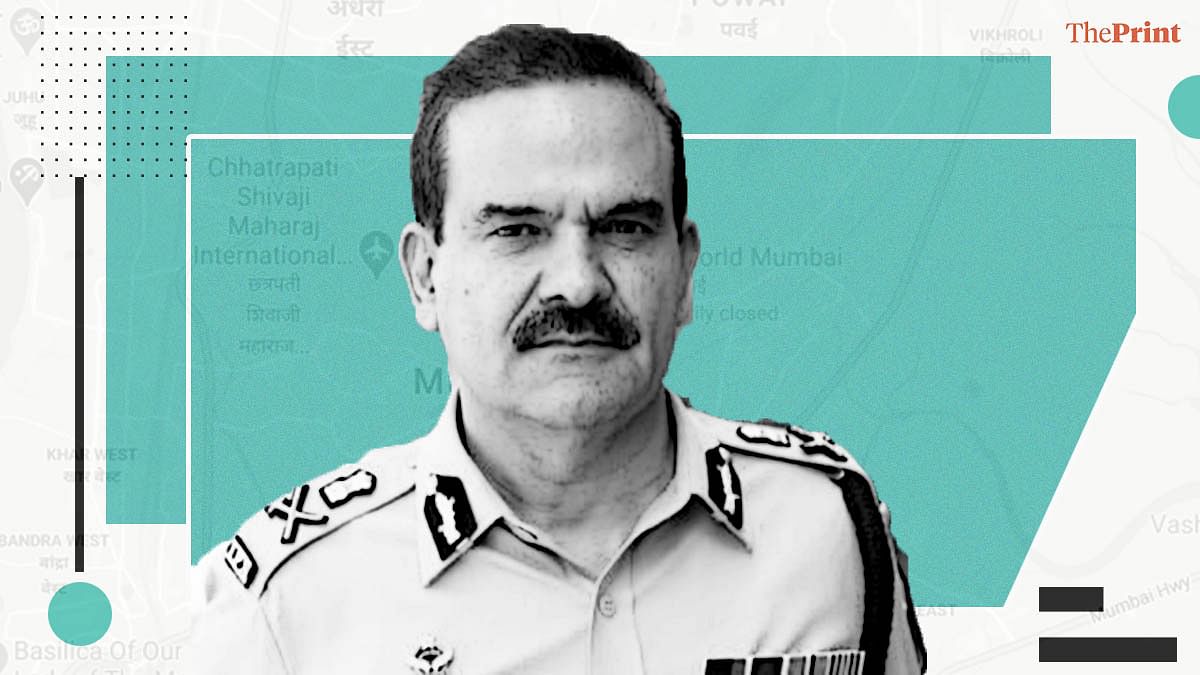 Mumbai: Last week, when Mumbai Police declared that Mumbaikars couldn't travel beyond 2 km of their homes unless for essential work, the Nationalist Congress Party (NCP) is believed to have felt snubbed.
The home portfolio is with the NCP and the minister in charge, Anil Deshmukh, was allegedly caught unawares by the circular, issued at the behest of Chief Minister and Shiv Sena chief Uddhav Thackeray. The rule was eventually scrapped. 
A few days later, it was the Shiv Sena's turn to feel snubbed when Mumbai Police internally transferred 10 deputy commissioners of police (DCPs). While the NCP's Deshmukh is believed to have been in the know, the order caught Thackeray by surprise. Within 72 hours, the transfers were reversed.
Both these incidents caused a stir as they exposed a lack of coordination between the parties that form the Maha Vikas Aghadi (MVA) government in Maharashtra, and raised questions on the authority of the city's top cop — Mumbai Police Commissioner Param Bir Singh.
But being under the spotlight is nothing new for the 1988-batch IPS officer, one of the last from the 1990s 'encounter specialists' era who is still in service — be it the ill-timed 2018 press conference in connection with the Elgar Parishad probe, or the questions raised by the controversial 2019 "clean chit" to Deputy Chief Minister Ajit Pawar in the high-profile irrigation scam that dates back to the Congress-NCP government's tenure from 1999-2014.
However, he is also a celebrated officer who is known to be fearless in the line of duty and compassionate with his subordinates.
Speaking to ThePrint, colleagues and juniors made light of the latest controversy surrounding Singh. While there is always some level of political interference in the functioning of police, they said, Singh never lets his force feel the heat of it.
"There are some sensitive cases. But officers working with him never feel the pressure of any of it," said an IPS officer who has worked with Singh in Thane and Mumbai. "We have a free hand in what we do and he always has our back."
---
Also Read: Why the police class of 1983 was feared by Mumbai's underworld
---
Fighting the underworld 
In his first press conference after taking over as Mumbai police chief on 1 March 2020, Singh harked back to the "blood-soaked gang wars" that the city "once witnessed" as he vowed to "try to finish what remains of the underworld".
Singh has not only been a first-hand witness to these "blood-soaked gang wars", but also played a role in wiping them out. 
The IPS officer was a deputy commissioner of police (DCP) in Mumbai in the 1990s, when the so-called underworld was the most active in the city, led by the likes of Dawood Ibrahim Kaskar, Arun Gawli and Rajendra Nikhalje alias Chhota Rajan. 
In his capacity as DCP, Singh led one of the two special squads of police sharpshooters formed to act against the gangsters. Encounter specialists such as Vijay Salaskar, who died in the 2008 terror attack, and Praful Bhosale, worked directly under Singh. 
In his book Khallaas, which detailed the underworld, the late celebrated journalist J. Dey talked about Singh's role in tackling the gang led by gangster-turned-politician Gawli. 
Referring to Singh's posting as DCP of the jurisdiction overseeing the Dagdi chawl, a fortress-like structure from where Gawli operated, Dey wrote, "For the moment, the tension was palpable and the walls creaked just a wee bit. Trigger-happy Deputy Commissioner of Police Param Bir Singh couldn't wait for his big break. He had just been transferred to Mumbai after a stint in the Naxalite-hit Bhandara district in eastern Maharashtra."
"I want details of every person visiting Dagdi chawl… I want special teams to carry out search operations within the chawl. Try to get every piece of information on Gawli's associates," Dey quoted Singh as having directed his subordinates at the time. Gawli is currently in jail for murder but received a 28-day furlough from the Bombay High Court Tuesday. 
Singh formed a similar squad to crack down on the gang led by Rajan, another notorious gangster who has been in jail in India since 2015, when he was arrested in Indonesia after two decades of being on the run. 
"Our team under Salaskar had carried out a major encounter on members of the Gawli gang in 1997 under Singh's leadership," one of Singh's subordinates from that time said. "He had given us a free rein, and, unlike with some other officers, we were sure he would never turn his back on us if anything went wrong."
In 2017, when Singh was Thane police chief, the local crime branch arrested Iqbal Kaskar, Dawood Ibrahim's brother, for allegedly threatening a city-based builder and extorting money. 
It was during this stint that he posted Pradeep Sharma — one of the 1990s sharpshooters who had just been reinstated after two suspensions, including one for alleged underworld links — as head of Thane's anti-extortion cell. 
"Then commissioner of police, Thane, Param Bir Singh, personally spoke to the DGP and requested that Sharma be posted under him. He agreed to accept full responsibility in case Sharma stirred up any controversies," journalist and author S. Hussain Zaidi wrote in his book The Class of 83: The Punishers of Mumbai Police, a chronicle of the city's encounter specialists.
"If there is one officer Sharma holds in high regard in the entire police force, it is Param Bir Singh."
ThePrint reached Singh through calls and texts for comments for this profile, but he didn't respond.
---
Also Read: 25 years on, 1993 Mumbai blasts fading from public memory
---
Tough on criminals, supportive with colleagues 
Born on 20 June 1962 in Chandigarh, Singh topped the Panjab University MA Sociology batch that graduated in 1983. The fitness enthusiast's extra-curricular achievements include a stint as captain of the Maharashtra IPS cricket team. 
Over a career spanning 32 years, Singh has served many prominent roles, including Thane police commissioner and chief of the state's Anti-Corruption Bureau (ACB). He is scheduled to retire in 2022.
As a police officer, Singh has built a reputation of being accessible to those under him, right down to the constabulary, besides an able administrator. 
"I had to never think twice about calling my commissioner of police (CP). If he is busy, the moment he gets free, he calls back. Not all officers are open like him," said a DCP who worked with Singh in Thane. 
"He guides us a lot in handling law-and-order situations and has a very pragmatic approach. Under his leadership, we brought the chain-snatching menace under control as he would look up the criminal history of offenders and apply sections of the MCOCA (Maharashtra Control of Organised Crime Act)," the officer added. 
Arun Jadhav, a head constable at the Mumbai crime branch, said they "get a certain josh (excitement) from our CP". "He meets all staff members, speaks to constables directly," he added.
His handling of his staff during the Covid crisis has been especially inspiring for the constabulary, Jadhav said. 
Mumbai Police personnel are among the front-line workers worst-affected by the pandemic, with more than 2,200 having tested positive for Covid-19. 
"Sir visited the police quarters in Colaba, told us about the hygiene measures we should follow, spoke to our families," he added. "He also personally came for naka-bandi (lockdown) in certain areas. That gave us all a lot of hope," he said.
---
Also Read: After chor-police for 36 years, Mumbai's 'Dirty Harry' set to begin political innings now
---
Controversies
As illustrious as Singh's career has been so far, it is also dotted with controversies. 
One of the most talked-about controversies involving Singh centres on statements he made at an August 2018 press conference with regard to suspects in the Elgar Parishad case. He was additional director general of police (law and order) at the time, and Maharashtra Police was under fire for the arrest of activists and lawyers in connection with the investigation.
At the press conference, Singh read out several letters, allegedly recovered from the accused, to claim they had been in regular touch with Maoists. 
"There are thousands of such documents. We are investigating them…We have explained how these cadres were in touch with the underground movement, brainwashing people, recruiting students from TISS and JNU for insurgency work," Singh told the media. 
The Bombay High Court had subsequently pulled up the force for holding the press conference when the matter was subjudice.
In December last year, the anti-corruption bureau (ACB), under Singh at the time, filed an affidavit before the Nagpur bench of the Bombay High Court giving a clean chit to Deputy Chief Minister Ajit Pawar in connection with the multi-crore irrigation scam. 
This affidavit marked a complete U-turn from the one that the ACB had filed in November 2018, under Singh's predecessor Sanjay Barve, who had stopped the buck at Pawar. 
When Singh was chosen for the Mumbai Police top job, there was much speculation that the NCP, which has the home portfolio, had favoured him. 
In 2008, as additional commissioner of the Anti-Terrorism Squad, Singh had supervised the arrest of Malegaon bomb blast accused Pragya Singh Thakur, who has since alleged torture at the hands of some officers, including Singh. 
The same year, Singh clashed with former Mumbai Police chief Hasan Gafoor in the aftermath of the 26/11 attack. In an interview to The Week magazine, Gafoor named four officers, including Singh, as having dithered in responding to the situation during the terror attack. Singh's father, Hoshiar Singh, a former civil servant, filed a defamation case against Gafoor for his remarks. Gafoor passed away in 2012.
However, head constable Jadhav, who was in the same car as Salaskar and top IPS officers Hemant Karkare and Ashok Kamte the night Ajmal Kasab killed them, only remembers one thing about Singh from that night. Jadhav had sustained bullet injuries in the attack that killed Karkare, Salaskar and Kamte.
"He was the one to pull me out of the police vehicle parked at Vidhan Bhavan," Jadhav said. "I can never forget that."
---
Also Read: After Babri riots, many women sent bangles to Dawood Ibrahim: Rakesh Maria
---