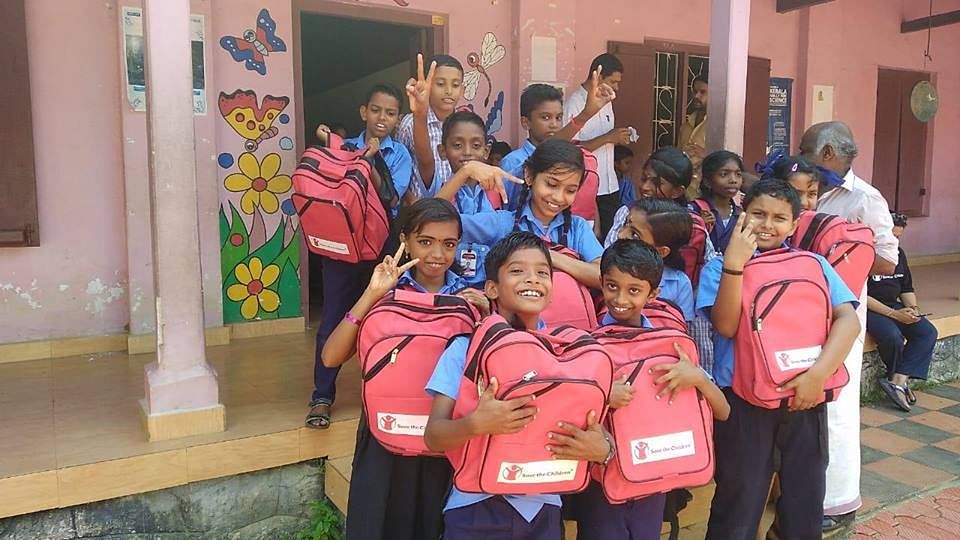 Alappuzha sub-collector Krishna Teja's Facebook page 'I am for Alleppey' is helping rehabilitate those affected in the flood-battered state. 
Bengaluru: In August, when severe floods ravaged Kerala, killing 433 people and causing damage worth Rs 40,000 crore, the relief and rescue efforts, particularly by the local fishermen, were hailed by everyone.
One of the earliest, and biggest, rescue missions — "Operation Kuttanad" — was led by state Finance Minister Thomas Isaac and Alappuzha sub-collector Krishna Teja Mylavarapu. The alertness and quick response shown by this officer and his team in evacuating and moving people to safer zones saved the lives of nearly 2 lakh people in the Kuttanad area of Alleppey, which was the worst affected by the flood.
After the rescue operations, the young, dynamic IAS officer shifted focus to rehabilitation and launched "I am for Alleppey (IAFA)" on Facebook, the first crowd funding-based social media initiative that has been successfully helping locals rebuild their lives.
The campaign team is close to building nearly 500 homes and provided for infrastructure for schools and hospitals, largely in the Kuttanad area. Businessmen and celebrities have come forward to help and donate, giving people cattle and ensuring safe potable water.
On 24 December, the initiative marked 100 days of its launch.
Power of social media
During the rescue operations, Teja realised how crucial social media could be when several images and messages were circulated on it. He decided to use Facebook to seek help.
"During a crisis, the focus of the people and government is usually concentrated on rescue. But after one tides over the crisis, the focus is lessened during rehabilitation (sic). That is when I realised that it is important to concentrate on rehabilitation," Teja told The Print, explaining the rationale behind the initiative.
"I thought we would bring some campaign which gives some momentum for the work we have done. That is why I launched 'I am for Alleppey'. This initiative works in tandem with government programmes and adds value to efforts put (in) by all of us," he said.
When the page was shared among Teja's friends the day it was launched — on 14 September — within six hours, a woman from Kerala, who was living in Andhra Pradesh, agreed to adopt a primary health centre in Kuttanad. "This was our first success story," said Teja.
Teja's Facebook page has built up an impressive following since then, and has been liked by more than 96,000 people.
---
Also read: Signs in Braille & a 50-m ramp: Welcome to Alleppey, India's first disabled-friendly beach
---
8 areas of focus
"I am for Alleppey" has been conducting several rehabilitation programmes:
Donate a cow:
Officials found during a survey that despite extensive rescue operations, nearly 500 animals were lost. This was a severe setback for the 133 families in Kuttanad who were completely dependent on livestock for their livelihood. This initiative helped generate interest among those who wanted to donate a cow to the dairy farm owners.
The process is simple. IAFA volunteers identify healthy cows in the district or nearby areas. When a donor approaches them through the Facebook page, a price lower than the market rate is quoted. Once the price is fixed, the cow is handed over to a beneficiary identified by the IAFA team. This way the dairy farmer benefits directly.
"We ensure that it is a healthy and insured cow, preferably one that is pregnant so that it would not stress the farmer," says Teja. "Every cow is screened and insured for a year. There are already 120 people who are ready to donate cows and we have already donated 66 cows."
He emphasises that the IAFA ensures it sources the cattle from Kerala and not from neighbouring states such as Tamil Nadu, so that that revenue generated remains within the state.
Bringing back students
Kuttanad faced two successive floods and schoolchildren lost out on three months of their academic year. Attendance fell and classrooms were empty. The IAFA provided notebooks, schoolbags and water bottles for children as incentives to go to school.
The move worked. By 14 November, three months after the floods, 40,000 students were back in government schools in Alleppey.
In Kuttanad, the anganwadis also grappled with another problem after the deluge — that of drinking water contamination. The IAFA came to the rescue, fitting water filters free of cost to ensure clean drinking water.
Infrastructure
The team from the blockbustre film Baahubali was the first to promise to build five houses in the area. Later, many others stepped in. By the end of January, the team expects 500 houses to be built.
Telugu cine star Allu Arjun adopted 10 anganwadis while organisations such as the Ramakrishna Mission, Save the Children and Andhra Pradesh Unaided Schools Management Association provided for schoolbooks and other basic facilities. Of 99 anganwadis, 50 have been adopted till date.
---
Also read: Kerala floods: This is what Kochi has to do to avoid drowning again
---
Widows' rehab
Stressing on dignity for widows, the IAFA refers to their families as women-headed ones. It believes these families require extra help as it is even more difficult for them to rebuild their lives. About 6,000 such families have befitted and received kitchen and other household articles, campaign workers say.
Senior citizens
The IAFA has organised medical camps and provided two months' free medicine, food and protein supplements to benefit nearly 4,000 elderly people in the area.
Help for specially-abled
Several specially-abled persons lost equipment such as hearing or visual aids during the floods. IAFA volunteers visited the houses of such people and gathered a list of their requirements. After registering with the local primary health centres, nearly 6,000 people were provided equipment free of cost.
Green cover
The worst-hit roads in Alleppey were mapped and identified to assess the extent of damage to trees. After a detailed study, 400 saplings were planted to help rebuild the green cover.
Fishermen
The IAFA provided free nets to the local fishermen.
'Very thankful'  
Rameshan, a cattle farmer from lower Kuttanad's Kainakari panchayat, lost most of his livestock. He is a beneficiary of the "Donate a Cow" campaign.
"I am happy that I can sell this milk and feed my family. I don't understand what this internet and Facebook is. But I know that through Krishna Teja sir, I have been given a cow sponsored by a Good Samaritan. We are very thankful," he said.
Shiny V, headmistress of the KK Kumarapilla Smaraka Government High school in Karumady, Alleppey district, recalls how badly affected her school was.
"We wanted to encourage children to come back to school and instill reading habit in them. There was no space to keep such books and (I) requested for almirahs. I met sub-collector Krishna Teja sir who at that time asked me the condition of our computer lab…. it was in bad shape…" says Shiny V.
"In less than an hour, he (Teja) said he will provide us funds worth Rs 2 lakh. With that money we bought four laptops, 11 chairs, two printers and furnishings for the computer room. We are indebted to our sponsor AP Unaided Schools Association who provided us infrastructure for our school," she adds.
C.S. Balachandra, founder of Abhaya Foundation, is among the organisations helping with construction of houses.
"Instead of distributing only relief material, we wanted to involve ourselves in a more constructive way. After consulting with three sets of engineering experts from Andhra Pradesh, Telangana and Kerala, we found a 'flood-resistant construction module' which costs close to Rs 6 lakh per unit. On an experimental basis, we are building five homes in the Thirumala and Nehru Trophy wards," he said.
The efforts by Teja and his team have received positive feedback on social media, and have been appreciated by both the state and the central governments.
"I am for Allepey is an endeavour in addition to the rehabilitation programmes by the Kerala government. We are only additionally facilitating to help maximum impact in our small way… I only hope that in times of need or calamity, people get together and help one another, during and after," says the IAS officer.