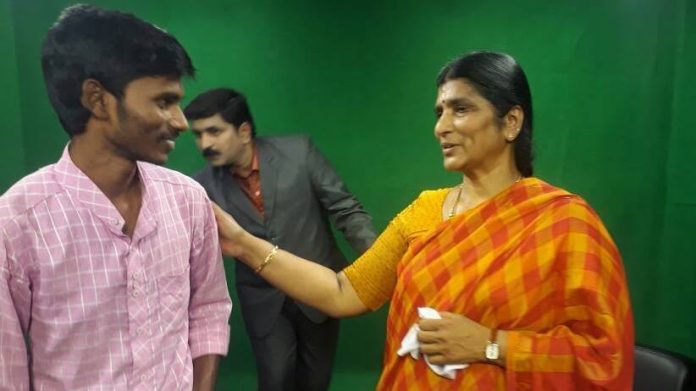 Text Size:
Lakshmi Parvathi, wife of TDP founder N.T. Rama Rao and bitter Naidu critic, says what hurts the most is Andhra CM's alliance with the Gandhi family.
Hyderabad: Lakshmi Parvathi, 64, wants her late husband, N.T. Rama Rao, the thespian who founded the Telugu Desam Party (TDP) in 1982, to "come back to earth in whatever form".
"There is a need to cleanse the TDP," she has written in a letter placed at Rama Rao's samadhi (burial-memorial) in Hyderabad. "Come back to earth in whatever form you want and revive the party that has been divorced of all morals and principles under the leadership of Chandrababu Naidu."
The trigger for her fervent plea — the TDP under Chandrababu Naidu, the Andhra Pradesh Chief Minister who is Rama Rao's son-in-law, allying with the Congress, as part of the Praja Kutami (earlier Mahakutami) in Telangana.
Rama Rao, or NTR as he is popularly known, had launched the TDP to counter the Congress' hegemony in the then united Andhra Pradesh. Parvathi, NTR's second wife, says Naidu's recent decision is a betrayal of those founding principles.
"What hurts me more is that Chandrababu Naidu uses my husband's photograph right next to Sonia and Rahul Gandhi. The very Gandhi family that my husband fought all his life," Parvathi told ThePrint. "He has deceived TDP and NTR's dreams."
Parvathi has been a vocal critic of Naidu since 1995 when the Andhra Pradesh Chief Minister pulled off a coup by taking control of the party following a bitter internal struggle with NTR.
Now, she says, Naidu allying with the Congress will bring about the end of his career. "Naidu has sounded his political death knell," said Parvathi who initially floated the NTR-Telugu Desam Party but joined the YSR Congress in 2014.
---
Also read: Congress joined hands with TDP in Telangana after online feedback from workers, voters
---
A controversial marriage and the events of 1995
When Parvathi married NTR in 1992, the union created quite the stir in the united Andhra Pradesh. For one, there was a 33-year age gap between them — NTR was 71 when he married the then 38-year-old Parvathi, who was a divorcee with a teenage son from her first marriage to folk singer V. Subba Rao.
The marriage was compared to the much-talked-about relationship between former Tamil Nadu chief ministers M.G. Ramachandran or MGR and J. Jayalalithaa.
The two had met while Parvathi, a writer, was working on a biography of the former Andhra CM. Parvathi said that she had grown up idolising NTR after watching him in the Telugu movie Gulebakavali Katha when she was eight years old.
The relationship caused shock and anger in Andhra Pradesh, with many TDP leaders then telling NTR to keep it under wraps as they believed it could end up hurting the party's image.
NTR ignored the advice, announcing the marriage publicly but the relationship heralded the end of NTR's political career — Naidu used it to take control of the party in 1995. NTR died in 1996.
Following his death, Parvathi did try her hand at politics but her NTR-TDP failed to take off.
"Soon after NTR passing away, he (Naidu) took away the symbol of the party. With the symbol gone, I could not create an impact and lost the elections in 1996," she told ThePrint. "I have no money to fund elections, while Naidu has power, the backing of his community (the Kammas), the media and most importantly, the NTR symbol that he is cashing in on every single day."
Since losing out, Parvathi has made it her mission to oppose Naidu.
"It's been a lonely fight, but isn't my struggle to stand against his ill-gotten power reflective of my strength?" Parvathi said.
---
Also read: For KCR, Telangana agitation is still on, and Chandrababu Naidu is arch enemy
---
Double standards, says TDP
The TDP brushed away Parvathi's allegations, stating that her only identity was that she was married to NTR.
"She had political aspirations and that is why she got close to NTR gaaru. Fortunately or unfortunately they married. But that was it," said TDP spokesperson Dinakar Lanka.
"Soon after NTR died, the party cadre realised that she was arrogant and power hungry. That is why they took a conscious decision to hand over the party to our dynamic leader, Chandrababu Naidu, who has taken the TDP to great heights."
He also accused Parvathi of adopting double standards in her opposition to the TDP allying with the Congress.
"Neither YSR Congress chief Jaganmohan Reddy nor his father YSR Reddy supported NTR," Lanka said. "So isn't her aligning with the YSR Congress also a way of deceiving NTR's dreams."
Noted political analyst K. Nageshwar Rao too believes that Parvathi has no independent political identity and will not have much impact today.
"She is like the Janaki Ramachandran (MGR's wife) of Andhra Pradesh. But at least for Janaki better sense prevailed and she withdrew from politics when she realised she couldn't make a mark," Rao said.
"But Parvathi has been persistent only because of her personal animosity with Chandrababu Naidu. She has no major political ambitions but aligning with Naidu's principal opponent, the YSR Congress, only indicates that she is on a political mission to settle scores and inflict damage on Naidu's political career."
Get the PrintEssential to make sense of the day's key developments