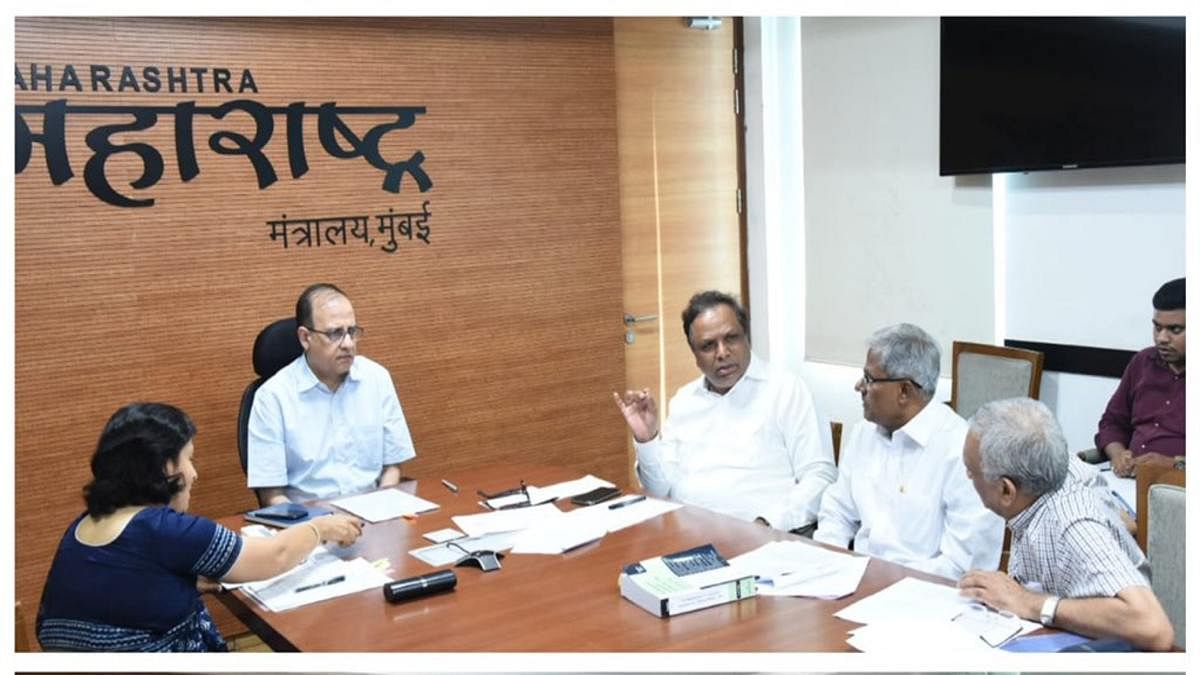 Mumbai: Maharashtra chief secretary Ajoy Mehta, an IAS officer of the 1984 batch whose term expired Tuesday, has emerged as a thorn in the Uddhav Thackeray-led Maha Vikas Aghadi (MVA) government. 
While Thackeray is known to rely on him heavily, alliance partner Congress has questioned his influence on a number of occasions.
However, such is Thackeray's dependence on Mehta that the CM has found a way to retain the civil servant in his team by creating a special post for him — principal adviser to the CM, much like what former cabinet secretary P.K. Sinha is to Prime Minister Narendra Modi. 
This follows two extensions for Mehta as chief secretary, one under Thackeray's BJP predecessor Devendra Fadnavis, and another one this March, as the state's battle with coronavirus began.
Mehta is a celebrated IAS officer, with Shiv Sena minister Anil Parab telling ThePrint that he has played an especially important role in tackling the Covid crisis in Maharashtra. While the Congress' reservations about Mehta are not exactly a secret in the state, the IAS officer is unfazed. When asked about their "displeasure" in an interview with The Indian Express last week, he said he believed in speaking his mind "fairly and frankly". 
"In that process, there may be some people who do not like it. That's something I can't help," he added.  
---
Also Read: On Covid fight frontline, at least 30 IAS and IPS officers have tested positive since April
---
'
All decisions seem to be taken by Mehta'
A Congress leader who did not wish to be named said the chief secretary had emerged as a power centre amid the coronavirus crisis.
"In this entire Covid crisis, everyone has not had access to the CM like politicians normally do, and it appears that the chief secretary is taking all the decisions," the leader added.
Congress leaders such as legislative assembly speaker Nana Patole and ministers Sunil Kedar, Vijay Wadettiwar and Nitin Raut, among others, have brought their displeasure with Mehta's functioning to CM Thackeray's notice through video conference meetings, a party source told ThePrint.
According to the source, former chief minister Ashok Chavan, now handling the public works department portfolio, was also miffed with Mehta when the minister's choice of secretary in his department was changed after the civil servant's intervention. 
In an unusual move, Patole had even rapped Mehta in the lower house this March over alleged delays in the administration's responses to points of propriety raised by legislators. He said he hadn't received any response despite successive letters to the chief secretary, and ordered Mehta to come to the house and apologise. Patole, however, decided to take his directions back after deputy chief minister Ajit Pawar of the Nationalist Congress Party (NCP) reportedly intervened and apologised on behalf of the government, saying the punishment was too harsh. 
A Congress minister said, "It is not just us. Even ministers from the Nationalist Congress Party (NCP) and the Shiv Sena are unhappy with the power centre that Mehta has become."
At a cabinet meeting earlier this month, NCP minister Chhagan Bhujbal reportedly criticised Mehta for bringing a proposal concerning his department before the cabinet without consulting him. Other ministers, including those from the Shiv Sena, supported Bhujbal in his grouse against the administration.  
Mehta, however, makes light of the criticism. "I'm bound to work by the law," he said in The Indian Express interview. "My loyalty is to the good of the state. It is foremost on my mind. To achieve this, many times we have to speak our mind fairly and frankly. In that process, there may be some people who do not like it. That's something I can't help." 
---
Also Read: Punishment or scapegoats? Transferred IAS officers end up sharing blame for Covid management
---
Popular among politician bosses 
Mehta, an IAS officer of the Maharashtra cadre, is a civil engineer by qualification and also has a master's degree in business administration and a degree in law. 
He is known as a workaholic and a tough taskmaster among officers he has worked with. He is also believed to have an excellent rapport with his politician bosses. 
Before becoming Thackeray's administrative right-hand man, Mehta had been a part of several politicians' trusted circle of civil servants, including former chief minister Devendra Fadnavis. 
In 2015, Fadnavis appointed Mehta as Mumbai's municipal commissioner at a time when he had just scrapped a controversial development plan for the city and a new one had to be readied in a short period. 
Mehta's appointment came barely four months into his transfer as principal secretary of the environment department. Sources in the erstwhile Fadnavis government said the Bharatiya Janata Party (BJP) leader especially picked Mehta as he wanted a taskmaster who can take quick decisions.  
Mehta's next transfer by Fadnavis raised some eyebrows. The former CM appointed Mehta as the chief secretary in May 2019, while the model code of conduct was in place for the Lok Sabha polls. The decision thus required Fadnavis to seek special special permission of the Election Commission. 
The incumbent chief secretary at the time, U.P.S. Madan, had earlier requested voluntary retirement citing personal reasons after being in office for just 44 days, five months before retirement. 
There was much speculation that Madan was asked to seek voluntary retirement to make way for Mehta. The same day as Mehta's transfer, the Fadnavis government accommodated Madan as a special adviser to the CM on a contractual basis. 
Mehta was to originally retire on 30 September 2019, but Fadnavis got him an unusual six-month extension. Retiring civil servants are typically granted a three-month extension.
Mehta's second extension was granted under CM Thackeray in March on account of the Covid crisis.
Longest tenure 
Mehta holds the record for the longest-serving Mumbai municipal commissioner with a term of a little over four years. However, his longest and most illustrious assignment is his stint in the energy sector from 2005 to 2015. 
The state moved from a situation of power shortage to energy sufficiency during this period, with minimised load shedding.
As managing director of the Maharashtra State Electricity Development Company Limited (MSEDCL), Mehta had the trust of the then energy minister, Ajit Pawar, and played a key role in reducing power theft and leakages in the state. 
Shiv Sena's Anil Parab described Mehra as one the government's "most experienced officers". 
"He has had a distinguished career and done great work in every department he has been associated with, be it the electricity department or the Mumbai civic body. He gave Mumbai a new direction as municipal commissioner, and has shared good relations with Uddhavsaheb since many years," Parab added.
"He has especially been very helpful in tackling the Covid crisis, getting some control over the situation in Mumbai despite the challenges."
On the Congress' grouses, Parab said, "Sometimes, as a minister, I may have my opinions, but we have to also see things from the administration's point of view. At times, everything may not happen exactly as I want it, and there could be some disappointment."
---
Also Read: IAS officers, Nobel winners, filmmaker — states gather their best to battle Covid crisis
---